The Everglades and the Big Cypress National Preserve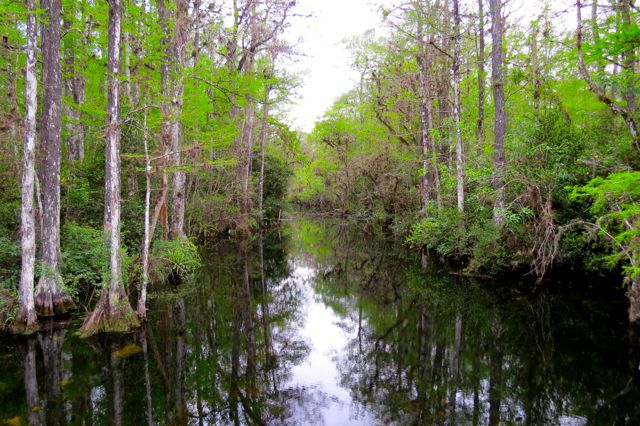 One of the places that has a special hold on me is the Everglades area of Florida, a wild, huge place filled with birds and wildlife as diverse as the flooded cypress and sawgrass prairies that make up the largest subtropical wilderness in the United States.
Every time I'm in south Florida, I budget time for the glades. I've ridden my bicycle along an eight mile paved loop at Shark Valley, cruising yards past snoozing gators with their huge tooth filled mouths open to cool off. There are air boat rides, nature walks where you can actually get wet and wade in the swamp and fishing not to be believed.
The winter dry season, which lasts from December to April, is the best time for wildlife viewing in the park. Weather conditions are generally pleasant during the winter and standing water levels are low, causing wildlife to congregate at central water locations. Shark Valley, the Anhinga Trail at Royal Palm, and Eco Pond in the Flamingo area are popular areas for viewing alligators, wading birds, and other wildlife. Boaters have additional access to wildlife viewing opportunities in Florida Bay and along the Gulf Coast.
This trip, I devoted an afternoon to the Big Cypress National Preserve, a 729,000 acre part of the Everglades whose crystal clean freshwater plays a vital roe in the health of the entire ecosystem of south Florida. We drove a 24 mile loop road that runs south and east off Highway 41 at about mile marker 59.
It's a dirt and gravel road, well maintained but meant for slow travel. Bounded on both sides by trees, there are frequent drainage ditches and small open spots all along the route. It's fine for Class B and Class C RVs. Too rough for a Class A. And once you commit, there are limited spots to turn around.
Found here are dozens of species of mammals, birds, and reptiles unique to Florida's climate. It is easy to view and appreciate Florida's largest reptile, the American alligator, living here in its natural environment. They are in almost every water hole, all along the banks, even sunning themselves on the shoulder of the road. The birds are something else: Anhingas, egrets, wood storks and herons are found in plentiful numbers feeding, displaying courtship feathers, and nesting in and among the cypress trees.
There's a reason the speed limit is 25 miles an hour. Herons often launch from the trees and fly right across and over the road. Because of their bulk, it takes them some considerable wing power to get to altitude and if we had been traveling faster, we would have hit one several times.
Occasionally, one can witness river otter, bobcats, black bear, and the endangered Florida panther on the Preserve's back roads and trails. We didn't see any panthers, but Route 41 is peppered with warning signs noting that panthers frequently cross the road.
Not all the animals are native. In recent years, snakes from around the world have been turning up in and around Everglades National Park. Burmese pythons, one of the largest snake species on earth, are now known to be breeding in the park and spreading throughout south Florida. Over 2,000 pythons have been removed from the park and surrounding areas since 2002-likely representing only a fraction of the total population. The population of Burmese pythons presently established in the park is the result of accidental and/or intentional releases by pet owners. These introductions can have devastating consequences to our ecosystem. Burmese pythons have been found to feed on a wide variety of mammals and birds in the Everglades-even the occasional alligator! By preying on native wildlife, and competing with other native predators, pythons are seriously impacting the natural order of south Florida's ecological communities. The continued proliferation of Burmese pythons-and the continued introduction of new foreign species-can further threaten many of the endangered plants and animals we're working diligently to protect.
These creatures reach 15-20 feet in length. We didn't see one. Jennifer considers that good. Me, I would have liked to get my own photo instead of the Florida wildlife one used above.
The trip we took on the scenic loop road makes for a delightful afternoon There's a large visitors center for the Big Cypress National Preserve on US 41 that is well worth seeing.
And there are numerous federal campgrounds right off 41 up and down 41 from Naples to Miami. Most have openings every day.
yet! Love this place!!