Florida's Scenic A1A Coastal Byway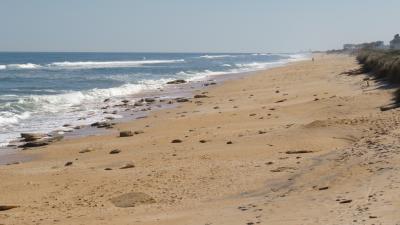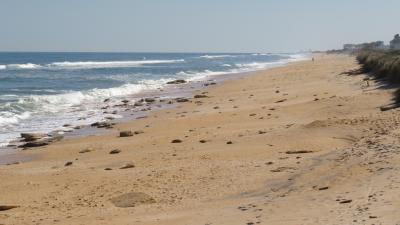 One of my favorite roads in Florida is Route A1A along the northern Atlantic coast. This two lane road hugs the coast for 72 miles from Daytona to Ponte Vedra Beach. For many of those miles, the ocean is in your windshield and just a stones throw from your RV's side window. Much of Florida's Atlantic coastline is heavy developed, but along A1A, you can experience many miles of undeveloped coastline. On a recent stay in northern Florida, I got a chance to re-experience A1A.
I first encountered A1A about 15 years ago while on a week long bicycle trip. The major part of our route was biking along the coast from Titusville to St. Augustine. Much of the route had us biking on A1A. A few years later, I biked the northern section from Ponte Vedra to St. Augustine. Here's a map that shows the route that A1A follows.
I like this road because its very scenic with miles and miles of unobstructed ocean and beach views. There's also much to do and experience along A1A. Starting in Daytona Beach, you drive past miles of high rise condo's that seem to typify Florida's coastline. But just north of Ormond Beach, the condos start to disappear and are replaced by barren hummock dunes.
Along the route, there's small beach towns, several state parks, and nature preserves. Gamble Rogers State Park has some of the best beach side camping in Florida. Strolling through the gardens at Washington Oaks State Park is a favorite stop. Flagler Beach is a small funky beach side town that begs you to stop for lunch and walk on its long pier. Marineland is marine mammal park that lets you get up close and experience dolphins.
Matanzas Inlet has parking areas allowing you to enjoy both ocean and bayside beaches. Nearby, at Fort Matanzas National Monument you can tour and experience a colonial Spanish fort built in the early 1700's.
St. Augustine Beach
As you approach St. Augustine, you go thru the small beach communities of Painters Hill, Beverly Beach, Butler Beach, Crescent Beach, and St. Augustine Beach. Anastasia State Park has some great camping and access to miles of unspoiled barrier island beach just outside of St. Augustine. The St. Augustine Lighthouse, which is near the state park entrance, is open for climbing and gives you spectacular views of the surrounding area. In St. Augustine Beach, you can also access several beach ramps that allow vehicle access to the beach. From here, you can experience driving on the beach for 9 miles south to Matanzas Inlet. St. Augustine Beach is one of my favorite beaches due to its lack of high rises, low key atmosphere, and miles of wide flat sandy beach.
St. Augustine is one of Florida's most historic cities. Its a small city and very easy to experience either by walking or on a bike. The Castillo de San Marcos National Monument dominates the city water front. There's numerous historic sites to see within the city. Some of my favorites include the Lightner Museum, Cathedral Basilica of St. Augustine, The Bridge of Lions, and St George Street.
North of St.Augustine, A1A continues thru the small beach side town of Vilano. North of Vilano, A1A continues north through numerous miles of undeveloped coast line thru the Guana Tolomato Matansas Reserve. There are several access points to the beach along this section of the road.
This is just a sample of what there is to experience along A1A. There's plenty of places to stop and enjoy the view and to grab some food. Here's a blog article I wrote about Historic St. Augustine that gives some additional information. Also, here's a web site link with info about the route Florida Scenic Highway - A1A
We enjoy this area and have spent several winters in St. Augustine Beach. This year, we spent two weeks at the Bryn Mawr Ocean Resort in our RV. The RV park is right on the ocean in St. Augustine Beach. We've also camped at Anastasia State Park and would highly recommend both places.
On our recent drive to St. Augustine Beach, I used my new Panorama DashCamhttp://ir-na.amazon-adsystem.com/e/ir?t=jdawjou-20&l=as2&o=1&a=B00LXRR7L4 to record our drive along several sections of A1A. The dashcam makes it so easy to capture the experience of driving on a scenic road. Here's a link to a video I made with some of these clips so you can see and experience a little bit of what A1A is like -
You can follow more of my journeys at: http://jdawgjourneys.blogspot.com