Passing Through the Emerald Coast

Entry posted by italo ·
1746 views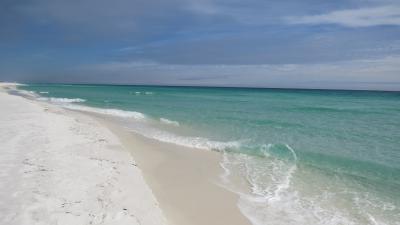 After enjoying four relaxing days of beautiful ocean side setting on St. Joseph Peninsula, it was time to move on and continue our westward trek. We left the sparsely developed Forgotten Coast in our mirrors and continued on Route 98 into the heavily developed condo land that seems to typify the Emerald Coast. I've driven through this area a couple of times. There's not much here that I find interesting other than Gulf Islands National Seashore on Santa Rosa Island and some attractions near Pensacola. This time it was just to pass through on our way to Louisiana. But, I wasn't in a rush and there were couple of new places that I wanted to check out along the way.
The first was Grayton Beach State Park. I had read some blog articles that were very positive about this Emerald Coast state park, so we selected it for a over night stop so we could check it out. The State Park is right off scenic Route 30A that follows the shore line past Panama City Beach. This area of the Emerald Coast is not as heavily developed as the Panama City Beach, Destin, and Fort Walton Beach areas. Here there are the small funky beach side communities of Rosemary Beach, Seagrove Beach, Seaside, and Grayton Beach.
Grayton Beach State Park lagoon
The state park is tucked in between Seaside and Grayton Beach. It's a 2,000 acre oasis of white beach, dunes, and lagoons. The campground sits back from the beach and faces the lagoon. A mile of white sand beach (which was totally fogged in while we were there) is about a ¾ mile walk or easy bike ride from the campground. There are 39 sites that have electricity and water hook ups. There's a newer section with 20 sites that have full hookups. There's no wifi but it does have very good cell service and on air TV reception. We had a site in the older section bordering the lagoon. The sites are large and well spaced so you don't really see your neighbors. It's a nice campground and reminded me of Anastasia State Park near St. Augustine. I'd stay there again if passing thru, but for and extended stay on the Gulf, I prefer the larger more remote and wilderness setting of St. Joseph Peninsula. Here's a review of the state park by the bloggers WatsonWander that has some better pictures.
Site 24 - Grayton Beach State Park
Just a short bike ride out the park road and about a mile down the road (or you can walk to it from the beach) is the little village of Grayton Beach. I biked over to find and check out The Red Bar. The Red Bar is a renowned funky bar, restaurant, and live music venue. It's housed in an old general store building near the beach. Being covered with vegetation, it sort of looks like something you'd see in The Shire from Lord of the Rings. The bar is very unique with dark red painted walls that are covered with old concert and movie posters and kitschy decor. I'd call the decor "Late 60's Yard Sale". The posters, light fixtures, chairs, and tables seem to be what you'd find at a yard sale. No two chairs are alike. It's nice enough but may not be for everyone. The restaurant gets good reviews, but I didn't try the food.
The Red Bar
From Grayton Beach, we continued west on Route 98 and made our way to I-10 near Navarre. The next place I wanted to see on The Emerald Coast was the Mississippi coast from Pascagoula to Biloxi. After crossing the state border, we got off I-10 and onto Route 90. This part of Mississippi looks a lot like the Florida parts of the Emerald Coast that I had just driven through - pretty well developed. Our destination on the second day was the Davis Bayou section of the Gulf Islands National Seashore near Ocean Springs.
The Mississippi District of the National Seashore has a nice small campground with hook ups. It's about 7 miles off I-10 and has 51 sites. For $22, you get a nice paved site with water and electricity. There's a dump station, a new bath house, and you get to visit the Davis Bayou in the National Seashore. There's good cell reception and on air TV reception. Although small, its one of the nicest National Park campground I've stayed in. It's a nice spot to stay for a one night pass through or for an extended stay if you're exploring the area.
Campsite at Davis Bayou Campground
The next day, we drove through Biloxi to gander at the big casino's. It's only a short 6 miles down the road from Davis Bayou. It seems like a nicely developed area and easy to drive through. There's 3-4 big casino's on the water and a couple that are set back. The billboards were advertising lots of big names who were scheduled to perform. It seems like a nice destination it you're into gaming and entertainment.
Overall, we got through the Emerald Coast in a couple of days and got to check out some new places for potential future stays. It was cold during the two days we spent here. Day time temps didn't get much above 50 and night time was down to freezing. The furnace in the RV was running all night. Not really the spring time weather I had hoped for. At Biloxi, we got back onto I-10 and headed for Louisiana for a short overnight visit to the Cajun Prairie.
Follow more of my journeys at: http://jdawgjourneys.blogspot.com