We Are The Roadschoolers!

Hello fellow open road lovers! We are so excited to become part of the FMCA Blogs. Our family of four absolutely loves road trips, people, learning and travel. We are excited to share with you our newest adventure in life: Roadschooling!

Our daughters, 6 and 9, are just as excited to jump into our RV and discover what the road can teach us. My name is Miri, my husband's name is Ryan and we are thrilled to get to know you. Our family is completely open to suggestions, tips and guidance from all of you and cant wait to grow this amazing community.

Our first FMCA post is dedicated to the changes and modifications that we have made to our 2012 Georgetown 351DS RV in preparation for hitting the road.

Thank you, Ikea, and Home Depot for all of your help.



Bathroom door 4' mirror from Ikea. This helps the kids a lot in getting ready in the morning and bonus, they can make faces in it from their bunks



We removed the 18"x24" stock bathroom wall mirror and found a perfect fit to cover the whole wall, also from Ikea. Helps make the bathroom feel less cramped.



The original toilet was tiny and we replaced it with a Dometic 320. This was one of our first upgrades to the RV and made a huge difference in toilet comfort.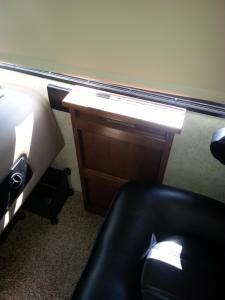 We saw this copilot's table at an RV show and loved the design. A short five-week wait and we were able to order it directly from Forest River.



Copilot's table open



We're a family of four and didn't see a use for the couch's pull-out bed. We removed it and added more storage.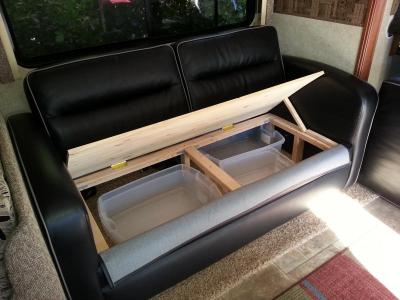 RV couch food storage open



These relatively easy-to-stick-on, stainless-steel tiles replaced the hideous glass back splash.



The stock pantry had a metal pull-out rack that could hold about one bag of groceries. We replaced it with three sliding drawers, tripling the pantry space.



The barrel chair that went in this spot was useless, so we replaced it with more storage.

What do you guys think?

- M