7 Favorite Finds and Our Best in Show From The California RV Show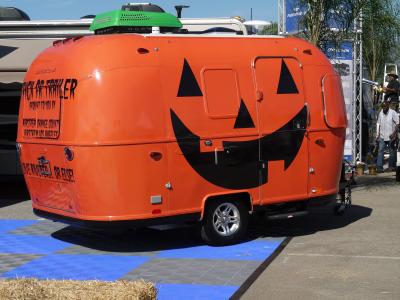 The 63rd Annual California RV Show
Going to RV Shows stirs up emotions for Ryan and myself. Mostly deep, dark jealousy, but we also like to mix in shades of envy and longing. No matter how many times we give ourselves the pep talk -- "We love what we have" or "We don't need bigger/better/faster" -- we always seem to fail at not saying, "OH MY GOODNESS I NEED THAT RIGHT NOW." Happens. Every. Time.
This time I had a strategy and it was foolproof. Instead of going to the California RV Show with the intention of window shopping and drooling, I went with the objective of sharing my very favorite finds with all of you. This made it much easier for me to stay an emotional arm's length away. Well sort of ....
The Most Luxurious RV Shower EVER
Seriously? Look at this Four Seasons equivalent shower!! Cedar bench and flooring? My current bathing arrangement only allows for pinky sized travel bottles, whereas this shower you could have Costco-sized bottles AND someone standing there to scrub your scalp for you. I am not going to lie, I cried a little at such a sight.
Blown Away
Okay, the ceilings in this bedroom felt like we were standing in a cathedral. And at the top? A ceiling fan! I can't tell you how many times I have lied awake in our RV bed wishing that the air would move. I have tried fans, but between that roaring noise and Ryan's snoring, there is zero hope for sleep. However, a ceiling fan would move the air quietly, Ryan could relocate to sleeping absolutely anywhere else in the coach and I could sleep like a baby. Perfect plan.
The Perfect Passenger Dash
Abierto: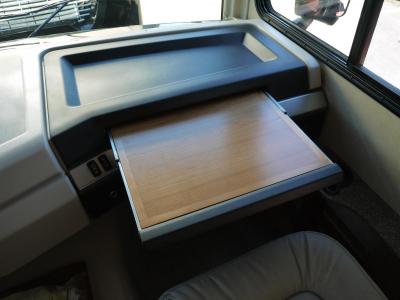 Cerrado:
This dash sang to me. I sat there opening and closing for at least 10 minutes. The dash and I bonded while I pretended to type on my imaginary computer while driving on an Alaskan Highway. We looked amazing together and every RV needs to make the passenger dash look like this.
How Deep Is Your Love
A few months back Ryan spent days remodeling our bathroom just so we could install a deeper sink. Turns out all we had to do was buy a new RV! I kid, I kid but I am happy to see that deeper, wider sinks are becoming a more standard feature in the coaches.
No, You Lock It Up
This feature might look tiny and insignificant but let me tell you that this refrigerator door lock is GENIUS. When we travel, our fridge looks like we are trying to keep bears out. God forbid Ryan needs a cold drink while driving because it will take me 20 minutes to untangle all of the mechanisms we put in place to prevent the door from flying open. This little door lock is brilliant and I hope that the inventor makes as much money in their lifetime as the guy that invented coffee cup sleeves.
The Rossittos Will See You on The Patio Now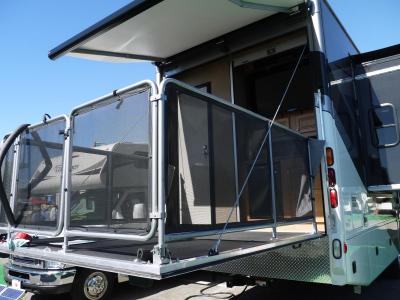 Okay, I don't love Toy Haulers. Mostly because I don't love the "toys" that go with them. But holy patio! You get a bathroom, small kitchen and a huge, outdoor seating deck AND an entire house on the inside? Kind of awesome in my opinion. It would take me awhile to get over the rubber floor smell though. You don't get that at the Four Seasons....
Come On, Baby, Light My Fire
Who needs a fireplace indoors when the point of camping is to have a fire outdoors? I hear you. But hear me out -- if you are like us and camp any time of year, this incredible feature can be a lifesaver. Heat, ambiance, TV and all while it is 30 degrees outside. The kids can warm up on the floor while I warm up with bourbon on the couch. This is a win/win for everyone!!
Best in Show
Remember earlier when I said that I could easily and objectively examine all of the RVs at the show and not get attached? I LIED.
Behold the most perfect RV of All Time: The Forest River Berkshire 40BH
(pic courtesy of Forest River website)
Couldn't you just cry?
Look at this kitchen: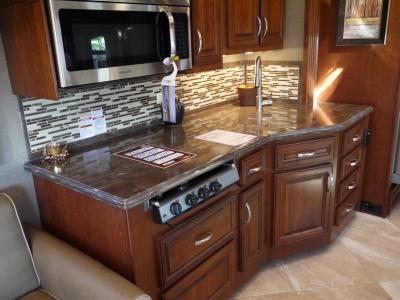 The bunk beds:
THE CLOSET:
The Master Bedroom:
The Living Room (Note the fireplace AND our stuff thrown down like we already live there):
Ryan In The Shower:
The Perfect Layout:
The Crushing Reality:
So, we did it again. We managed to go to a great RV show, become green-eyed jealousy monsters, passionately fall in love with a coach that would make all of our dreams come true, and then sadly tear ourselves away from this new love, only to drive home in silence.
When we got home, Ryan and I talked about how lucky we were to have all that we did have, and that we really didn't need more. I agreed. But I did ask if he could install a fireplace. And a ceiling fan. And then a fridge lock. And then ...