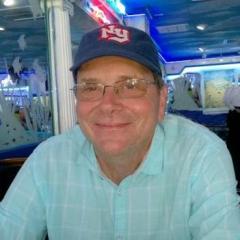 Diane and I had a pleasant and mostly uneventful Christmas. I was busy trying to cure a large phone system suffering from hiccups for some days leading up to The Big Day. As a result I became a last-minute shopper (I have always believed I work best under pressure) and visited Macy's on Christmas Eve in the late morning. I intended to purchase just the RightSomething for my wife. Apparently many other procrastinating men had the same idea.
After carefully shopping I found a Murano blown-glass heart pendant on a gold chain with matching earrings. Judging by the look on Diane's face as she unwrapped her present the next morning, my last-minute quest was successful. I am not sure what she was the most surprised at, the quality of the gift or the fact that I had the ability to find it and buy it; the second most likely.
We hosted Christmas brunch for our families. We then broke with Christmas tradition, skipped a big meal, and took our kids, Joel and Christine, and Christine's boyfriend Rob to a neat movie theater/restaurant called the Commodore Theater. There, we ate dinner and watched Sherlock Holmes.
The next week was a quiet one, and on Thursday night we had clam chowder and chips with our friends Gary and Janis. We played Sequence until 2009 turned into 2010.
Now we are into a new year and some say a new decade. New Year's Day, when the ball drops, the balloons go up and the cork pops out, has past. The Holidays are over. Christmas, a time for overeating, overspending and overindulging in many other activities, is now a memory, one more, to be added to all the other Christmas memories past.
Christmas day has always been the day that my internal personal calendar pivots on. I tend to look back on my life and ask what was going on around Christmas when I was 6, or 16. Hanging an ornament on the tree may trigger a trip down memory lane. Just like in the motor coach, the trip may not always be a great one.
When I hang one of the handmade clothespin people on the tree, whether it is the fireman or the nurse or one of the Three Kings, I remember Charlotte, North Carolina, and the third Christmas that Diane and I celebrated as husband and wife. She was three months pregnant with our first daughter, sick every morning and even though both of us were working we were always broke. That Christmas we sat in our little living room in front of our little color TV with snack trays watching the Waltons while painting clothespin people to hang on our very dry Christmas tree. We could hear the needles falling off that tree that we bought on sale at some gas station. It lasted about six days. I dragged that stark naked tree out the back door on New Year's Eve, leaving behind a thick trail of needles leading to the living room.
The white round glass ornament that has Silent Night etched on it is as old as me. My parents mailed it along with a couple of other antique glass ornaments and a string of bubble lights to Diane and me in time for our very first Christmas. We, along with our two kittens, were living in an old house in downtown North Wilkesboro, North Carolina. We had been married two months and, well, we were as poor as the field mice that shared our home with us. The house was two floors and we lived on half of the bottom floor and all of the second. Our main source of heat was an old oil burning circulator in front of the bricked up living room fireplace. It was cold our first Christmas and we barely had enough extra money for kerosene for the burner; there was nothing for a tree.
My uncle Jonah, who lived up in the Blue Ridge on his apple farm, heard that we were in need of tree assistance. He telephoned us and said he had one we could cut down and take home. So we made the nine-mile trip up the mountain in our old Chevy II to get our first Christmas tree. We arrived somewhat early evening; the sun was starting to set over a line of 25-foot-tall cedar trees that grew beside my Grandmother's old farmhouse. No one lived in the house and Jonah was using it for storage. Jonah was standing there armed with a large handsaw. I figured a walk in the woods was needed to find a tree, some kind of pine, most likely.
"Well, there it is," Jonah said while pointing to the first cedar on the left, closest to the house.
"What?" I said. "You are going to cut down that tree, it's hugh!"
"Just the top," he said with a laugh. "Up the ladder you go, and you will need this."
He handed me the saw and pointed to a somewhat hidden 20-foot wooden ladder leaning against the tree. I looked up at the perfectly shaped top of the cedar. I could see that it would make a great Christmas tree, but I couldn't let Jonah disfigure this beautiful cedar that had been growing there for so long and I told him so.
"I have to top them every couple of years, because they put out rust that's bad for my apples," he said. He went on to explain that it was a spore that was harmful to his apple crop and that the tree would not produce any if he cut it back.
Gratefully, I climbed the ladder with the saw and took off the top 10 feet of the tree.
Jonah and I tied it to the top of our car. It was almost as long as the car itself. It wasn't the easiest trip down the mountain, but we made it. Once home, I carried into our old formal dining room, removed the bottom foot of the tree so it would not hit the roof, placed it in an old Christmas tree stand that I found in the attic, added some water, moved it in front of the floor-to-ceiling window. We decorated it, and then stepped back for a look. It had a few strings of lights -- the old-fashioned big bulb kind -- and one string of bubble lights, a few glass ornaments, some ribbon ornaments that Diane had been making for awhile (with the hope of getting a nice tree), along with some tinsel. At the top was one of our cats.
Diane and I standing there, hand in hand, agreed that it was the prettiest tree we had ever seen.