Pilgrimage to Elkhart, Day 1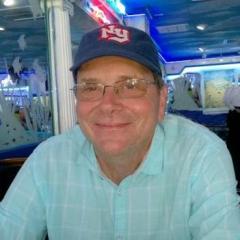 It is the 100th anniversary of the RV industry, so it seems appropriate to make a trip to Elkhart. Actually, I had no idea that it was or is the RV Centennial until I walked through the doors of the RV Hall of Fame in Elkhart, but I am getting ahead of myself.
Diane and I, along with our friends Gary and Janis, have been planning on a trip to Elkhart, Indiana, for some months now. We were hoping to go there this past March 2, but the weather gave us all cold feet. In some places in Ohio there was over 30 inches of snow on the ground and our coach lot at Deer Creek in Galax, which we wanted to visit on the way back, had over 70 inches laying on it. I figured that since a snow plow, not being standard equipment on a motor coach, and would be needed to park on our lot, made a trip postponement necessary. We made plans to leave for Elkhart on April 9.
Oh, the purpose of our trip was to visit Elkhart Service and Collision. Both our coaches were in need of some major slide out adjustments. Gary's coach had trouble with both the main and one bedroom slide. My coach's main slide out had never functioned correctly. BAL, the RV products division of Norco Industries, the designers of the cable driven Accuslide were planning on sending over a tech or two to work on the slide outs themselves. You can't beat factory direct service. Not to mention it's hard to get. Now this trip had a twofold purpose. In addition to the slide outs being repaired, we both had a long list of things we wanted done. Nothing on our lists was too major, but still necessary.
The first of April showed all the signs of being a good weather month. We had ninety degree weather a couple of days before we left. Thursday, the day before our planned departure, I was making an emergency computer network install at the Trellis Restaurant in Williamsburg. I left poor Diane at home to pack up the rig by her self. This type of arrangement happens all too often, but that is the nature of running one's own business I guess. I made it home around six o'lock and spent the rest of the night loading up my clothes and the heaviest of the food stuffs into the coach. Our plan was that the only thing we would have to do the next morning was back out of the driveway, pull into the church lot next door, hook up the Saturn and be on the road by nine. We would not have to stop for gas, propane or anything else.
We had the coach ready to go by 8:55. That is a new record. At 9 on the dot Gary called to see how we were doing. I told him that we were pulling out right then. Diane and I said our normal prayer for a safe trip, and started on our way. We met Gary and Janis, as planned, at the Monitor and Merrimac Bridge Tunnel inspection station. We both turned off our propane tanks and headed through the tunnel. ( It should be named the Monitor and Virginian tunnel, in my opinion, but if it was you couldn't call it the M&M tunnel which has a nice ring to it.) We kept in touch with each other with family radios.
We traveled down I-64 for some 20 miles or so till we arrived at the first rest stop. There we turned our tanks back on and then continued. We were headed to Beckley, West Virginia. Our journey to our first overnight stop was almost uneventful. Almost.
The drive west on I-64 was really nice. Spring had sprung. There were red buds in bloom, the trees were turning green, and daffodils by the hundreds were showing off their yellow heads along the road side. Both our coaches made it up Afton Mountain, west of Charlottesville, across the intersection of the Blue Ridge Parkway and the Skyline Drive.
We turned south down I-81/I-64. It didn't take long to get to I-77/I-64 where we again traveled west, on to Beckley. We planned to stay at a small campground run by the Beckley Exhibition Coal Mine. This is a nice tourist spot where you can take a mine car tour of an actual coal seam led by a veteran miner. We would have liked to do just that but we didn't have the time.
Once we exited I-77 things became a bit dicey. Our gpses? gpss? I am not sure what the plural is, they both went crazy. We had conflicting directions and so we had to choose who was right, Tom or Ms Garmin. We choose Ms Garmin, but it turned out that neither gps was capable of giving good directions.
We ended up going down a very small street barely large enough for two cars to pass each other. Gary was leading as we came to some kind of police check point. I don't know what they were checking for, but they waved us through. Gary made a right turn down an even smaller street that was also very down hill. Diane told me to ask the policeman for directions. This request came a bit late to help Gary and Janis, but it was still a good thing to do. I opened the window and asked the policeman if the right turn was the way to the Beckley Exhibition Coal mine.
"You don't want to go that way!" He responded.
He said this with a lot of emphasis so I immediately began to think that my friends and our coach's twin were headed for trouble.
The policeman gave us more directions.
"You need to go straight ahead to the next light, take a right and follow the signs. You can't miss it."
We continued straight ahead. Diane radioed this info to the other coach. We went to the first light, turned right and found ourselves in downtown Beckley.
Gary found himself in a tight neighborhood with small streets with telephone and power lines hanging almost lower than the coach's air conditioners. This made maneuvering a bit of a drag.
There was nothing we could do for them except hope for the best, and find a spot to wait for them to disentangle themselves from a small place.
We pulled into a food mart parking lot located alongside the narrow street that led to the campground.
We waited about fifteen minutes, but it seemed like half an hour. As soon as Gary and Janis came into sight we made a very tight left turn. I held my breath as I maneuvered the coach around the grocery store sign.
One thing was sure: We didn't want to miss this place and drive past it, so my eyes were peeled to the streets on our right. At a curve in the road we came along side a telephone pole that was very close to the right curb. A couple of feet past the pole was one of those small campground signs, the kind with the trailer on it, the word campground and an arrow. This arrow was pointing up a very steep hill. I stopped. There was no way I could make that turn.
"There is no way we can make that turn," said Diane. "We are supposed to check in at the mine, which has to be up ahead. Let's keep going."
I agreed to that so I started to pull forward. As I did I heard something funny. It was a scraping noise of some kind.
"STOP! STOP! You are caught on the pole!"
This terrible but very necessary instruction from Janis emitted from our radio.
I quickly stopped, and of course thought to myself:
"What have I done now?"
I exited the coach expecting to see the side of it crushed like an empty tissue box. Gary was already outside. I looked up to see the pole nesting itself in the 1-foot-wide space between the patio awing and the bedroom topper awing. Two telephone guy wires were broken and caught up in the awing as well.
There was no damage to the coach itself. We had 1 inch between the pole and the side of the coach.
This would take some kind of driving to get off the pole. I had only one idea how to get away from it. Do the opposite of what put the coach there in the first place. I told Gary that I was going to turn my wheels hard to the right and back up, toad and all. Then, if we were lucky, the coach would be clear and I could pull it forward. He agreed that it might work and he would give me instructions on the radio. Diane and Nickolas decided to watch from outside so they exited the coach. Now it was up to Gary, myself and some prayer.
I got back in and used the UFO 55-degree turning ratio for all it was worth. With Gary giving me precise instructions and to the amazement and amusement of many people living along the street we inched that big monster back and forth until it was clear of the nasty pole. I did have to force one driver to back up quite a ways but he looked like he enjoyed it. I continued the one block up the road to the Exhibition main entrance.
Diane and Nicolas hitched a ride with Gary and Janis. No, I didn't forget her.
I parked the coach and made an inspection. It seemed that the pole pushed the bedroom topper out of position. It was now back about two feet and the topper was obviously being pulled in a direction it didn't want to go. It looked fixable and after all we were heading for a repair facility.
At this point I just wanted to park it, eat some dinner, have a beer (now you know what they are really for) and call it a night.
We did all the above. First we had the fun drive back down to the offending pole where we made a left turn up the steep hill to the campground. It was small but not a bad place. Gary and I repaired the bedroom topper. It took a while to get it back into position. I discovered that the plastic cover at the top of the left patio awning arm was cracked. I felt very thankful that that was all the damage there was. I figured that ESC could take care of it with no problem. I hoped so anyway.
For the most part it had been a good first day. It ended with a bang, so to speak, but hey it was an adventure. Tomorrow would be another day. The mountains of West Virginian awaited us, then on to Ohio and Indiana.
But first......a stop at Tamarack.