Pilgrimage to Elkhart, Day 2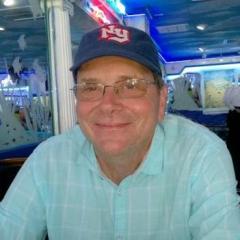 Saturday morning was sunny, but a bit chilly. Gary and I broke camp and pulled in our slides. He had not put his main one out because it just did not work smoothly. We discovered, the night before, that my main slide had a fraying cable so it would not be deployed for our second night. This would make the interior of the coach a bit tight but that was the breaks so to speak.
The night before, while Gary and I were repairing my bedroom slide out topper/telephone pole mishap we had a visitor from Ohio who was also staying in the campground. He happened to see me on top of a ladder that was on top of a picnic table with my arms under the topper. We told him the whole sad story and he told us that the campground staff had warned him about that pole when he made his reservation. We received no such warning. He also warned us that we would not like the stretch of Interstate 77 between Beckley and twenty miles past Charleston. He informed us the traffic would be intolerable.
While all this chatting was going on the ladies decided on our Saturday itinerary. Get up; get out on the road with Canton, Ohio being our next stop for the night. First would be brunch at Tamarack. This was the place that Diane had wanted to revisit for many years. She had been there once before during an auto cross country trip from Oregon to Virginia that she made with her cousin Elaine and two greyhounds. It is a very nice marketplace for area craftspeople and it has a restaurant run by the Greenbrier, a famous West Virginia five star resort. Also Saturday the tenth was her birthday and we all felt that a stop there was a small present but it was what she wanted.
We called it a night. I tried to eat a bowl of soup but my phone keep ringing off the hook with customer calls. I thought that calling me after eight pm on a Friday night was a bit ridiculous. I kept telling them to call me back on Monday.
The next morning, right after we all sang Happy Birthday to Diane, Gary and I started dumping, disconnecting and rolling hoses up. I did have a problem with the bedroom slide out. The topper would not retract. I pulled the slide in and the topper folded up like a fan. I put it back out and pulled my ladder back out of the basement. I climbed up and opened the topper cover and gave the roller a bit of a spin. It made a snapping noise and wound up quickly, like a window shade let go of too fast. It retracted just fine after that and I never had another bit of trouble with it.
The ladies drove our cars back to the mine country store parking lot. Gary and I secured our campsites; we had to attach cables and locks. Then we carefully drove our coaches down the steep hill and made a right turn at the bottom. We met up with our cars and hooked them up. A few minutes later we were on our way. We made a left turn, back up the road carefully past the offending pole and then to the main street through town.
We had good directions to Tamarack. It was a quick journey of a couple of miles, located right next to I-77 at exit 45. It's red peaked roof made it easy to spot. Tamarack has a huge bus and rv friendly parking lot. That is a good thing when you are suffering from post pole collision syndrome. (At breakfast I attempted to make some jokes about the telephone guy hitting the telephone pole but no one thought they were all that funny, including me).
Tamarack was great. I was impressed. There were so many fine crafts there. Handmade baskets, quilts, glass etching, textiles and photography were all on display and for sale. We could see that it would take some time to eyeball it all and we were hungry so we walked over to the food court. They served cafeteria style. I glanced at the menu and saw what I wanted right away, the West Virginia Rainbow Trout and Eggs.
The good sized trout filet was pan fried with two eggs over easy and served with Home Fried Taters and the biggest fluffiest biscuit I have ever eaten. It was really good. Along with the fish and eggs I had a bottle of hot and spicy V-8.
Gary ordered the same thing and the ladies each had the Appalachian Omelet with fried green tomatoes (in the omelet), Red Eye Country ham and Swiss Cheese. It also came with home fries and Biscuits all for 4.95. They raved about it.
Breakfast was worth every dime. After eating it was time for some exploring. First though I got a call from my parents asking where we were. I told them our location and also let them know that we hoped to be at our place in Galax by the following Wednesday or Thursday at the latest. We hoped to have a visit with them at some point.
I also made a call to Joel. He was having a yard sale, at our home, with proceeds going towards medical bills he received for treatment of a dislocated finger. That happened during a soccer game. If you ever dislocate a finger do not go to a hospital emergency room. Find an Urgent care or just put up with the pain until you can see a doctor. An emergency room will sock it to you cost wise. Some of the proceeds of the yard sale would also go towards funding the band he is a member of. Joel is the drummer, the band is called Long Division and they just self released a CD.
You can sample the album by clicking here:
http://www.longdivisionband.com/
The yard sale seemed to be going well. The band had made over 250 dollars by ten thirty. By the end of the day they would make 450 dollars.
I found this out while we were walking around Tamarack looking at all their great craftwork.
Around noon we were ready to continue our journey. We headed up I-77 and I mean up, to Parkersburg where we stopped for fuel. From there we continued to Clearwater RV Park in Uniontown, Ohio. It was quite the drive. We crossed the New River Gorge over the bridge that is famous for its wild bungee jumping. We traveled through Charleston. We made some wild stops to pay tolls and had some interesting encounters with slow moving truckers.
At our exit for the rv park we had to make a right turn at the bottom of the exit ramp. Two cars in the left turn lane turned right instead and swung around Gary, who was leading us. The cars went into the oncoming traffic lane and then moved over and cut him off. It always amazes me how non thinking drivers believe our rigs can stop on a dime.
We traveled without any more incidents down a long hilly country road until we reached the rv park. The park had a small water park that was not open yet. There was also a mini golf course. We parked our rigs, set up camp, had a nice talk with the park manager and then played a round of golf. The birthday girl won. After that I fired up my grill and toasted some hamburgers.
We sat in Gary and Janis' coach and ate dinner while we chatted about our list of things we hoped to accomplish in Elkhart. The List of things included repairs as well as places we wanted to see. Top of our list of places to visit was the RV Hall of Fame.
By nine we were all ready to call it a night. Diane and I avoided spending too much time in the too small living area (it was full of slide out) and decided to watch TV in the bedroom. I had recently installed a new 26 inch LCD and I figured that watching some old episodes of Christy would be a good way to end day two.
I never saw the end of the episode. After about twenty minutes I was out cold. I woke up at the end of it. Diane missed it as well. So it was time for lights out. We wanted to get an early start. We hoped to be at Elkhart by late afternoon.
Both coaches were getting anxious. So were the people in them.