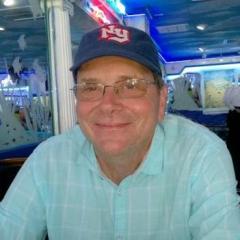 It is very quiet around the house. There is no tapping of little doggie nails on the hardwood floor. No tinkling of a metal dog tag against the side of the food bowl. There is no cheerful crunch of the doggie eating his breakfast.
Life continues to go on. Diane will laugh at a joke, e-mailed to her from one of our friends, when it arrives in her mailbox. She will cry when a sympathy card, snail mailed by one of our friends, shows up in the standard mailbox. She also cries after taking a phone call from family or friends.
Diane was really moved when Miss Vickie, owner of Salty Dog grooming, sent a card and a dish garden.
I mostly mope around, feeling sorry for myself.
It obviously isn't going to be easy to recover from this loss.
I find myself googling puppy sites, wondering if we should consider another dog.
Wisdom says it is too soon.
Exercising wisdom, in and of itself, does not remove the pain of loss.
I have heard that chocolate makes one feel better when one is hurting.
If we stocked much chocolate around here, I would eat it all.
I am hitting the Chips Ahoy pretty hard.
Prayer is better for me than chocolate or cookies. It is easier on the waistline.
I look out my office window at our motorhome and I can't help but think how much we will miss our pup the next trip out. Nickolas was such a large part of our life in the coach.
He spent his last good week with us at a motor coach rally.
Diane and I hosted the event. It was for the Workhorse Chassis Motorhome Club. WCMC is a FMCA International chapter. The rally took place at Camp Hatteras, in Rodanthe, North Carolina, the first week of October. Fifty nine coaches were in attendance. We called it The Sound and the Sea Rally.
The rally was a lot of work for me and Diane. Fortunately we had a lot of help.
We planned all the events for the week, decorated the tables with shells, hung large kites and windsocks from the ceiling and on the wall, provided printed name tags, ran the fifty/fifty lottery and we were a two-person complaint and problem department.
We catered most of the meals, had lots of seminars, (including a Wi-Fi and computer security Q&A session provided by me) and, on the last night, my son's band "Long Division" played.Their set started out a bit rough, but once they adjusted the volume for a bunch of non-college folks, it ended up sounding really good.
I booked an absolutely hilarious comedy lecturer who had the audience eating out of his hand!
I happened to be the lecturer and my subject was my Rules for Owing a Motorcoach.
Actually, I was pleasantly surprised at how well the whole week went. The formal surveys turned in by the attendees were mostly positive. The last day, I helped some people with coach problems get their jacks retracted, their steps in, and watched them pull away. I then went kite flying, four at once, with Nickolas sitting by my chair.
Unfortunately, about half way through the week, we noticed that Nickolas was not feeling very well. We were not alarmed, but by the day after the rally, he was not doing well at all. After we returned home he just got worse until the end.
Sometimes the two of us find ourselves just sitting and staring at each other. We both know what the other is thinking. Diane is holding Nickolas' favorite blanket, I am looking at his favorite spot on the floor wishing that my four-footed special someone could still fetch my slippers for me.
I don't bother to go fetch them for myself.
Diane and I continue to move forward. Each day gets a little easier, but our hearts are still raw to the touch.
Today my daughter Christine is over with our grandsons and Bella the sweet Bulldog. Tonight we will watch Toy Story 3 and have a few laughs. Tomorrow, well, it will just have to take care of itself.
This weekend we are hoping to return to Camp Hatteras. We will be attending our Good Sams Chapter Christmas/Thanksgiving party campout. Diane and I are looking forward to being with a lot of friends. It always helps to be with friends, especially RVing ones, when trying to get over the loss of a friend.
I should know. This makes two for me.
Gramps