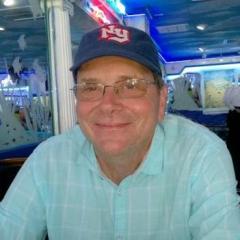 Reading this old blog makes me want to take another cruise. I'll settle for a long trip in the coach to somewhere really warm, like Tarpon Springs. Hopefully that should happen soon.
Voyager of the Seas 10-06-2002 to 10-13-2002
Part III Sunday: Departure, Dinner, enjoy the Night
"I want to go to the Windjammer! I'm hungry!" I did not voice these thoughts out loud. Diane was on the balcony talking to Christine on her cell phone. "We are on board. Did not take too long to check in, the cabin is the same as last year, etc, etc." As many of you already know the main topic of conversation on a cruise is cruising. That's just the way it is. It will not change, so we just have to accept it. The subject changed to Nickolas, (Diane is his Mom and gets to spell his name any way she wants) our Cocker Spaniel. This could take awhile, so being that there was no luggage to unpack, I explored the cabin. Explored is too big a word. I checked out the cabin.
First, I did the manly thing, found the remote and turned on the TV; My Big Fat Greek Wedding was on. I love that movie! (Diane is Greek). Second, I needed to do another manly thing. I opened the bathroom door. I stood there for a while and then pushed the big white button. The sound reminded me of a joke told by the Cruise Director on our Carnival Cruise. "In case of engine failure, the captain asks that all passengers please flush at the same time."
Guess you had to be there.
Diane poked her head through the door and asked if I wanted to speak to Christine. (No, I want to eat) "Sure!" I stepped through the door and took the phone. I asked her if her husband managed to fix her car yet. She told me no, but he had towed it to our house and he knew what was wrong with it and she said that he should have it fixed before we returned. I was not going to hold my breath. I heard a funny bit of dialog from the movie. I told Christine to hold on, she had to hear this. I held the phone up to the TV and turned up the volume. The mother was giving the daughter the wedding night speech:
"Toula, Toula, (Diane has a cousin named Toula) Greek women have responsibilities, we may be lambs in the kitchen but we are Tigers in the Bedroom!"
Toula answers with "Eu! Please let that be the end of your speech."
"Did you hear that Diane? Greek women are tigers in the bedroom!"
Diane responded with something to the effect of in your dreams and then took the phone from me.
Christine must have given the phone to Joel, because the subject changed for a minute to that of cross country racing. "Well, are you okay with eighth place?" Joel had run in the College of William and Mary invitational the day before and finished eight out of two hundred and fifty runners. He wasn't happy with his time of 15:30. (Yea, I'm bragging) I was glad he wasn't happy, because I knew that meant he would reduce his time next race.
There was another announcement about the boat drill in fifteen minutes.
Darn, I know there is salmon up there in the Windjammer. Diane was back on the balcony, still in conversation. I grabbed my camera to take a few quick shots.
There was a knock at the door. I opened it to find our cabin steward, (I know that the official title is cabin attendant, but old habits die hard), standing in the passageway with a very friendly smile on his face. I liked him immediately. "Hello Mr. Parker, my name is Collin and I will be looking after you and Mrs. Parker..." I read on his name tag that he was from Jamaica, of course I could tell that by his wonderful accent. He wanted to take a moment to explain a few things to me such as the laundry service, the safe, (what to do if you forget your code) the mini bar. The mini bar did not look the same as the one on Explorer; it had some funny looking flaps inside the front door. I pointed to the flaps and asked Collin if this thing makes ice. He looked at me with a "Cabin 1234 has another nice idiot sailing in it" expression and informed that little bottles of booze used to go there, but had to be removed because kids kept drinking them. He then told me how to reach room service and his hours and how to reach him. As he was leaving he gave me a big smile and said enjoy your cruise.
Diane popped into the bathroom for a minute. She came out and asked "What are you waiting for? We need to go to lunch." Like I did not know that already? We headed out of the cabin, with my sea pass in my pocket.
We walked past the Egyptian artifacts in their display case turned right, right again and headed up the stairs to deck 11. We would discover that our cabin, when it came to getting to all the activities we wanted to do, was in the perfect location. We turned left out the sliding doors to the Solarium Pool and then made our way aft to the Windjammer. A very cheerful attendant handed us a hot plate and napkin wrapped utensils. Take the napkin and put it under the plate and hang on to it to save your hands from the heat. We got in line and immediately heard an announcement that the boat drill was being postponed due to late arrivals. The race was causing delays.
Where is the salmon? I found a baked square, some curried lamb, and a small focaccia bread and turkey breast sandwich. Being so hungry I was somewhat impatient and got a little peeved when a young lady kept breaking in line in front of me refilling her dirty plate. She did do me the favor of telling me in accented English what was good.
It was so late that we did not each much, because we had early seating, dinner was only about an hour away. We headed back to the cabin to get our life jackets and head to the pumpkin roundup.
One of my bags and Diane's bag were sitting by our door, I rolled them in, and noticed two folded terry cloth robes on the bed. I was pleased with that surprise. A couple of weeks before the cruise I had tried to order two waffle robes and was told they were no longer for sale. I did not want to buy the velour robes because of the amount of baggage space it would require to take them home. (I'm lying, I was just too cheap.) One of the robes had a bright Royal Caribbean logo on it, the other was quite faded, an easy way to tell them apart. There were also two large, thick brown towels with a note on them. I helped Diane strap on her life jacket, I put on mine and we were off to Cleopatra's Needle on Deck 5.
I will not go into much detail about the mandatory boat drill. We answered the roll call, being taken by Shelby the shopping coordinator, a pretty lady with large dark glasses and told her we were in cabin 1234. "That's a good number, wait you are the Parkers, Happy anniversary." We said thanks and she said we would be getting a note from her. We half listened to the drill instructions; Diane was looking over our Crown and Anchor discount coupons for stuff on the ship. I was wondering how anyone who did not speak English had any idea what was going on and I was also resisting the temptation to spit on my lifejacket's water activated beacon. (Most likely my spit did not have a high enough salt content to work.) I knew enough not to touch the whistle. I found the boat drill klaxon most annoying. Soon it was all over and we snicked off our jackets, folded them up neatly and went back to our cabin. Walking through the Royal Promenade for the first time, we heard an announcement that due to the race in Miami causing so many late boardings, our departure would be after 6 pm.
Waiting by the door of our cabin were two bags, one of them mine. I rolled it in, and we commenced to unpacking. We found it easier to do it in shifts so we would not constantly bump into each other. Diane went first, and I hoped that there would be some drawers left for me. There is surprisingly, plenty of storage space in the cabins. I took the right top shelf over the safe for shorts and tees. Diane did the same with the shelf just underneath. A short shelf under the safe is where we stored all the Compasses and other papers that we wanted to keep. Diane put socks, small clothing items, belts, etc in the drawers to the left of the desk; I did the same on the right. I put all my watches in the left night stand. Suits and dresses went in the closet that contained plenty of hangers. We put shoes on the floor, and some pullover shirts and such on the shelves to the right inside the closet. I stuffed all the empty bags inside of each other and pushed them under the bed. Camera and water shoes went on the curved shelves on the end of the cabinet. Small personal items went into the cabinets on either side of the mirror. The storage arrangement seems to be the same for the three RCCL ships that we have been on. No sharp corners, no protruding knobs. The inside closet door is bi-folded to get around it easier. There was one cabinet, left of the mirror, in the bathroom with room for all our bathroom things. The one inconvenience was the lack of an electrical outlet in the bathroom that will accept a hair dryer. Diane does not find the provided dryer to be adequate.
While we were unpacking Collin came by to see if we had received all of our bags. Happily we said yes. We finished putting everything away. Diane did not want to change for dinner. She told me this as I was slipping on my suit pants. "Is that what you are going to wear?" she asked. I looked at her sitting on the couch making no move to change and answered no. I then put on some casual slacks and a rayon print shirt, my brown tassels, my new watch and we headed for the dining room. Outside was the other bag, sitting there all by itself. I took a look at the tag and it said 7234. Oops. I went back in and called that cabin but no answer. Diane spotted Collin down the passageway so she went and told him. He came and got the bag. Our good deed for the day was now done.
Once again we took the stairs down to deck 5. We entered the Royal Promenade at the Café Promenade end. I noticed that the lighting and decor was bit more glitzy than that on the Explorer. Also a large bar stuck out in to the Promenade. I discovered later it could be difficult to maneuver by when the Promenade was crowded. We continued to the aft end and entered the Magic Flute dining room. Our table for ten, number 518, was off to the left in a corner formed by an inside wall and the window. We saw one couple sitting there. No one else would arrive tonight.
We sat down and introduced ourselves. Wanich, our waiter from Thailand, was right there. Our assistant waiter was Joseph. We ordered dinner; main course was baked cod, and a couple of glasses of wine. When signing for the wine, I asked to change it to the wine and dine package. Wanich was happy to oblige. We ordered a Woodbridge Blush.
Our tablemates were a little older than us, Mike and his wife Betty, from Boston. He was a CPA and they also owned a travel agency. This was cruise number 55. I am sure you have already gathered what the main topic of conversation was.
Joseph poured our wine and we ordered dinner. This is where things get a little fuzzy. I don't remember what I had every night; I quit keeping notes after the first night. So I can tell you this, all the menu items that Diane and I ordered were very good. No complaints at all. I usually ordered appetizer and the soup, salad, entrée and one dessert. Diane sometimes added the soup. We almost always went with Wanich's recommendations. In other words, dinner was good and the service was excellent, friendly and fast.
Diane and I were in pretty good spirits. We had a good meal, watched Miami slip away through the window. We had dined, now it was time to dance.
We had some time to kill before the show so we visited some of the shops. I noticed that Sprinkles Ice Cream was not open yet and would not be for quite some time. We walked down to deck 4 and entered the theatre for the Welcome Aboard Show. Jeffrey Arpin, our cruise director could be quite funny and was more relaxed and natural than any of our previous Cruise Directors.
The singers and dancers were at the first show, but I don't remember them, I do remember Dan Wilson the starring comedian, and the acrobatics of "Duo Claudio" which were pretty amazing.
After the show we went outside on deck 4 for a private stroll to the helipad observation point where we stared at the millions of stars, looked at each other, smooched for a while and did the "King of the World" on the bow of the ship. We didn't climb up on the railing (it is angled inward to stop that) but it was still fun. The wind started to make Diane's eyes tear up so we decided to visit the spa. Unlike previous cruises we wanted to make good use of that facility. So we made the climb up the stairs to deck 12. Once there we signed up for a couple's massage class for the coming Wednesday and Diane went on the cancellation list for a Seaweed treatment on Saturday. The Sea days book up quick. We took a quick look around and headed back to deck 5.
Time is not the same on a cruise as it is at home. It plays tricks on you out there. We went dancing in Cleopatra's Needle and it was over before we knew it. We saw the crowd start to gather for the Bon Voyage parade which did not interest me due to the fact I do not like standing in the middle of a large standing crowd. We watched a few minutes of it from our deck. Sometime after eleven pm we called it a day headed back to our cabin, got ready for bed, put on our robes and visited the balcony. We watched and listened to the luminous sea, for awhile anyway.
Derrick