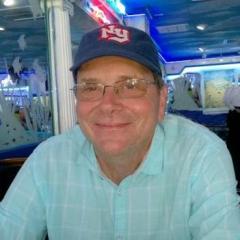 Part IV Monday: Day at Sea, Black, White and Red Evening.
We woke before the dawn. The balcony door was open with a gentle breeze blowing the sheers across the bed. (A bed without a dog sleeping at our feet)
I kissed Diane on the forehead and whispered "Happy Anniversary" she dittoed sleepily. Without another word between us we jumped out of bed, threw on shorts, shirts, shoes, grabbed a camera and headed out the cabin door. Dawn waits for no man or cute Greek girl. In just a couple of minutes we found ourselves on the Peek a Boo bridge on deck 11, best place to catch the sunrise and breakfast. It was a pastel sunrise, very peaceful. I took a few pictures, watched a cargo vessel in the distance. It was interesting to view the monitors and instruments in the bridge. Diane had brought her Bible for a little reading and meditation, I took the time to practice my Tai-Chi and pray as well.
Soon Diane announced that it is now time to eat. This morning was a dining room morning, after a quick clean up.
By nine we were sitting in the Carmen Dining Room, deck 3, which provided us with our first real look at the dining room as a whole. In the morning light I found it to be beautiful and elegant, very much like the dining rooms on cruise ships from the 1930's. (I've seen pictures) Our waiter seated us with three nice ladies from upstate New York and a young couple from Italy, possibly.
We ordered fruit, Eggs Benedict and hot tea for me. When Eggs Benedict are cooked properly, the whites are completely solid, the yellows warm. When my order came it was perfect. We talked with our tablemates for a while (primary subject matter). All of us had stories to tell. Diane's wet luggage story impressed everyone.
But you don't know that story do you?
It was our third cruise and our first with Royal Caribbean. It was on the Enchantment of the Seas in 1998. We flew Delta airlines into Miami one night early and stayed at the Hyatt, I think, the hotel with George Hamilton's Restaurant. RCCL told us just to pack overnight bags along with our luggage. We take the overnights to the hotel and the rest would be stored at the airport and delivered to the ship next day. Diane was not so sure about this. We arrived at the airport with our carryons and did not see the rest of our baggage at all. We checked into the hotel and then hung around Bayside all day and into the evening. On the way back to the hotel we just missed the beginning of a huge thunderstorm. It poured for hours along with giant bolts of lightning. We watched from our balcony, it was some show.
Next morning we were shuttled to the ship along with a lot of other people.
When our baggage arrived in our cabin, Diane opened her bag containing all her evening clothes and to her dismay discovered them to be soaking wet. All the colors had bled from one dress to the other. She now owned a large assortment of tie-dyed evening wear. We took our shocked expressions to the purser's desk and they dispatched the head housekeeper to our cabin on the double. They tried dry cleaning the dry cleanables and washing the washables, and when that did not work, they cleaned them again. We heard lots and lots of very sincere apologies. The ship staff did all that they could do but they were able to save only one pants suit out of six outfits. Diane would have to go to the Captain's gala tie dyed or not all. She started to cry; I went to the sports bar and started to drink. She did finally come up with something she could wear (good thing, or my bar tab would have been huge) until the first stop in St Marteen. There she bought some very expensive hand colored silk clothes, no dresses, which she still wears even now. RCCL picked up the tab, eventually. They also gave us a big fruit basket and complimentary Cappuccinos every night at dinner. (Our waiter Barak felt very sorry for Diane and treated her very well.) The only thing that I can say is that we are still Crown and Anchor members.
Enough about that, we finished breakfast to a chorus of you poor dears, said good bye and headed back to deck 4 for our morning walk. On the way I made a pit stop in the men's room outside the dining room.
The men's room was in bad shape. I was quite surprised to find it so at ten in the morning. The floor was wet, the toilets not flushed and the room smelled badly. I had not encountered this problem on any other ship. I am happy to say that I made it a point to check the same room the next morning and found it to be in ship shape condition.
Now, Diane says that I am not supposed to tell you about deck 4. It is a much better place to walk than the track up top. It is very wide and goes all the way around the ship, except forward and then you take stairs up to deck 5 and the helipad, loop around it and take stairs back down to 4 and continue aft on narrow wood decking that loops around the dining room. The ship's crew uses deck 4 to get around and the four shuffleboard courts are all located on deck 4. Rarely did we see more than four or five people there.
We walked hard for about forty minutes and then I challenged Diane to shuffleboard. We played a mean six games (we slam em!) she won three, I won three.
At eleven we went to a Zone class in the fitness center. This is a subject that Diane knows a lot about. She researches it constantly on the internet. Together we have lost about fifty pounds while on the Zone plan. We plopped down on a couple of Reebok steps in front of Jo's chart. She was pretty good and knew her stuff. Diane did not agree with her on food portion sizes but that was about it. We talked with her after the class and Diane signed us up for a session using their electronic body fat analyzer. I was not sure about that, but she was curious and wanted to try it. Our hook up time would be before breakfast on Wednesday.
It was now lunch time. How can you get nothing done when you have to stop and eat all the time? That's what I want to know. We headed for the dining room on deck 3. We did not rush, I enjoy the art located throughout the ship and wanted to browse a bit. The art forward included a lot of photographs and marble relief works. Very nice indeed.
We strolled into the dining room and were escorted to seats at a large table. Soon we were joined by a party of ladies from the pool, one hopped into a pair of shorts to cover up before she sat down. Our waiter started with Diane and me and continued around the table. I broke from the Zone and ordered Lasagna. Diane ordered Spinach Torte. Yum. I noticed that the ladies all had a common accent and once they ordered and our appetizers arrived, I asked them what part of England they were from. Every lady looked up and glared at me like I had just sprouted a second head.
"We are NOT English, we are from IRELAND"
I had just committed a very large faux pas. It was on the par with someone from Georgia calling me a Yankee or someone asking my wife if her family is from Turkey. Bad, very bad. One of the ladies said to me "You have just made a large faux pas." I apologized and asked them not to judge all Americans by me. I then said that I have Irish ancestry on both sides of my family and Diane has some on her mother's side. They were most tolerant.
So I rephrased my earlier question and asked them what part of Ireland they were from. All were from County Kerry. I had heard of that and asked some questions about their famous home. At some point I asked them if it would have been acceptable to ask them what part of the British Isles they were from. I found out that would have been and even bigger faux pas.
Our waiter, from India, who noticed their accents, but obviously missed most of the conversation, asked them what part of Scotland they were from. I told him that he and I were both in the same kind of trouble. "They are from Ireland" I said. He responded that all English (not American) sounds the same to him, accents are difficult to distinguish. They did not agree that Irish and Scottish accents are indistinguishable. I told him that a Scottish accent is more guttural and an Irish accent is lyrical.
One of the ladies said to me "You are now completely forgiven".
Good, I had a feeling I would be seeing more of them. I enjoyed their company, and I wanted them to enjoy mine. On this day the food and the conversation were very good.
We ate dessert, chocolate something, and then went back to the cabin to chill for awhile before the Cruise Critic reception at three thirty in High Notes. The invitation had been left in the room number plaque the day before. Diane decided that because dress was formal tonight she was going to get an early start. She hit the shower. I showed her how to use the red button to make the water hotter.
I wanted to sit on the balcony and read. I finished "The Lovely Bones" while waiting to board the day before and now was reading "Cold Mountain" a very good Civil War novel set in the mountains of North Carolina. I read with the gentle sound of the ship's wake keeping me company.
They sat together quietly for a minute, the only sounds the snap of beans and the hiss of Sally pulling thread through them with a needle and, from inside the house, the mantle clock ticking with the sound of a knuckle knocking on a box. Esco and Sally worked together comfortably, hands sometimes touching as they simultaneously reached in the bean basket. They were both quiet and slow in their movements, gentle toward each other, and they touched each pod as if it were a thing requiring great tenderness. Though not a childless couple, they had retained an air of romance to their marriage as the barren often do. They seemed never to have quite brought their courting to a close.
I hoped that Diane and I would be like that. I want it to seem that we have never quite brought our courting to a close. My thoughts were pleasantly interrupted by Diane telling me it was my turn in the shower.
The shower stall is small, with the drain in the side, not the floor, where you would be constantly standing on it blocking the flow of water. If the shower stall drain were to be blocked water would end up in the cabin, especially on smaller ships that have more movement. I liked the way the shower head slid up and down a rod at the push of a button. The attention to detail impressed me. The sliding round doors were certainly better to lean against than a curtain. I have heard of people falling out of the shower booth during rough weather, on much smaller ships.
We put on fresh shorts and such and began the climb up the stairs to the High Notes Lounge on deck 14. Once again, I admired the artwork on the way up.
We walked into High Notes, where I found the layout of the place to be a little illogical, when compared to Dizzy's on the Explorer. There were a few people sitting. I made a nametag for Diane and myself and then started to sit down when I was told the seats were saved. We then had to move to the upper level to find seats. We sat down near a gentleman with the name Michael, who recognized my name and introduced himself as Buspilot. I had seen him on the Cruise Critic boards a few times. Soon we were joined by Irish Eyes, and her brand new husband. We chatted with Patti and Gordon for awhile, about the primary subject, ordered mineral water, which we had to pay for, and enjoyed a couple of canapés. A ship staff member, who is also a member of CC introduced himself, said a few words and then the ship's Loyalty Ambassador, Lynn explained the Crown and Anchor Society to everyone, told us we could book a future cruise while on this one and then receive shipboard credits, etc.
And that is when I found out we were missing a C&A complimentary wine tasting happening simultaneously.
A minute or two more and the party was over, everyone got out of there quick.
Diane let it be known that she would have much preferred the wine tasting or the pool to this party where whiskey sours were free and water had to be paid for. She was disappointed. I knew she would get over it. Tonight is Formal night.
We went back to our cabin and changed into our formal wear. We enjoy the first formal night more than any other on the ship. Tuxedo and gown are required. Maybe it has something to do with the fact that we fell in love during our first date which happened to be our high school Senior Prom. We fell in love then, we just did not realize it for a few months.
I put on my S&K Pavarotti tux with the brocade cummerbund and bow tie that I purchased in an antique store. It has a watch pocket, in which I put a nice gold pocket watch with chain that I bought at Wal-Mart. Diane wore a strapless black dress open in the front with an inner white dress that has horizontal white stripes. (Picture will be posted later) She looks like a million bucks in that dress. By five we were on deck 5 in front of Cleopatra's Needle in time for the Captain's reception. We stood in line to have our picture taken with the captain, a picture that looked good that we forgot to purchase. I was surprised at how young the captain appeared to be. I found him to be very outgoing and personable.
We stayed in the lounge long enough for a drink of champagne and a few dances. The floor was rather crowed and there was one couple in unusual native dress, it looked Austrian or Dutch or something, very noticeable especially since they were waltzing like mad around the floor their hands out like a one bladed windmill. I made sure to steer Diane out of their way.
We left to promenade down the promenade, got in line for one of the backdrop pictures, and strolled back up the promenade after the flash. We were just in front of the jewelry shop when I saw something that jogged my memory. Diane saw something that got her attention and moved away so I took the opportunity to jump into the shop. I looked for a staff member. A tall man with a full beard and no name tag asked me if he could help. I told him I needed to buy a dozen roses like the ones on display outside and I needed them in a big hurry, to be delivered to table 518 in time for main seating. He picked up the phone and called the florist. He explained to someone what I wanted, asked for my cabin number, I told him 1234, he said "you're kidding" and then asked for my Sea Pass. "You will take the flowers out there?" I said sure, they look great. "Okay, I am actually a guest on the ship with you, but I will deliver them myself." I didn't know how a guest could handle this so well, but who was I to question an obviously gifted man?
I caught up with Diane before she missed me for too long and we claimed a spot in which to see the Captain appear on the bridge over the Promenade and make his welcome speech and introduction of his staff. Fifteen minutes later I was walking through the dining Room with Diane on my arm. Our table was full tonight. In the middle of the table was a beautiful arrangement of a dozen red roses in a cobalt blue vase. We sat down in the middle of the table and I asked Diane if it would be all right to move her flowers. Her chin dropped, and then she smiled and said okay. Our table mates, now that they knew who the flowers were for, asked what the occasion was. "Our 30th Anniversary" I told them. We received many congratulations and Wanich moved the flowers to his counter.
Our new tablemates included two newlywed couples. Newlyweds Mary and Quinn were from New York City. The other two couples were from Tennessee. They would discovery that they lived within a half hour of each other. One couple was celebrating their tenth anniversary and it was their first cruise. He owned a tile and home improvement business and was in awe of the workmanship on the ship. He could not believe how beautiful and expensive it all was. The other newlywed couple looked to be in their twenties. I did not get to know them because they did not come back to the main dining room again until the last night of the cruise. The three oldest men wore Tuxes, the two youngest wore sports coats. Quinn wore a great looking Tuxedo with a double breasted black vest.
I made it a point to tell Quinn and Mike that they looked sharp.
Dinner was fun. Lots of cross conversations and jokes and cruise comments of course. Inquires about what every ones' plans for the week were etc. Most all had the filet mignon. I found it to be a little bland after my Wyndham steak but it was still good. I had a lobster bisque soup that was very good. Diane and I ordered the Soufflé with liqueur for dessert. Sometime towards the end of the meal, the wait staff serenaded us with a happy anniversary song and presented us with a yellow cream cake. That would be consumed later that night along with a half bottle of Chateau Michelle Riesling.
We broke up just before eight thirty. Quinn and Mary paired up with Diane and me for most of the evening. I found out that Quinn worked for a specialized trucking firm that hauled very sensitive and or very heavy items like missiles, tanks, the Hubble telescope and spent nuclear fuel.
We attended the evening's show together. Jeffrey was again very funny. I found Dreamscape, a multimedia production, to be very entertaining. Some of the flying sequences were almost ethereal. The dramatic and acrobatic finale has a man wrapping is arms in a long suspended cloth and then flying out over the audience. I imagine that sitting in the main section of the theatre would make this part of the performance more dramatic than it appeared to be from our seats in the balcony. After the show Quinn and Mary went to the newlyweds get together in The Vault. Diane and I went back to Cleopatra's Lounge for a little more movement. Who knows we might even listen to the croaky Karaoke singers. After all, we looked great and the evening was still young,
When we finally opened the door to our cabin at about one thirty, we found Cake, Wine, and Roses waiting for us in our room. There was also a gift from Collin; two swans, wearing sunglasses, facing each other their long necks forming the shape of a heart. We loved them but we had to move them to the couch.
Derrick