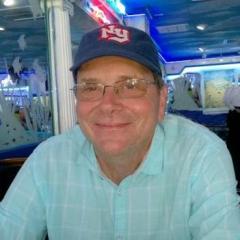 Part IX Saturday: Room Service and Farewell
We received a call at eight in the morning. A cheerful voice was at the other end asking us if we were ready for our breakfast. I sleepily replied in the affirmative. I jumped up, robed up and hit the head. While in there I heard a knock at our cabin door. Diane let the room service waiter in. I heard the rattle of cups and plates. Not knowing exactly where the waiter was located, I did not open the bathroom door for fear that I would knock him into the closet. Diane asked if she needed to sign anything, he said no; enjoy your breakfast and then the cabin door shut. I stepped out. There was a lot of food sitting on the small coffee table. I moved as much of it out to the even smaller balcony table, leaving the tray of herb tea and decaf balanced on the bed. It was Diane's idea to order room service the night before and I have to admit it was a good one. It was great to just sit there and soak up the salt air and listen to the ocean pass by. Breakfast was eggs, fruit, and Danish and a lot of each. I bit into a Danish…..Prune! I hate Prunes. On every cruise for the last fifteen years I have avoided prunes. Diane said eat it, you won't die. It was not bad actually. We took our time. We wanted our last day at sea to be a lazy one. The biggest project of the day would be to repack. I was not looking forward to that at all.
After breakfast we put on our swim gear, Diane covered up with a pair of shorts as usual and we tried to do our next usual thing; head down to deck 4 for our fast walk. We picked up some hand weights in the spa and went to deck 4, but both ends were closed for cleaning. We had no other choice but to try the jogging track on deck 12. At first I did not like it. It was hard to keep up any kind of pace because it is also the walk way between the deck chairs, plus it is too short. I decided to expand our course by looping through Adventure Ocean, the kids' area aft, and picking the track up on the other side. For about forty five minutes we quickly walked around the sun worshippers including the Norwegian windmill.
After our walk we went back down to 1234 to pick up books, towels and such, climbed back up the stairs, past the blowers still drying out the carpet, and picked out two chairs in the Solarium. Choosing our chairs is not that easy, not now, nor was it earlier in the week. We want to sit together of course, but I need a chair in the shade and Diane wants one in the sun. This takes some effort; accomplishing this task takes a lot out of me and makes me hungry. This morning we were fifty percent successful, in Diane's opinion anyway. We had to take two chairs in the shade in front of the open glass wind screen facing the sea. Mine was next to a planter that made a good spot to put my sunglasses and book. I was finishing Cold Mountain.
Inman walked through mountain country and kept to the trails and saw few people. He measured out distance in portions of a day. A full day's walk. Half a day. Less than half a day. Anything shorter than that was just a little piece down the road. Miles and hours became concepts he disdained since he had not the means to measure either.
He was held back in his travels after he came upon a little-sized woman sitting humped up on a fence rail crying for her dead girl. The woman's bonnet hood shaded her face so all Inman could see was black but the tip of her nose. When she turned her face up to Inman, though, the tears dropping from her jawbone sparkled in the morning light. She held her mouth slitted open in anguish so that in Inman's mind it resembled the sputcheon to a sword scabbard. The sun was not up good yet and she was about to have to bury her child wound up in an old quilt, for she had no idea of how to make a box.
Cold Mountain is about a Confederate soldier, a good one, also a good man, who after recovering from a serious wound and in the hospital, deserts and decides to walk three hundred miles home to his one true love. It is a haunting book with the ability to make a grown man cry. Diane, when she was awake, continued to read her Nora Roberts book.
We did not move from our chairs until lunch. We left our stuff on our chairs, grabbed a slow bite in the Windjammer, returned and took up right where we left off. The only interruption was some too loud announcements. We slept, we dipped in the pool, we read and then we slept some more. At three we called it a good day at the pool and headed back to our cabin for showers and packing, not necessarily in that order.
Diane and I had grown much closer during this trip. The cruise was a healing balm for both of us, but the time to leave was now very close; pulling the bags out from under the bed was a strong indication of just how close the end really was. I started packing my stuff first. I really did not care how straight my shirts, including the ones I had not worn, went back in my bag. But Diane who had spent a lot of time ironing them did. This was the only time we had words with each other that were anything less than kind. I repacked my shirts the way she wanted me too.
We showered and packed in shifts, leaving out our dinner clothes. Around five we started to get dressed. Diane put on a short form fitting sleeveless B Moss pink dress with matching shoes. I put on a three button black Liz Claiborne suit, wine colored shirt, tie and pocket square combo that had stripes of color that matched Diane's dress. I laced up my black Bostonians and we were on our way.
Dinner was bittersweet, it was after all our last, and we enjoyed each other's company but we knew we were saying goodbye and would in all probability not see or hear from each other again. That is just the way it is. So a lot of flashes flashed during dinner. Wanich would be missed; he took our orders for wine, Malligahanney Soup, salad and prime rib. We chatted about the many highs and few lows of our collective cruises, the avoidance of packing and scheduled flights home. The evening passed quickly. Dessert arrived; hugs were made, last pictures taken, envelopes handed to the very deserving persons who received them with thanks. And then it was time to leave, Wanich needed table 518 for the second round of goodbyes.
We made our last roam around the ship. I looked at the watch that I had forgotten to buy, but the shop was busy and I was not in the mood to buy it anyway. We finally made our way to the theatre for the Farwell Show. The farewell video was playing. The dancers were good, Jeffrey was funny as always, and the crowd was happy but subdued. When the staff made their farewell entrance, everyone gave loud applause to show our appreciation for a good week. Jason Chase the Comedian followed the acrobatics of Duo Claudio. It took a little time for him to warm up the audience, but he did fine. The show ended, we received some "how to leave the ship" information from Jeffrey and that was that.
We went to the photo area and bought the pictures we wanted and choose to opt out on purchasing the video. We then went to Cleopatra's Lounge to hear "Sister Sez" the very good house band and dance for the last time. Before midnight we went back to our cabin, where a crocodile and the last little Compass newletter where on our bed. I rolled our luggage out into the hall and we turned out the lights. I sat up and watched The Count of Monte Cristo and missed the middle of it because I fell asleep. I saw the very end and turned off the television. I opened the balcony door so that I could listen to the ocean just a bit longer.
I was beginning to feel melancholy and a bit lost. I was grateful that we were not flying home the next day but shuttling to the airport, picking up a rental car and driving to Melbourne. We would be easing ourselves back into the real world, a place that I did not want to return to and in some ways, as I am writing this, I am still not there. I am still on the Voyager, with my beautiful wife and you.
Derrick