Driving the Sprinter RV in Extreme Cold

What a winter this has been. The arctic vortex or whatever we call the cold air that has been making repeated appearances throughout the Upper Midwest has kept many an RVer housebound before the fireplace.
Not us. We're about to head up to Northern Minnesota along the Lake Superior northern shore where the temperature is expected to be -26F/-32C.
I wrote about it earlier when the bitter cold forecast was causing our plans to waver. Many of you offered advice. Most said don't go. Some said head south instead.
Two or three said, follow the call of the north.
So, we are. Adventure and the sheer challenge of it all has us packing parkas, boots and long Johns and ready to head out on the morning this post goes live.
But, with so many suggesting caution, I thought I'd get some expert advice on how our Roadtek eTrek, powered by Mercedes on the Sprinter chassis, would handle the cold and what, if anything, I needed to do differently when operating it under such extreme conditions.
So I headed to Hoekstra Specialty Vehicles in Troy, MI, one of the Midwest's biggest Sprinter dealers. On the morning I drove my eTrek to them the temperature in my driveway was -14F/-25C.
The above video gives you the details. Bottom line, I need to make sure the glow plugs have warmed up. That means turning the key without starting and waiting for the little pigtail-like icon on the dash goes away. As far as special fuel, Sprinter service expert Josh Biscarner tells me I need not do a thing, that the winter diesel blends are fine. Josh gives lots of advice in the video for you Sprinter users.
So, off we go – Jennifer, me and Tai, our Norwegian Elkhound. Look for videos and posts as we head up I-75 to the Mackinac Bridge, then over to the Upper Peninsula of Michigan and west through the Up to Wisconsin and then on to Duluth, our first stop on a trip that will eventually take us to the Canadian border.
Yes, we do intend to spend a couple of nights in the Roadtrek boondocking in the wilderness.
This is going to be fun!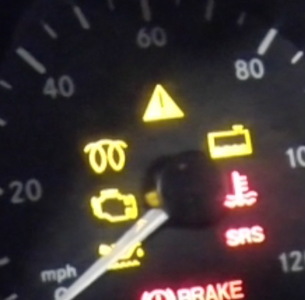 The glowplug icon is the curly little "pigtail." In extreme cold turn the key to the on position, wait till the glowplug light goes out, then start the engine.