Episode 4 of the Roadtreking Podcast – How and When to Winterize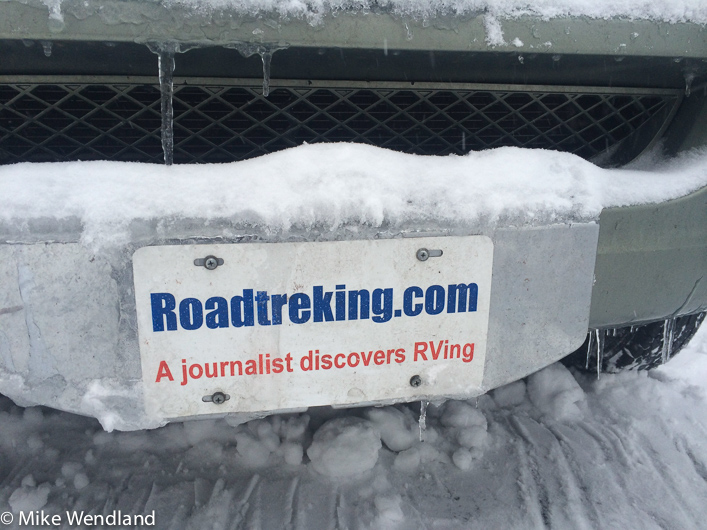 This is a jam-packed podcast with lots of very practical news and information.
In it we talk about another anti-RV town, how and when to winterize, along with lots of practical tips on all sorts of things connected with the RV lifetyle.
Last week, we had 41,697 plus downloads of the Roadtreking RV Podcast. I am overwhelmed by your support and kind words. Thank you. If you haven't already, please subscribe via the iTunes or Stitcher links:
Episode 4 of the Roadtreking Podcast – How and When to Winterize (iTunes)
Episode 4 of the Roadtreking Podcast – How and When to Winterize (Stitcher)
Then you will have new episodes automatically placed in your podcast app ready to be downloaded and listened to when you are ready. I would also appreciate if you take the time to give us a review and a rating, too.
Show Notes for Episode #4 of Roadtreking – The RV Lifestyle Podcast:
Halloween camping – The month of October has become a huge month for RV campgrounds around the country. Many host Halloween weekend events aimed at families. People decorate their RVs, there are costume parties and trick or treating. We visited one such event this weekend and shared some photos at in my Halloween Campouts blog entry But check a campground near you for next weekend. Don't be surprised if it is filled!
Anti-RV towns – I talk to Jim O'Briant from OverightRVParking.com about yet another town that has passed local regulations aimed at overnighting RVers. Jim tells about one camper rudely awoken by a knock on the door in the middle of the night.
LISTENER QUESTION OF THE WEEK: A listener from Florida asked about our experience with the StowAway Cargo Carrier. Before you get one of these, you'll want to hear our experience. Jennifer joins me for her perspective on the pluses and minuses of this storage solution.
RV NEWS OF THE WEEK:
There were a rash of RV fires across the country last week, most due to propane problems. These accidents tend to spike in spring and then in the fall, as many are migrating to and from winter destinations. Here are tips on propane safety with links to valuable safety info.
TRAVELING TECH TIP: The new iPhone 6 and 6 Plus and new iPads and new Android devices are now being released and lots of people are wondering what to do with their old phones. That's where online trade-in sites come in. Here's how you can exchange your old one for cash so you can buy a new one.
Gazelle is one of the most popular electronics trade in sites, allowing folks top instantly see what their old electronics are worth, actually getting a trade in price on the spot. You pack up the old phone and they send you a check. Couldn't be easier.
NextWorth offers a similar service, but with a twist. You can check out the value of your trade-in and they'll also send you a check if you want. But with NextWorth, you can also find a store near you that partners with them where you can actually go in person to do the trade-in.
Online retailer Amazon has a very active trade-in service as well, on all sorts of personal electronics.
So does the big box retailer Best Buy. Check out your trade in on their website and take it to a store near you.
And you can do the same with Radio Shack.
RV BUCKET LIST DESTINATION: The Bighorn Medicine Wheel in Wyoming –
INTERVIEW: Yan Seiner, a Roadtreking Reporter who just also happens to also be a senior project manager with Roadtrek Motorhomes, talks to us about What you need to know about cold weather and how and when to winterize your RV.
We also announce a winter campout Yan and I will be hosting in the snowy Upper Peninsula of Michigan Jan 23-25, 2015. You're invited! Details at http://roadtreking.com/heres-chance-try-winter-camping/
I mentioned how when we do camping in the wintertime, we also take along a small ceramic heater. It's the Lasko 5307 Oscillating Ceramic Tower. It's 16 inches high, easily stores and really kicks out a lot of heat and we are very happy with it. Here's a direct link from Amazon. If you do buy from Amazon using that link, I get a small commission.
I also want to thank Van City RV for sponsoring this week;s episode. Van City specializes only in Class B motorhomes and they have an extensive inventory of new and used rigs. If you buy from them, they'll pay your way to St. Louis to pick up your new coach. Mention Roadtreking for special pricing.
Many of you ask how you can subscribe, review and rate the Roadtreking Podcast on iTunes. Here's how:
First, open up the iTunes app on your computer or mobile device. Click on Podcasts up on the top.
> From the iTunes Podcasts page, use the "Search Store" field up at the top right corner of the page. Type in Mike Wendland or Roadtreking RV Podcast.
> Click on the logo image of the Roadtreking RV Podcast on the search return page
> From there (see photo above), you can…
1) Subscribe
2) Choose and Click on a star (1-5) that reflects your rating. Five stars means you really like it, one star not so much.
3) Leave a written review.
Thanks to all for the kind reviews we've received so far. That got us noticed by Apple/iTunes as "New and Noteworthy." I appreciate every review!