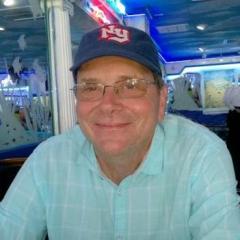 I have two installments of Eighteen Months to write, but I need a break from it. I feel the need to post something about Motor Coaching.
Our coach is still stuck in the driveway. Not literally, but figuratively. Weather and time constraints have conspired together to keep it parked right where it is for some two months now without moving an inch. Boy, do I have the itch to (notice the word inch and itch are very close) to get away.
With the idea that going somewhere is better than nowhere and looking at motorhomes at a show may be better than just staring at ours through the window, we decided to make a day trip to Richmond, Virginia. We made a visit to the 25th annual Richmond Camping and RV Expo at the Richmond Speedway.
We left around 10 a.m. this past Saturday for our 90-minute drive up north. Just before we finished breakfast it started snowing, again. We spent a few minutes browsing the weather reports online just to make sure we would not get caught in some weather we could not get away from. The reports all said this was just a short snow shower, so we took off with our supply of water, energy bars and dollar-off admission coupons.
We arrived just at 11:30. We drove through the gate and found ourselves in the Vendors area close to the main entrance. The vendors parking lot was nowhere near full, so based on the number of vehicles around us, I had no real idea if this show would be all that busy.
We walked through the cold to the ticket booth, paid our sixteen bucks (including our dollar off each) passed through the glass doors, showed our tickets and had the back of our hands stamped with the word FUN in blue ink.
There were quite a few people there. The main entrance was crowded with people around a tall counter. They were filling out some kind of sweepstakes coupon, the winning prize being twenty five grand, and the consolation prize being a call from a time share organization. I declined to enter the drawing.
I was more interested in exploring a couple of class A coaches. One was a new small Class A made by Winnebago. The Itasca Reyo (or the Winnie Via) is a 25-foot-long class A with one slide out that due to its size and floor plan feels more like a Class C than an A. The coach we visited was the 25T model. It has twin beds in the back that can be converted to a queen. There is also a queen bed over the cab. The cockpit area, which has a class A view, is lower than the rest of the coach but the chairs can be rotated and raised 6 inches so they become a part of the living area. Good thing too, because there is only one small couch/dinette that serves as seating. Diane and I both agreed that the Reyo appeared to be a well built coach, with a yacht like interior, functional and attractive at the same time. However, it's tight and lacking in storage that she and I are very used to.
The Reyo is built on the Dodge Sprinter Chassis, normally a C chassis. It is powered by a 154-hp five speed Mercedes diesel which I suspect adds twenty thousand to the overall price.
The Reyo had a show price tag of 119,000, just a few thousand less than the sale price of my 39-foot rig.
Parked next to the Reyo was an Itasca Sunstar, an entry level class A, with a one piece windshield and traditional interior styling. It had the fit and finish, with muted colors, and the pleasant interior that Winnebago is known for. I did notice that the basement doors were not the full size flush fit doors, but were the old style hatch covers. That is not a look that I care for all that much.
Also on display was an Encounter 30SA. The Encounter is Fleetwood's new entry level Class A coach. The Encounter replaces the old Fleetwood Flair. I don't know how Fleetwood manages so many models with multiple floor plans each; then again I don't know how Winnebago does either.
The Encounter 30SA appears to be a comfortable coach. The coach body was standard, no full body paint, and like the Sunstar, the retro look basement doors. It is what Diane calls a side isle coach with the bed, bath and kitchen all on the curb side of the coach. The dinette and the fridge are in the main slide out on the road side. We would have given this coach a lot of consideration when we first shopped for one, if it had been available then. It had a show price tag of 88,000 which I considered a very good price. I heard more than one visitor to the coach saying they thought it would sell quickly at that price.
Across from the Encounter was a Tiffin Allegro Open Road, a Four Winds Hurricane and a Tiffin Phaeton. The Hurricane is a nice coach. A bit plain on the outside but pleasant on the inside. Nice big dining booth, pull out bar, a comfortable coach. The Phaeton was the highest end coach at a show obviously geared to mostly entry level rvers and as a result the coach was crowded with curious lookers, not shoppers. It was a nice coach, no doubt about that, good looking woodworking, wonderful choice of fabrics and colors, great lighting (and that is important to me) and with four slide outs, plenty of room. The only thing that left a bad impression was a bit of wood framing on the ceiling. It really didn't add to the overall look of the interior.
I finally made my way out of the Phaeton and visited the Allegro Open Road. Maybe I should have visited them in reverse. I was not overwhelmed by the Open Road. It is a good entry level coach, particularly for families with kids. It has a bunk bed option and with most of the floor space covered in vinyl, dirt and water being tracked into the coach is not a big problem. I think a bit more ambient lighting and a few more mirrors or pictures would warm it up a bit. This coach was built on a Ford Chassis.
We took a look into a couple of Born Free Class Cs. Nice rigs but a bit pricey.
That brings up an observation. There were not a lot of Class As at this show. The majority of the Class A coaches on display were in the 30 to 34 ft range. As I mentioned the Tiffin Phaeton was the highest end new coach there. Camping World had a couple of used late model Monacos on display, a Knight and a Diplomat.
There was also one new Meridian parked outside the main entrance. All the gas class As except one were built on the Ford Chassis. The one exception was a Damon Challanger (nice coach with comfortable interior) built on a Workhorse chassis and that coach had a sold sign on it.
There were a lot of sold signs on trailers. More than I remembered seeing last year. I took the opportunity to chat with one exhibitor and he informed me that the show was one of the hardest to stage, due to the snowy weather, but it was a very busy show with many serious shoppers. He said sales were much better than last year, not only at the show but for the year as well.
I gathered from him and from others I spoke to, that the RV market was showing signs of recovery. The RV industry may be recovering, but it has also changed. The dealers were not pushing large coaches. The show was packed with trailers. The show gave the strong impression that the dealers believe the RV market now wants smaller, less expensive, kid friendly RVs be they trailers or coaches.
We visited the vendor area, chatted with some campground and resort folks, and then grabbed an overpriced lunch before visiting the second building. We caught the shuttle bus, and found out it would have quicker to walk. This building belonged to one dealer exhibiting Forest River, Four Winds, Damon and Winnebago products. It was packed with trailers and there were about 25 coaches, equally divided between As and Cs with a couple of fancy Bs.
We visited two or three Damon Challengers. All were pretty basic coaches, not bad.
We left the show around 3 p.m. and made our way home. We stopped at Outdoor World in Hampton just to see if anything was on sale and then we visited BJ's wholesale nextdoor.
By the time we arrived back home, we were beat. The rest of the evening was devoted to Pizza and the Olympics, although I think I have seen all the snow I care to look at.