I Had a Strange Dream: Part 2-The Dream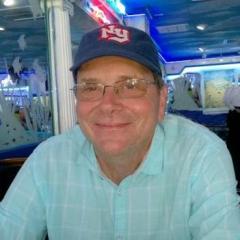 Just a few days before I had this dream Diane, while walking Nickolas our dog, was attacked by a Pit Bull. It almost killed her. Mayber that event triggered the dream. Who knows, the human mind and spirit are wonderful mysteries.
I Had a Strange Dream Last Night
I had a strange dream last night. I was having trouble sleeping. My eyes hurt. I couldn't take the light from the clock on my stereo on top of the dresser. I finally heaved myself out of bed and moved a glass candle holder in front of that blasted blue light. Then I stumbled into the bathroom and by the faint glow of a street light coming through the curtained window, opened the medicine cabinet and struggled with a bottle of Advil. I took one with a handful of water and headed back to bed. In the short time I was gone the dog had taken my spot so I told him to move, which he grudgingly did. I crawled in next to Diane and quietly waited for the pill to take effect and help me sleep. At some point it must have worked. Maybe it worked too well.
I found myself drifting out of my body. Slowly, I drifted about the room. I turned and saw Diane and I curled up as one, Nickolas at our feet. And then everything started to zoom out smaller and smaller until my surroundings were just a blur. I realized I was traveling somewhere at an impossible speed, but I had no idea where, but I felt no fear just a sense of patient anticipation, a strange mixture to be sure. I slowed down and began to recognize where I was, my daughter Jeri's home in Florida. I floated in place, the front of the white house illuminated by the moon. I could see the brown lizards with the blue tails, maybe the same ones I saw on my last visit, running across the walkway to her front door. I wondered how she and her husband Mark were doing, and the thought had barely entered my head when I started moving toward the door and then through it, like it was made out of strings of beads. I could feel myself pass through it; see it separate into segments around me. Once on the other side it appeared to still be solid. I floated into their bedroom, they were asleep, Jeri resting her head on Mark's shoulder. She was gently snoring. I hoped that I did not have to be concerned about them. All is peaceful here I thought.
The room shrank and disappeared. I found myself flying to wherever again, some things around me recognizable, palm trees, street lights, buildings all blending together in stretched shades of blue and streaks of light. Soon it became so black I could see nothing around me at all. The air became warm and I could smell salt. Then I heard it. I was over the ocean. I moved out from the blackness I was in, to a stadium of stars, a carpet of luminous blue below me. Off in the distance I could see the horizon and perched on it a moving light. I drifted toward it or should I say I was moved toward it, the sea wind blowing gently around me. The lights came closer and closer and then I saw that it was a ship. Is it?....Is it?....It is! The Voyager of the Seas! No doubt about it! But why was I here? I came along the port side of the ship, drifting forward and then up to the top deck, into the bridge, always wanted to visit there, out and then down like a fast moving elevator. I found myself coming to a slow stop in the Royal Promenade. There were only a few people about, all dressed up. Tonight is obviously Formal night, I thought, and it's very late….and …hey this is the Centrum and Wow, Back up! I passed through the decks, one by one and slowed down, turned through the pastel passageway past a familiar Egyptian art display in a glass case and found myself parked, my feet (I guess I had feet) a few inches above the carpet in front of a cabin with the number 1234 on it.
I know this cabin. Diane and I stayed here! When was it? It must have been a long time ago. I could not remember, my memory suddenly seemed fuzzy for some reason. I slowly passed though the closed door, a sensation I knew I would never get used too, and into the cabin. There was a reading light on over the bed. In the bed was a couple, I assumed they were husband and wife. The balcony curtain was open and the door was cracked, letting the very warm sea breeze blow the shears across the foot of the bed. I could hear the sea massaging the ship. On the couch was a cast off tux, white shirt and tie. A long black velvet dress was hanging neatly from the divider next to the couch. I caught the glint of one gold cuff link sitting next to a gold watch on the nightstand. I hung there and made a slow spin. On the coffee table was a glass of water, numerous bottles of pills, and a partially consumed yellow cake. It has to be their anniversary, I thought. I turned around a bit more. I could see the reflection of the room in the mirror, but the reflection did not include me. I found that a bit curious. I took a closer look at the two people. Though the room felt very warm, she looked pale and was covered up to the chin, except for one arm, with a familiar brown blanket. They looked about my age, maybe a bit younger. I noticed that their hands were clasped so tightly together that the knuckles were white, like they were holding on to each other for dear life.
"They have been together as Man and Wife for over thirty years."
My heart leapt in my disembodied chest. I had never heard that voice before but I recognized it at once. A tremendous feeling of peace came over me. I could not speak.
They have? I thought.
"Yes, and they have known each other since second grade."
I looked at those intertwined fingers, and thought there is something wrong.
"She's dying"
My feeling of peace started to leave. I found my voice "Why? From what?"
"Does it matter what?" said the voice gently.
"No, I guess not." I said "She must be really scared."
"She is more afraid for him than he is for her" answered the voice.
"Why, is that? She's the one who is dying!"
"She is afraid for him because he does not believe in me."
And then I understood her fear, and I began to understand something else too.
"He won't ask you to make her well will he?" I said.
"He refuses, only because he does not know how to ask me."
"Hasn't she asked you?"
"She loves him so much that she only talks to me about him."
"But she believes you can make her well doesn't she?"
"She believes."
"So do I."
"Yes, I know that", said the voice.
There was a sudden burst of lightning off in the distance. It filled the room like a reflected flash. I looked down at the woman and I could see color come into her face and lips. Her breathing became deeper and a bead of sweat broke out on her upper lip. She let go of her husband's hand sat up looked around the room and I could have sworn she looked right at me.
"It's hot in here" she said softly.
And then she kicked the blanket off onto the floor, rolled over on her stomach and put her arm around her husband. It started raining, the wonderful sounds and smells of one of those random little Caribbean squalls being pushed through the open balcony door by a cool breeze.
I knew it was time to leave. I closed my eyes and braced myself for the somewhat creepy pass back through the door but in an instant my eyes were shocked back open by the sound of loud techno dance music. I was in the Vault. The place was packed. The lights were flashing. I was standing in the back part of the lounge. And I was no longer disembodied. I was wearing my single button tux, wing collared shirt, and the blue brocade vest I wore to our daughter Jeri's wedding. This was weird to say the least. Even stranger was that I knew, somewhere in the room, was a man and a woman that I was supposed to meet. I had to talk to the man first. I went upstairs to the second level bar and walked over to a young man, with a military style haircut, in his thirties most likely, who was sitting at the bar sipping a Coke.
"Scott?"
He turned around and gave me a somewhat puzzled look.
"Yes…do I know you?" he asked.
"Not exactly, but we do have a mutual friend, who told me to look you up… can I sit here and talk for a minute?"
"Sure'' he answered. "Who told you I would …"
Before he could finish his question I had planted myself on a bar chair and interrupted him.
"I know you recently returned from a very tough tour of duty in Afghanistan. I know you went active from the reserves so you could go there because your sister was killed in the World Trade Center on 911. I know you are on this cruise at the suggestion of friends, who think, or hope that you will meet a, or should I say, The girl who might help bring a little joy back into your life. Am I right?"
He looked shocked and after a pause and a swallow of his drink he answered.
"Ah, yea, correct on all counts" he said. And then with a smile added "They told me they were praying that I would find her on this cruise."
I looked at him hard. "If I told you that the answer to that prayer is downstairs would you let me take you to her?"
It was now his turn to look hard at me. He did not answer.
I sang, "Wake up….Wake up Dead Man…Our Father...He's in charge of Heaven, and He made the world in seven…
Scott finished for me….
"Would you put a word in… for me…?"
A moment of silence.
"That word has been put in. Will you let me take you to her?" I gently asked again.
He choked out one word
"Yes."
"Okay, let's go"
We walked down the glass stairs to the lower section. On the way I told him a little about Ginny, the girl that he was about to meet.
"She likes daisies and roses. Her favorite food is seafood and she loves steamed mussels. She likes to dance swing, but she hasn't done it in quite awhile. Her favorite music group is U2. I saw the incredulous look on his face and told him it is my favorite group as well.
"I am going to tell you one more thing and then the rest is better left up to you. Her fiancé was killed at the Pentagon."
"On 911?" said Scott.
"Yes."
I led the way to a table with two attractive women sitting at it. One sat quietly in her chair, the other was more animated. It was obvious that they were sisters. Not twins but close.
"Hello there."
They turned around and look up at us. I took Ginny's hand and as I gently raised her out of her seat I said:
"Ginny this is Scott. Scott this is Ginny. It has been divinely arranged for the two of you to meet on this night at this time and at this place. Now I think you two should sit down and start getting to know each other."
Ginny looked nervously at me and then at Scott, who gave her a warm smile. She seemed to relax a bit and looked at her sister who was now on her feet as well.
"This is my sister and I…'
"Don't you worry about Barbara, she and I will finish this dance." I said
I took the sister by the hand and as I led her to the dance floor I whispered to Scott
"Walk on Scott, Walk on"
He smiled. I am sure he got my message.
Barbara looked at me like I was a mildly crazy person. We reached the floor just as the song Caught in a Moment finished playing (the evening was planned don't forget) I leaned close to Barbara's ear.
"Scott is the direct answer to your very direct prayer. You have to keep this a secret; they will get married on your birthday."
She started to cry.
The song ended, the moment was over and I said goodbye.
"I have to go." I said. "You, your sister, and Scott are going to have a good life; you just have to choose to live it."
Barbara looked at me, nodded and said "Who are you? What is your name?"
"My name is Derrick and I'm Diane's husband."
I held one of her hands in both of mine for a moment and then walked out the door to the Centrum on deck three. I was not at all sure what to do next. Just a few minutes earlier I was practically a ghost and now I was literally standing in front of an elevator, by myself in a tuxedo with no place to go. I reached out and pushed the elevator button. It came; I stepped in, the carpet said Tuesday. When I went to bed it was Friday, and I seemed to remember that Voyager's formal nights were Monday and Thursday. Space and time were a bit off. I took the elevator to deck 5 because I wanted to walk the Royal Promenade as long as I could actually walk. The elevator opened and instead of turning right towards the Café Promenade and all its goodies (I don't know if I could have eaten one or not) I had the urge to turn left into Cleopatra's Needle. I walked in. The place was packed with people. It was Karaoke night just like the Tuesday night on my cruise. I stood out of the way in the back. I felt a little self conscious considering I was the only man in a tux, but no one seemed to notice me at all. I began to wonder if they could even see me. A couple of people sang and the order seemed very familiar. And then I heard my named called.
"Is Derrick here?"
I hesitated to answer; after all I was not sure I was really here or not. Before I could decide what to do a man sitting on the edge of the dance floor stood up and walked over to the host or hostess. She handed him the mike and said tell everyone your name, where you are from and why you are here.
"Hi, my name is Derrick; I'm from Portsmouth Virginia……"
A big cheer went up from the section to the left of the floor. I almost fell over because I stupidly realized that I was watching myself. Talk about Déjà vu. I had to sit down. As I took a chair next to an older couple I heard myself say:
"… and I am celebrating my 30th anniversary. I would like to sing this song to my wife Diane who is sitting over there". He or I pointed to where she was sitting with her shoes off and her feet up on the chair in front of her.
The other I then stepped towards Diane. There was a big cheer, as I remembered it; only out in the audience it was really loud. The music started, this time I was a spectator. I watched myself look at my wife and she looked back and neither looked away, even for a second.
Most of the people around me were chatting with each other. But as the song progressed they stopped talking and started to listen, really listen…
If I called you every time that I think of you…the phone would be ringing, all day.
I keep thinking these feelings will mellow with time but not yet, no way. We've had our share of heartache and trouble, we can look back and laugh at it now, but a mystery keeps haunting me, how we hurt those we love most somehow, somehow.
A real love expression is long overdue, so hear my confession of my love for you-I just never say it enough, and before it's too late and time's up; you're more than all I dreamed you'd be, an answered prayer, a gift of God above. But I just never say it enough.
I believe God inhabits the human heart. I believe it more now than ever before and I see His reflection in You, in You, and I'm sure, yes I'm sure.. that a real love expression is long overdue, so hear my confession of my love for you- I just never say it enough…so before it's too late and time's up, you're more than all I dreamed you'd be, an answered prayer, a gift of God above.
Some of the women started to cry, some of the men too. I had no idea that the song had that much impact and then I realized my face was wet also.
But I just never say it enough. I just never say it; I just never say it enough. Nooo, I just never say it, I just never say it enough. Noooo… oh…. oh."
I finished the song, the crowd all came to their feet and cheered, and it was loud. I watched myself put the mike back on the stand, take a little bow and run over and kiss Diane. I knew she was crying also.
The hostess then told the audience that I was not part of the competition; I just wanted to sing something special for my wife and she hoped that after thirty years that they would be as much in love as Derrick and Diane.
It was very strange. I wanted to soak up the moment from this perspective but I could not help but notice the older couple sitting next to me.
The man looked familiar and then I remembered that Diane and I met him on the pier in San Juan. We were both on the Explorer and he told me he was a retired Israeli fighter pilot. He had served during the Six Day War.
During the song the woman, who must be his wife, took his hand and stroked it. At first he did not seem to respond. But now, he twisted his seat around so that he could look directly at her.
"I'm sorry, so sorry. I should not have gotten so mad at her. But what could I do? Now she is gone and I am dying inside. I have hurt you so much. How will we be able to look back at this? How will we be able to smile again, how can I laugh again?"
The wife looked at him.
"I don't know how, but we will, the song says so, somehow with God's help, we will."
They both looked so unhappy and full of sorrow. I had a feeling that they had lost someone very close to them
"Tell them that Sarah is with me"
The voice startled me.
"Derrick, tell them that their grand daughter Sarah is with me and that she is fine."
I had to do what He said. I moved over in front of them and went down on one knee.
"Hello, my name is Derrick…"
They both looked at me and then looked again and then both of them looked at the couple sitting on the edge of the dance floor, the man, me, with his arm around his wife.
I hoped that they were not about to scream or pass out or both.
The man was speechless the woman finally spoke.
"How can you be here and there…"
I put my finger on my lips.
"Shh, that is not so easy to explain. Besides I have something very important to tell you.
Your grand daughter Sarah is in heaven, she is doing fine, and loves you both very much"
They both stared at me for a long, long second and then the man took my arm.
Tears ran slowly down his cheek as he told me that he had argued with Sarah about the man she planned to marry.
"I did not approve of him at all. I did not like his family. They are not of our faith. Sarah said he is a good man, an honorable man who loves God and her. I became very angry and told her that she was as good as dead to me if she married this man."
He had to pause. I waited.
"She did not get the chance to marry him.. She died, at the hand of a terrorist. She was attending a birthday party for one of his friends and it was bombed. She was with him. He barley survived. I blamed him for her death. . I was a fool."
His wife smiled gently
"Yes you were" she said.
"What should I do now?" he asked.
"Love your wife, have peace, and ask the man that was to be Sarah's husband to forgive you. And be his friend. Be the Grandfather in law that you would have been. That is what you should do."
"I think I can do that."
I stood up, they stood with me and I embraced them both.
"God be with you "
"And you" he answered.
I turned and walked out of the lounge and into the Royal Promenade. I slowly walked the length of the ship looking up at the windows of the cabins and into the shops. I thought about my time on this ship. When I was here I was relaxed. I trusted the captain and the crew to look after me and my wife. I knew that the ship and its' crew would provide everything we needed and then some. I never had the thought of telling the captain that I wanted to be in charge of my trip, that I wanted to pilot the ship because I did not like where it was going or because it was not getting there fast enough. I put my wife and my life in his hands so to speak. Should I not put the same trust into the Captain of the greatest voyage of all, the voyage called Life?
I wanted to see the ocean so I went through the glass sliding door out to the deck. I walked over to the railing and I put my hands down on nothing. I found myself passing through the railing and out into the open air the ship slowly moving away from me. I was not worried. I must be going home.
I floated there for a long time, the ship moving farther and farther away until once again it was just a few lights on the horizon. I looked at the millions of stars above me and the luminous blue below. And then everything became a blur again.
I flew quickly toward home, soundlessly. I began to slow and soon I recognized the lights of my town. I have seen them from the air many times. But something seemed different; things were missing and others out of place. I drifted down to an empty downtown street. Not a soul about. Now I knew something was not right. The brand new fifteen story hotel was missing. A completed condo now looked half built. I realized that I was looking at Portsmouth some years earlier. I was not concerned, not after what had taken place the last few hours or minutes or days.
Slowly I floated down street after street until I came to a hospital. I drifted through the front door. There were only a few people about. This had to be the past because this hospital had been closed for years. It was obvious that no one could see me. I continued up through the ceiling and found myself in the maternity ward. It was very quiet, most of the lights turned off. As I passed by an open door I could hear the sound of a new mother singing to her new baby. I moved down the hall through a partially opened door into a room. Lying on the bed was a young man, a lot younger than me anyway. His hands covered his face and it sounded like he was talking to himself, no he's praying. He had on jeans and sneakers and a gray Swatch watch just like an old watch that I own. He dropped his hands for a moment and then I knew exactly where I was and when. It was eighteen years ago, the night that my son was born; the night that he was so sick and my wife almost died. I knew she was in recovery from emergency surgery and my son was in the neonatal unit of the hospital. The man lying on the bed was me.
For the first time during this strange trip of mine, I felt fear. The same fear and near panic I felt that May night eighteen years ago, the fear that I would loose two people. I did not want to experience that kind of fear again. I wondered why I was here.
"You are here to tell him everything will be fine." said the voice. "You are here to tell him not to fear. That I have heard him and his family will be well."
"How do I tell him or me? Can I see me? I mean I think I would have remembered if I met myself that night. I would have had a heart attack or something"
I was sure I spoke out loud and it I could see that the younger me did not hear a thing.
"Whisper to his heart and to his mind, he will hear you."
"Lord, I don't understand, can't you do that? Why do you need me?"
"Derrick you know the future, you know that it turned out fine, you can speak with complete confidence and the younger you needs to learn that when I speak to people, I do so quietly to their hearts and minds, and with the sound of their own voice. I don't set bushes on fire anymore. I don't write on walls. I simply give peace, a peace that is hard to understand but is very real… so speak for me."
I did not know what else to do but move close to my own ear.
"It's okay. Joel is fine, relax, get up and go see him. And then go to Diane and tell her that your son is doing well."
The face of the me on the bed no longer looked strained and worried. He stretched, got up, took a sip of water from a glass on the bed tray and then left the room. I followed and watched him go into the nursery where his son, his little body full of tubes, lay in an incubator. He reached in and rubbed the little boy's back.
I knew that Diane was just down the hall. She lay there in a morphine induced sleep. I knew she would be okay. There was only one thing that I wanted to do now.
"Can I go home?"
There was a very quick blur and I guess at the speed of thought, I found myself back in my bed with my feet solidly under the dog, my wife, with her bandaged ankle and arm lying exactly where I had left her, curled right next to me.
"Where did you go?" My wife asked sleepily.
"Honey, I have been lying here the whole night, except when I got up to get an Advil"
"Oh, you were gone so long. I'm glad you're back."
"Me too, go back to sleep."
The dog yawned, I yawned and I thought about this cruise we are on. This cruise called Life. I know the captain. No need to worry.
Derrick