Slideout Topper Maintenance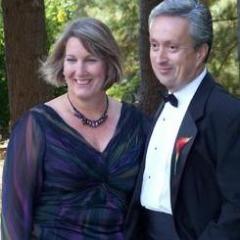 We noticed the other day that our clamshell that covers the retracted topper on the full-length slideout was not fully closed.
It appears that the massively long roller has a mid-section gutter in which it rests and freely rotates.
Imagine a telephone pole, mounted to the corner of the rooftop, and you've got an accurate image, similar weight.
Well, getting to a position where the dislodged roller can be remounted is not that easy.
I'll array some photos later to show how it can be safely done.
In the nutshell, there is a spline clip strip of extruded aluminum equal to the length of the slideout that must be telescopically extracted, and the cover itself must be extracted the same way.
Nothing in this process lifts up to remove: it is all withdrawn, like a thirty-five foot telescoping curtain rod. So, multiple ladders and helpers are needed to keep each piece from bending and breaking. I'm lucky to have a scissors lift in my shop, and I clamped a 16' rail atop it to load the removed cover.
The endcaps are typical: a 3/8" ratchet is needed to carefully unwind the spring, a screwdriver can be used to pin the center section as tension is slowly let out. Remember to clamp or safety-wire the ends, since the spring also pushes outward.
At issue is the ten foot long midsection gutter on our rig, necessary due to the length and weight (about 200 lbs) of the roller. When the gutter sags (the twenty or so mounting screws were jarred loose because the wrong size had been installed by Beaver), the roller can spill out and lock up the entire assembly. I honestly don't feel there is much chance of that lethal item traveling end-over-end down the road, since many design safeguards to keep it on the RV are in place.
This is yet another example of "timebombs" built into 2005-2009 Monaco products by disgruntled or lazy personnel, in my opinion. It is like playing Whack A Mole, dealing with issues that seem to stem from a faulty assembly line environment.