It Really Make Scents When You Think About It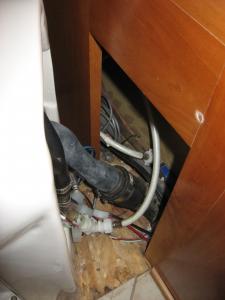 After our first trip in our 2007 Beaver, I noticed a foul odor coming from the toilet area. The floor around the toilet was dry and clean, there was no sign of leakage in the basement below.
I cleaned the bowl and it still got stinky in the lavatory whenever the bus sat overnight with windows and doors closed.
These toilets are easy to loosen, move: just remove the four hold down bolts, and it is a free-moving fixture tethered by hoses and wires. I looked in the wall space behind the unit, and everything looked fine. It smelled, but not terribly.
Donning latex gloves, I spritzed the wires and hoses with 409 brand disinfectant spray and did some exploratory wiping with a damp paper towel.
Well, when it touched the underside of the large black discharge hose-to-black-pipe coupling, it came back seriously soiled. Additionally, there was dried fecal matter caked up against the wall, under the bundled tubes and wires.
My guess: the discharge tube clamps had slipped, and raw sewage had been pumped into the space. The shop had done a decent job of cleaning, but didn't take the time to break apart the bundle, jam rags underneath, really work to get the nooks and crannies spotless.
So, I did all of that and then left two air fresheners inside the cavities: one for the toilet base and one for the wall.
Addtionally, all clamps and nuts got tightening, a clean folded paper towel left behind, and wires neatly tied into bundles before returning the toilet to its original place and bolting it to the floor with fresh hardware, including a rubber washer overlaid with a stainless washer. I was extremely carefully tightening the bolts. Just snugging the floor bolts is sufficient.
I've now added a behind-toilet check and tightening to my annual maintenance checklist; hopefully, there will be no more problems in this area.