Blown truck tires are a serious highway hazard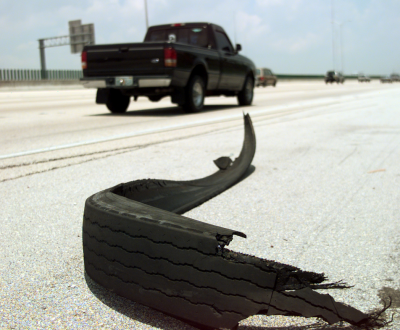 We were on I-69 a few miles north of I-94 in Michigan, headed off for a 10 day swing through Indiana, Kentucky, Tennessee and Georgia. We came close to ending it on our first day.
Bang!
Like a small explosion, a tire on a huge semi-tractor rig blew, just as we were about to pass it. Instinctively, I braked and swerved left onto the shoulder, just as a huge chunk of tire came careening into my lane, right about where the windshield would have been if I hadn't hit the brakes.
In my rear view mirror I saw other tire parts behind me.
It was a narrow miss.
Jennifer and I breathed deeply, thanked God for sparing us and realized how bad it could have been.
All the rest of the drive down south, we both started paying attention to the huge chunks of hard rubber that are strewn all over our highways.
As I type this, I'm at a picnic table at our campsite for the night along I65 north of Nashville. I just finished Googling the problem and found that debris littering the highways and interstates of North America causes over 25,000 accidents and at least 100 deaths each year in the United States and Canada. The AAA Foundation for Traffic Safety reports that blown tire pieces are the number one road debris.
The tire safety experts say this is the worst time of year, when high temperatures cause the most stress on tires. As we've been driving the past two days, the temps have been in the upper eighties and low nineties and seemingly every mile of toad has shredded remnants of 18 wheeler truck tires on the highway — called "gators" in the trucking industry.
The origin of gators is in dispute, especially the idea that most gators come from capped or retreaded tires. Retreading is a process that saves money by shaving down old tires to their casing and attaching and bonding a new exterior.
"On these extremely hot days, the adhesive that holds these treads together gets hot enough that they lose adhesiveness," said David Decker, director of operators at Western Truck School in West Sacramento, CA, in an article I found in the Merced Sun Star newspaper.
It's easy to see why retreads are in use. New truck tires cost $600 or so. Retreads $200.
Despite the critics, a 2008 study from the National Highway Traffic Safety Administration that showed retreaded tires were no more likely to blow out than new tires.
But with such much debris on our roads, somebody needs to be working hard to curtail the problem. If that's happening, it isn't evident on the roadways.
I have a great deal of respect for professional truck drivers. I know the vast majority of them take good care of their rigs and would never cut corners by using inferior or dangerous tires.
Accidents do happen. Truck tires do blow. But they blow a lot. Just look at the debris.
I think we need to make reducing those blowouts a top highway safety priority. The problem is serious and it is costing lives.
Meantime, be careful out there and stay alert.