Wind Gust Ripped our Patio Awning Off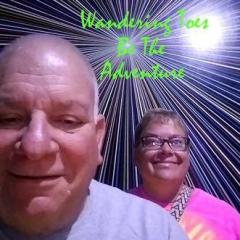 Wind Gust Ripped our Patio Awning Off (Part 2)
November 9th 2018
Some of our readers may know about our RV patio awning getting ripped off by wind. Now that we are in the Benson/Tucson area we will be getting estimates for repairs. Getting one blown off while in motion is sort of nerve racking and dangerous at best.
And then there is the whole what to do about removal after it happens. I can tell you it's a bit like playing Jenga. If you get it wrong you gotta problem and if you screw up you could damage the coach or RV while removing the wrecked parts.
Since we were in disbelief of what had just happened Martha googled what to do when your awning does this while I dug out the tools, rain coat and my 10' step ladder.  She ended up looking at Exploring the Local Life's blog for advice since this happened to them. We pondered the problem for a bit before we decided to rip down the remaining awning and awning arms.
The bottom line is that if the awning hardware was substantially bent or ripped through it's pivot points and mounting hardware you are screwed. You might as well just take it down. My first thought was that I could maybe save the awning roller. But on close inspection I could see that it was damaged too. Since there was no dumpster nearby I did something I would never do otherwise. I left all the debris in a ditch along the highway.
Estimating Insurance Replacement and Labor Costs
December 4th 2018
Today's task is to get an estimate started for replacement.  I didn't think I would miss having the awning but when you want to grill something in the rain, well, it's indispensable. Tucson where the repair guy's shop (Ricks RV Repar) is located is about an hour away. This requires me to break camp and then re-establish it later in the day. It'll be a pain in the arse but necessary. 
So, I went to the repair shop in Tucson (Ricks RV Repair) and we discussed my options for a new awning. It'll depend on how much the old custom awnings replacement will cost. It is/was an electric awning with a wind sensor. What I really want to replace it with is something on the order of the type awning Entegra uses. Our side walls are very tall and the old awning came almost straight out from the coach. In this configuration there wasn't much shading because the awning was 12' off the ground. Entegra uses one that looks like this:
This configuration will provide the shade we want but I worry it won't take much wind.  Not making a decision yet so I have a bit of time. Getting your RV awing ripped off while you are driving really sucks. But it could have been much worse.
December 10 2018
We seem to be making some progress on putting together an estimate. Rick from "Ricks RV Service" called me this morning with some concerns regarding being able to get information on the awning that came with the RV.  He will be contacting Newmar for information on the old awning by using the original build sheet for the coach. So, we wait again.
Ricks RV Service sent the claim to State Farm and copy to me. The total for replacement and labor is $3,469.00 for the awning hardware, awning fabric and labor. I am going to talk with Rick and find out if we can work within this budget and replace the one awning with two.  I would like the power awning on our kitchen slide which is next to the entrance door and a manual awning on the space between the kitchen and bedroom slide with this one set down lower on the RV so we can reach it to put the awning out.  I guess I will determine what we can do after State Farm reviews the estimate.