New Mexico - Tent Rock National Monument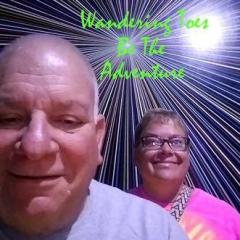 Tent Rock National Monument  - Pueblo Cochiti, New Mexico
These rocks are known by the Native American people of the area as Kasha-Kutawe (Cosh-a  Kuta- way) Tent Rocks.  They are a geologic wonder.
We are staying at Cochiti Lake in Pena Blanca, NM.  Our campground rating is shown below after this blog entry.
Kasha-Katuwe Tent Rocks National Monument is (Cost information in the link) located over a mile above sea level on the Pajarito Plateau about an hour's drive north of Albuquerque. The park is littered with rock shapes known as Hoodoos. Hoodoos, otherwise known as tent rocks are unique structures. In Kasha-Katuwe's case, they started forming more than six million years ago when volcanoes in the Jemez Mountains began to rip themselves apart in extended series of eruptions that covered the region with almost a thousand feet of ash and pumice. In time, this volcanic debris compacted and hardened, and was eventually topped with a deposit of sandstone.
Through time, the tougher sandstone cap resisted erosion, but the softer layers of volcano rock below were slowly sculpted by the whims of wind and water, resulting in the odd, amazing cones that now occupy Kasha-Katuwe. The hoodoos, some almost 100 feet in height, curve, twist and contort their ways skyward, forming pillars that are fascinating to see.
We hiked the Cave Loop and it was beautiful. There are two walking trails at the monument. One is called the "Cave Loop" and the other one is an out and back trail that is called the "Slot Canyon" hike. The latter has a vertical rise of just over 600'
Some of the views are "other worldly"
I hope you enjoyed our tour of the Tent Rocks. Please, if you'd like to comment please use the link at the bottom of the page.  We were staying at Cochiti Lake in Pena Blanca, NM.  Our campground rating follows.
Cochiti Lake - C.O.E. Campground - 4/5
WIFI - No
ATT - Yes, 2-3 bars and very slow
VERIZON - Yes, 4-5 bars and stable
OTA TV - Non-existent
SERVICES - 20/30/50 Amp plus improved boondocking sites
DISCOUNTS - Yes, All Access and Golden Access Pass rates for us $10 nightly with water available (across the road) and 50 AMP electric
REVIEW -  Pro's - The first (lowest loop) is boondocking and has water available. The next two loops have water and power. These loops almost brand new with nice bath house. Each site in the second two loops have it's own  casita and picnic table and power and water in those loops is at every site is at every campsite along with power. with level and mostly level sites.
Pick your site carefully to insure your rig will fit. We were on site 15 in the Juniper Loop. This area has not been renovated, the toilet/shower is not working but we drove to the other shower houses to shower each day so big deal.
Con's - Dog waste pick up stations don't have bags (there is a place for them) just a waste receptacle. Check in is a mystery, no attendants at the check in office with signs saying "Off Duty." The same applies to the visitors center, nobody home. How do you deal with it? Register online, pay online and come in and go to your site. The site placards are updated daily so if you have registered you will have a tag on your site with your name on it.