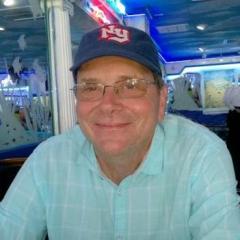 Part V Tuesday and Labadee is over there.
Another morning of delight began, another morning with no alarm clocks, no Katie Couric, no disturbing pager calls. Today is going to be a great day; a day of nothing to do and happy to do it. I awoke slowly, very slowly, and took a look out the open balcony door. I could see the village of Labadee.
The resort area was on the other side of the ship.
I slipped on my robe and stepped out on the balcony. It was already very hot. I looked down at the blue-green water and immediately noticed large jellyfish swimming by the dozens, ghostly white beach umbrellas opening and closing. I was seeing these creatures from deck 10, they had to be really huge, not something that I wanted to meet at eye level. This was not swimming with the sting rays. The bay's salt content must be down due to a lot of rain water pouring into the bay from the mountains. We could thank Hurricane Kyle for providing optimum conditions for these unpleasant creatures. However, the heat and the jellyfish were not going to be a problem for us, Diane and I had no plans to leave the ship. Unless you were kayaking (we did that the year before) or wave running (book them before the cruise) Labadee was a day of lying by the sea. Reclining around the Solarium pool with a good book and a good woman seemed a much better plan to me.
I stepped back in, leaned down on the bed and ran my hand slowly down Diane's bare back. After thirty years the touch of her skin still causes my fingers to tingle. She rolled over and smiled.
We were ready for breakfast, a brisk walk and then lounging around the pool with a great selection of chairs. Diane put on her swimsuit and cover-up; I put on my Speedos, (Remember? They are big red shorts) a Del Sol T-shirt and sneakers. We retrieved our sunglasses from the swans. We ran the stairs up one deck and aft to the Windjammer. No line, this IS a great day. We sat there eating our eggs, smoked salmon, melon, and sausage as the wave runners zipped around the ship sounding like a herd of wet weed whackers.
They did look like fun. Off in the distance, I could see the parasail and the blue, green and orange kayaks. This was a most pleasant sight. We took our time sipping our water and nibbling on a second helping of cantaloupe.
Off to deck 4, of course, for our morning constitutional. We had the urge to put on some speed this morning. I tended to get ahead of Diane so I would circle the helipad until she caught up. The section of deck around the dining room was closed for cleaning so we had to detour through the auto sliding doors past La Scala. If I hit the sensor just right and made a circle, we could slip through without breaking our pace. It looked weird but it worked. And the icy blast of air felt great.
We were flying, around the deck, up the stairs, down the stairs, through the doors, around the port side, and…what is that awful smell?
"Diane do you smell that or is it just me?"
"It is you" she replied. I sat myself up for that corn toss. But there was a bad smell coming from a large blowing vent on the port side. I am guessing that it was the exhaust port for the garbage incinerator. We never noticed the smell at any other time. The source is still a mystery.
We finished our walk; we worked up a good sweat which should make the cool pool feel great. We headed topside with a stop to pick up towels, (the note said to return them or be charged twenty dollars, this prevents people from leaving them on the chairs I betcha) and we grabbed sun screen, and books. The Solarium had about five people there when we arrived. The hardest decision of the daytime now faced us. Where do we sit? There? No. Over there? No. Here? Okay. Weary from decision making, we stripped to our swimsuits and I started to sit down when Diane said:
"I am going to the spa at the party pool, this one is closed."
Get in hot water? Okay. We walked to the main pool area and entered a spa. We had it to ourselves just long enough for me to figure out the controls and get the jets moving when another couple entered the pool. We chatted with them and found out the lady could not tolerate a lot of sun, and they also noticed the jellyfish. They were enjoying the cruise; she had been in The Spa the day before and received the seaweed wrap, which she found to be wonderful, and afterwards bought 600 dollars worth of stuff. I could tell by the look on her husband's face that he did not find that so wonderful.
We sat in the soup for about fifteen minutes and then went back to the Solarium pool. Without hesitation, I dove in. The water felt great, we splashed each other for awhile and then hit the chairs and did nothing until lunch time. Well, not exactly nothing. I did a lot of thinking. I reflected on the last year, all the emotional, mental, and physical pain that Diane and I had to share. The main reason for this Cruise was to have healing moments like this one.
I was reading an inspirational book titled "God's Psychiatry":
One of the finest ways to relieve tension in your life is to picture still water clearly in your mind. Maybe a little lake nestling among some pines. Maybe a tiny, cool spring on some hillside. Maybe a calm sea with gentle rippling waves.
After the picture becomes clear, then start repeating and believing, "He leadeth me beside the still waters." Such an experience produces a marvelous surrender and trust that enables one to face the heat of the day confidently, knowing there is refreshing and relaxed power awaiting under the leadership of one wiser than we.
I did not have to imagine a still sea, I was on one.
I must have slept some, because the next thing I knew it was after one.
Diane, not wearing a watch but in tuned to her internal clock, informed me it was time to eat, so we were off to the Windjammer. It was closed. If you wanted a big lunch you best be on the Island or in the dining room. Wait! How about Johnny Rockets? That would be different. Up another deck and we were there.
I liked the place; it reminded me of the Silver Diner. Good food and good music. We ordered the chicken club on wheat and one strawberry milkshake to share. The shake was so thick I thought I was going to pass out trying to suck it through my straw.
After lunch, back to the pool. At about three the Solarium started to fill up with people, I am not sure why. Some time after the Ship's horn blew we were pretty sun soaked so we headed down to the cabin. Once there we took our time showering, and we were both on the balcony when the ship started sailing a bit late for Jamaica. I snapped a few pics.
We lounged around the cabin reading and after five we started getting dressed for dinner. Diane put on a long form fitting purple dress with a red and purple scarf around her shoulders; I put on a Jones New York gray plaid suit with an iridescent purple-blue shirt and a color coordinated J.Garcia tie. I put a silver pocket watch in my right pants pocket. I also put something special in my inside coat pocket.
We left with a little time on our hands, so we moseyed around the shops and had a couple more pictures taken, which we did not buy, and went to dinner.
We may have gone down to the photo area and played "who can find the picture of us first game." I always loose.
Tonight was Venetian night, and I looked forward to it, just like all the nights. We sat down and noticed that the younger newlyweds were not present. Wanich, who always addressed us by our first names, gave us a cheerful greeting and made his recommendations. We ordered a bottle of red wine, Mondavi, I think. I don't like red, but I liked this one. I ordered the tomato salad, roasted garlic soup, and went for the steak again. Diane ordered a lamb dish as her main course.
Everyone went to Labadee except us. Mike and Betty said they wished they had not. Due to the extreme heat they decided to return. They spent more time waiting to board a tender than on the island itself. I commented on how quiet it was around the pool.
Dessert was great as usual and all of us left a little earlier than usual because we wanted to attend the Crown and Anchor welcome back reception.
The reception was in Cleopatra's Needle and there were free drinks and chocolate covered strawberries and such. Captain Olsen made a speech and recognized the couple that had made the most cruises with RCCL, one hundred and eleven, and awarded them a big bottle of champagne. Lynn made her Crown and Anchor pitch again. I considered that to be unnecessary since all present were already members.
The floor was then opened to questions for the captain; any kind of question.
I thought this should be interesting. It went something like this.
Q. How do you spend time with your wife?
A. How do you spend time with your wife?
Q. How much money do you make?
A. Not much but we have great vacations.
Q. How many miles to the gallon does the ship get?
A. It doesn't, it gets 55 feet to the gallon of fuel.
Q. How did you meet your wife from Kentucky?
A. I meet her on a cruise ship.
You get the drift, really intelligent questions. From behind me a women jumped up and yelled Tor! And then asked something in what was obviously Norwegian. I looked around and it was the windmill lady. The Captain looked perturbed at the question and answered in English. "No, I have no plans to visit (somewhere) when I return to Norway and that was not my mother asking." The woman let out this huge and I mean huge laugh.
And that was the end of that. Do not address the Captain by his first name even if you are from the same country.
It was now time to see Two Funny Guys, I first excused myself to the men's room but that is not where I went.
I walked back to our seats and took Diane's hand and we went down to deck 3 and sat very close to the stage. We were now in the most crowded section, so I looked longingly at a couple of empty seats in the mezzanine. We did not move. The Two Funny Guys were funny. They came on after Jeffrey made his very funny comments about the Hey Mon, smoke sellers in Jamaica. The Two Funny Guys interacted with the audience, yelled at them for being late, that sort of thing.
After the show it was back to Cleopatra's Needle for the big Karaoke semi finale competition. We sat down up front right next to the dance floor. The singing started. Diane picked up a song list and started browsing through it while I sat there with my right leg bouncing a mile a minute. I was thirsty and needed some bottled water. I took my coat off, and then I put it back on, and then took it back off. Diane said "are you okay?" Just thirsty. "We can go to the promenade and get some water and come right back" No, I don't want to leave. A few people sang, some good, most bad. After the fifth or sixth person sang, the hostess, Michele I think, asked if Derrick is here. I stood up and walked to the microphone in front of the video prompter. Diane looked shocked. She knew I had no interest in singing a Karaoke song.
Michele then said for me to tell the audience (the place was packed) my name, where I was from, and what I was doing.
"Hello, my name is Derrick, I'm from Portsmouth Va. (a big cheer came up from my right) and I am celebrating my 30th anniversary. I would like to sing this song to my wife Diane who is sitting over there". I pointed to her where she was sitting with her shoes off and her feet up on the chair in front of her.
I then stepped away from the monitor and moved toward her. A big cheer went up. The music started, it was not a Karaoke song, it was music that I had brought myself, a very slow but jazzy ballad called "I Just Never Say It Enough", by Wayne Watson.
I sang to Diane. I looked her in the eyes and never looked away.
If I called you every time that I think of you, the phone would be ringing all day. I keep thinking these feelings will mellow with time but not yet, no way. We've had our share of heartache and trouble, we can look back and laugh at it now, but a mystery keeps haunting me, how we hurt those we love most somehow, somehow.
A real love expression is long overdue, so hear my confession of my love for you-I just never say it enough and before it's too late and time's up; you're more than all I dreamed you'd be, an answered prayer, a gift of God above. But I just never say it enough.
I believe God inhabits the human heart. I believe it more now than ever before and I see His reflection in You, in You and I'm sure, yes I'm sure that a real love expression is long overdue, so hear my confession of my love for you- I just never say it enough…so before it's too late and time's up, you're more than all I dreamed you'd be an answered prayer, a gift of God above.
But I just never say it enough. I just never say it; I just never say it enough. Nooo, I just never say it, I just never say it enough. Noooo… oh…. oh.
I finished the song, I have sung before at my Church, but never in front of a crowd quite this happy. The all came to their feet and cheered, and it was loud. I put the mike back on the stand, took a little bow and ran over and kissed Diane.
Michele then told the audience that I was not part of the competition; I just wanted to sing something special for my wife.
Sometime later a gentleman with a large group won the competition with his great rendition of "Proud to be an American". We all cheered for him.
He was good, but not as good as me. That was Diane's opinion, not mine.
Karaoke ended and many people came over to congratulate us, including the right side people, who were there from Virginia Beach, thus the reason for the cheer. The man who won said "you had us all crying over here".
An hour or so later, after a walk and a snack, and a trip to the Vault that did not last long, we went to our cabin and found a cute towel dog sitting on the bed.
I knew it was going to be a good day. It turned out better than planned.
Derrick