New and Old Rigs, Side By Side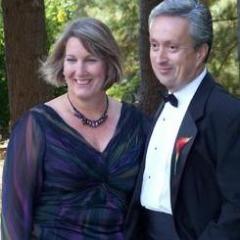 Here, we've just driven our beloved Fleetwood 1,000 miles to exchange for a 2007 Beaver Patriot Thunder.
I enjoyed inspecting and test-driving the new bus, learning its systems from the experts at Premier Motor Coach Services of Tucson. But, the highlight of the entire experience was when salesman Jason McKew called right after we'd safely tucked our new Beaver into its garage berth, at home in Texas. He was excited, thrilled with the old bus: it didn't register, when I'd written in its description that I'd soundproofed, tightened, greased, the chassis and replaced tires and shocks, that I'd done just that. It suprised him when our 100,000 mile Excursion purred down the highway feeling like a new rig. How refreshing, after being told by every salesman I'd spoken to that higher-mileage rigs move slowly on the market and have less value. When maintained properly, the reverse should be true: rigs that have sat idle are maintenance crises waiting to happen. Jason's praise affirmed what I've believed all along.
From the album:
3 images
0 comments
2 image comments
---
Photo Information for New and Old Rigs, Side By Side