2000 Watt Pure Sign Wave Inverter Install

After several trips of constantly turning on the generator so that the kids could watch TV or my wife could charge her laptop while driving, I finally decided to install an inverter to power the coach with the house batteries. After some research this is what I came up with:

* Disclaimer - I am not a mechanical engineer. These are the rantings of an ex Master Mechanic who has spent hours doing his research. Please if you consider doing this, do your own do diligence.

Pure Sign Wave Inverter


There are many articles out there that detail the differences between pure sign wave and modified sign wave inverters. Simply put, pure sign wave is safer for sensitive electronics like cell phones or laptops. I chose a Samlex America SSW-2000-12A 2000W Pure Sine Wave Inverter for both its price and 2 year warranty and the Rep at Samlex was very helpful in answering all my questions.

The Install


According to everything I read it was very important to keep the inverter close to the batteries, but not exposed to the elements.



My house batteries are just behind my right front tire but are not protected from the elements.



So I went with the closest storage box and ran 2/0 Gauge AWG battery cables with a 300 amp inline fuse.



Then I ran a 30 amp power cord to the rear storage box and connected it to a 30-Amp outlet.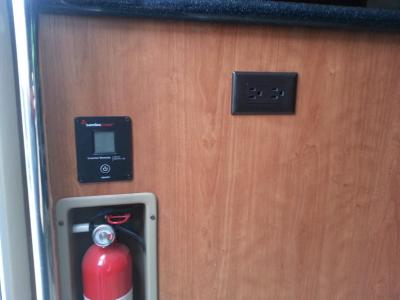 The final step was to install the Samlex inverter remote. That was easy enough and now the whole system works perfectly!

Next up - Let's add some solar!!

What do you guys think?

- Ryan