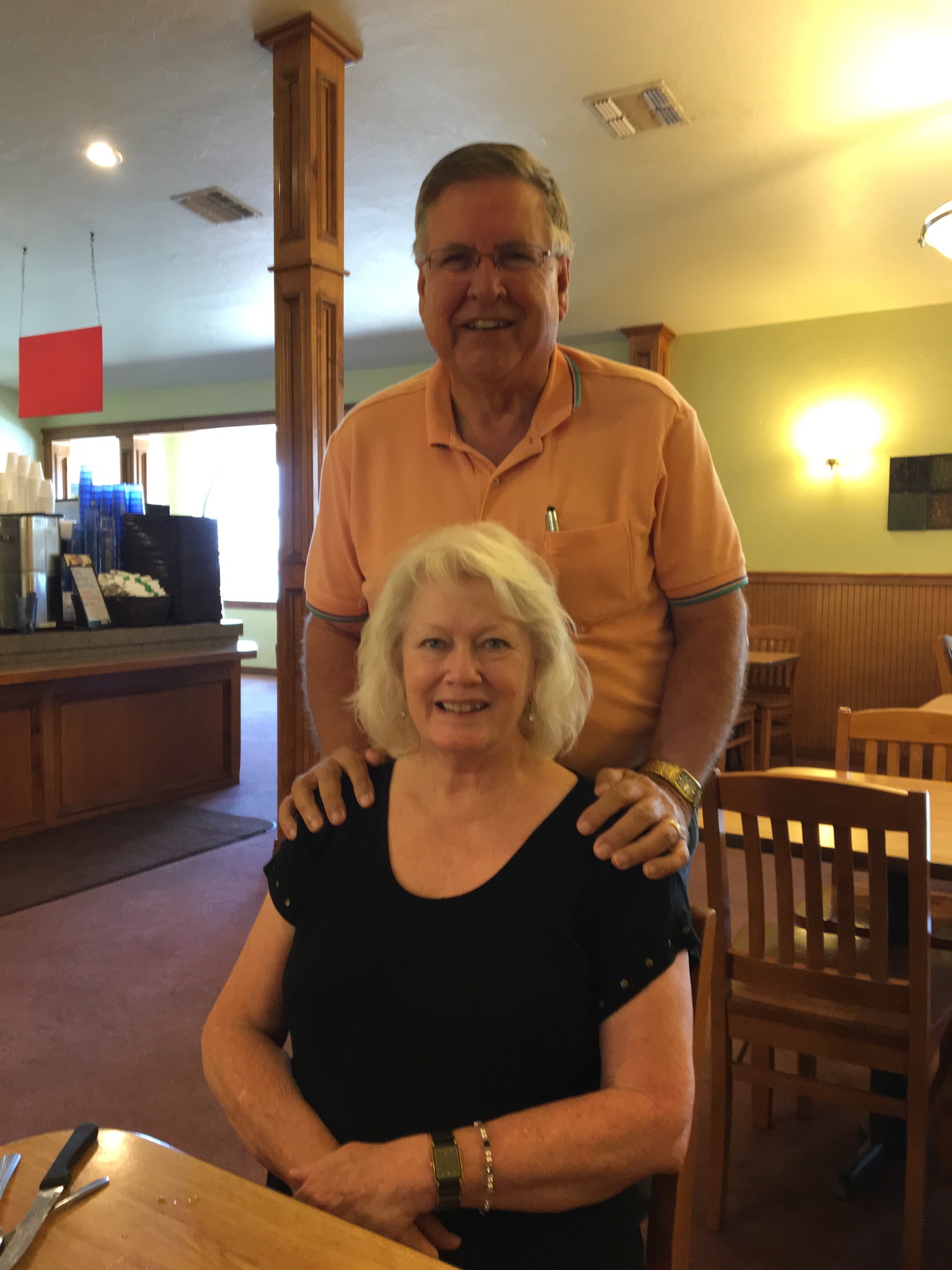 Content Count

41

Joined

Last visited
Everything posted by davidsteverson
One other thing. There are 6 batteries back there in the battery bay. I looked to see if I could figure out how old they were. On one battery there is a sticker that says 5/13. I'm assuming that means it was installed in May of 2013. So it will soon be 5 years old. So I'm thinking I need to replace. One other thing if I'm going to replace. If the system is always looking for 12 volts would I be better off to buy 4 12 volt batteries as opposed to 4 6 volt batteries and pair them up into 2 12 volt systems. My accountants mind says I'd have 2 times the battery power if I got 4 12 volt batteries. I'm sure there is a reason not to do that but thought I'd ask. David

Thanks for all the input. Here we are 24 hours later and things seem to be ok. Engine cranked, generator cranked and now on shore power. Your responses prompted a couple more questions. The house batteries are 6 volt - correct? I think I hear a couple of you saying that they are paired and this 12 volt? Is this correct? Does that mean that when I want to test them instead of putting the red prong of the tester on the red of the battery and the black prong of the tester on the black of the same battery that I should see which 2 are connectedted and put one prong on one and the other prong on the other? I have 4 house batteries. My friend who was with me yesterday has a 2016 Dutch Star and I have a 2008 MountainAire. He has 8 house batteries while I only have 4. His are 6 volt as well. We both have 2 chassis batteries that are each 12 volt. In looking at my magnum energy system this morning it says float charging 13.4. This is fairly normal. Ill go today and get the instrument to test the battery acid. I watch he levels closely and do add distilled water from time to time. Since I've had the coach (2 years) they have never been dry. Thanks again everyone. David

Greetings everyone. Been awhile since I've had an issue but seem to have one that I think I know the answer to but want input please. This morning they turned shore power off in our resort to install a new transformer. Said it would be about 3 hours. After about 15 minutes I noticed I was down to 12.3 volts when I'm normally at about 13.3 to 14.4. I hit my battery check on the panel and it had all 5 lights lit indicating batteries were fully charged. Decided to turn on generator and it ground a little but wouldn't start. Then tried to start engine and it ground a little but wouldn't start. After a couple of hours shore power came back on and I plugged in and power went to 13.4 immediately. I tried to start generator and it fired right up. I tried to start the engine and it still won't start. I went and got a friend who also has a Newmar and is parked here. We checked the batteries and the 4 house batteries are 6.9 to 7.1. The 2 chassis batteries were 13.54 and when I turned the engine key on they immediately dropped to 4. Also when they went to 4 the generator went off. Im thinking I need new chassis batteries. It's interesting they show a nice charge when setting there but when you try to use them the bottom falls out. Do I also need new house batteries? They seem to be fine but I don't think I'm really giving them a good stress test. Also, when the shore power was out shouldn't my inverter have kicked in and run clocks and things? All the clocks were out. Lights worked but not things that normally work on the inverter. Thanks for any suggestions. David. Update. Just came in a couple hours later and everything fired up fine. The 12 volt chassis batteries that register 13.5 when just sitting there went down to about 10.5 for just a fraction of a second as the rigs engine fired up. Earlier, they were going down to 4 almost immediately and the engine wouldn't start. I'm hopelessly dumbfounded but glad it started.

Greetings everyone. Got up this morning and went out to the front compartment where the fuses are. I had bought a variety pack of fuses so felt confident I would have a replacement. I couldn't find one labeled for anything close to the electric hose reel so I went back to the electric bay again and started looking around. Found a loose wire and a place that it looked like should have a wire plugged in and didn't so I plugged it in and walaa it works fine. I think it was the ground wire. Thanks to everyone for their good suggestions. David.

Thanks, Herman. I'll check the fuse box. How is Ms. Bobbie? Are you still in Indy?

No noise at all Bill. Total silence. Would the fuse be there in the compartment with the cord or maybe up with several other fuses near my generator on the front of the MH? Thanks.

Greetings everyone. We just left the FMCA convention in Indy this morning and drove 73 miles down the road to Richmond, IN for a joint fulltimers, elks, military, triple T rally. When I arrived I went to the electric bay and hit the switch for my power cord to come out. Nothing happened. It's dead. It worked fine when I reeled it in this morning in Indy in preparation to departure but now it's dead. I pulled the cord out manually (and hope that didn't mess anything up). We've been here 3-4 hours now and just tried again and it's still dead. Any ideas? Thanks everyone. David.

Greetings everyone. We have made the decision to replace our Norcold 1200 with a residential fridge. I've read through he messages here and it looks as if Samsung is a popular choice. We have a fairly large space - 71" high and 36" wide with about 30" deep. We hope to find one that is 24" without the doors so we can put it in through the door. We will get a counter depth unit. Anyone have any recommendations for models to buy or have any warnings of what not to buy? also, originally I had understood that we needed 2 more batteries and another inverter for a residential fridge. I have had several people tell me if we don't boondock - and we don't - that it is not necessary to put in the extra batteries or the new inverter. Any thoughts? Hope to see many of you in Indy - we arrive on July 7 to help with parking. David.

We have a 2008 Newmar MountainAire which would be in your price range. We love it and it has lots of room (45' and 4 slides). The tag makes for a smooth ride. Can't go wrong with Newmar.

Greetings everyone. A couple of questions related to our fresh water supply. 1. We seem to have very good water pressure at the faucet where we connect but not so good pressure in the coach. I have a water regulator but the last few places I put it on and then take it off because the pressure is so low. Interestingly, if we turn the water pump on and use water from our fresh water tank we have great pressure. Any thoughts on why our pressure is so low using city water? 2. If we are connected to city water our fresh water tank slowly fills even though we have the fill valve in the off position. It's a slow process but we eventually have to use some of it or it overflows. Any thoughts? Thanks everyone. Always appreciate having a wealth of knowledge out there! David

Greetings everyone. We are currently parked in Brownsville TX for a few months for the winter. We love it here and our coach seems to be doing fine. I have a question though that I'm sure you all can help with. Don't know if any of you have been to Brownsville but the wind does tend to blow ? Most days it's not a problem but today it is really whipping. I'd guess we may be having 45-50 mph gusts. The coach is rocking but I feel confident will withstand the gusts. What I'm concerned about are the slide outs and more specifically the awnings over the slides. They seem to be popping like crazy. Should I bring the slides in? Would that help anything? What am I risking by leaving them out? We are going to Oklahoma next week in our car. Since the motorhome will just be sitting here should I bring the slides in while we are gone? Wow! Just had a gust that felt like it was gonna tip the coach! Thanks for your input. David

Greetings everyone. Wanted to close the loop on this thread and let you know what I did. First, we have a pattern of the 1st of every month we clean all the air filters - I think there are like 16 of them. I then checked the batteries. Not dry, but all 4 low on water so I added distilled water to the bottom of the fill opening. Had a little corrosion on a couple of connectors so cleaned that off. I went to Autozone and bought a bottle of diesel treatment that would treat 300 gallons. Packed up like we were leaving and headed out for a spin. Before we left I fired up the generator and turned on all 3 ACs and put them on 70. Drove to the next town up - about 25 miles and parked and left generator on and went into Cracker Barrel and had a bowl of beans. Came out and drove back to our town and stopped and filled up with diesel and put half the bottle of diesel treatment in. Drove a few miles to get it thoroughly mixed in and came back to our resort and set up again. All together from take down to setup again was a little under 3 hours. We have been here a week short of 2 months. We'll be going to a meeting in Beaumont, TX in early January and then leaving here the end of Feb headed to AZ for FMCA. So this 8 weeks we have been parked will be the longest stretch with no driving. Thanks everyone for your input. Hope we have done all the right things. David

We are on a concrete pad and it seems to be fairly level. I do have wood pads but I didn't put them down since it was concrete and level. The water pressure is fairly weak where we are so we are actually filling our tank and using the pump to have better pressure. It's OK without the pump but using the tank and pump really gives us good pressure. Thanks for all the good input.

I do have tire covers on - bought them at the last FMCA rally. They are the kind that attach to the coach and completely cover the wheel well.

Greetings everyone. We arrived in the Rio Grand Valley in mid October and will be here until the end of February. What kinds of things do I need to be doing to make sure our motorhome is getting the proper maintenance. I've cleaned the filters on the A/C (do that the first of every month), checked the batteries, fresh wash and coat of wax on both motorhome and toad. Do I need to bring slides in periodically? Do I need to bring jacks up and re level periodically? Should I take it out for a ride every so often? If so how often and for how long? One other thing I have already done - I exercised the generator every six weeks. Started generator and ran all 3 ACs for almost 2 hours. Any hints or suggestions would be appreciated. Thanks. David

Thanks everyone. It looks like I did everything right until the very end. I started the generator (leaving the 50 amp shore power connected). I then started the ACs and let them run for about 110 minutes. However, I didn't look at the answers you all gave prior to shutting down. The ACs were running and I just turned the generator off. I'll know better next time. Thanks for all the good replies.

Greetings everyone. We have been parked in our winter resort for about 6 weeks now. We try and run the generator under a load every 6 - 8 weeks so today was the day. Cranked all 3 ACs down to 70 so they would all come on and headed out to unplug from the 50 amp shore power we are connected to. My wife says no need to do that - the generator overrides the shore power. For what it's worth, my wife grew up with a dad and 3 brothers who could fix anything. I know nothing - so she is usually correct. Any input you can give me? And I don't mind being wrong - just don't want to hurt anything by running the generator for 2 hours while plugged in to shore power. Thanks, everyone.

Greetings everyone. I'm a retired CPA so my wife says I have to know all the details - more than I should I'm sure. I keep 2 excel spreadsheets. One is for all expenses related to the motor home. I keep it by category - diesel, repairs, rv parks, and other (taxes, insurance, registration, tags, etc). The other spreadsheet I track mileage. First, I post the mileage when we stop for a night. I also track the mileage when we fill up with diesel. The best we have done is 8.2 and the worst is 5.9. On that one I had a 40mph head wind plus I ran the generator for most of the tank. Overall, we are averaging 7.7 on the 17,000 miles we have driven our motorhome since we started on our first trip dec 6 of 2015. For what it's worth I tend to drive 62-64 and we tow a Honda CR-V. We tend to drive 500 or so miles a day and then spend 2 - 3 days and then drive another 500 or so miles. That's when we are going from point a to point b. If we are where we want to be we have stayed a month but usually at least a week. We have a 45' diesel with a 450 Cummins. David

Greetings everyone. We googled the toilet and came up with some interesting websites. One said it was Thetford and had repairmen standing by to walk us through the repair. When you clicked on the link the question was "how much will you pay for help". Asked for a credit card right there. No thanks. Looked some more and it said to find the fuse (electric flush) and pull it out and most likely it would be fine and just put it back in as a reset to the connection. The fuse was behind and underneath the toilet. Did it and walaa it worked fine. Who knows what happened to cause it to need the reset. Thanks David

We have a 2098 Newmar MountainAire and all of a sudden the toilet won't flush. It worked fine 2 or 3 times this morning and now, nothing. My wife put a pod that we use about once a week down the toilet to keep it clean and now nothing. I don't think it has anything to do with the pod because it won't do anything. Like it has been disconnected or something. It's a Thetford toilet if that helps. Thanks for any help you might give. David

Carl, sorry we missed you. They said you were in Banderas. Thanks for the recommendation - those guys are great!

Michael called me yesterday. We are to be there at 730 Monday and his electrical guys are going to take a look. Thanks everyone. David.

Carl, it is drivers side and I just came from HWH in Iowa. They fixed my jacks. Could they have knocked something loose when they were working on the jacks? This is first time I've tried to open the slides since we had them worked on. We are in kerrville Til next Monday. Just seeing some of the hill country.

Greetings, everyone. It's me - again - with another issue. Arrived in Kerrville, Tx yesterday with our 2008 Newmar MountainAire and 3 slides went out fine but the big bedroom slide did nothing. Seems to be dead. Any thoughts? I'm beginning to wonder if I'm snakebit - bought our coach in November of 2015 with no major problems until September 2016 and now it just seems to be one thing after another. By the way, the jacks worked fine after my trip to HWH. They were slow and I wondered about them when we arrived but then they kicked in and worked fine. Thanks for any suggestions. David

We were just at the Newmar Kountry Klub rally in Pueblo. I was looking at a 2012 Essex as a potential trade for my 2008 MountainAire. The finance lady said she had 2 credit unions she used and that fill timers had to add .75 to their published rates. She could usually get them approved . She also used Bank of the West - Essex and they currently had a rate of 3.99 even for full timers. It was more difficult to get approval but if you had a credit score in the 800 range it was no problem. Unfortunately we couldn't agree on a price to trade so never got to the nitty gritty of financing.