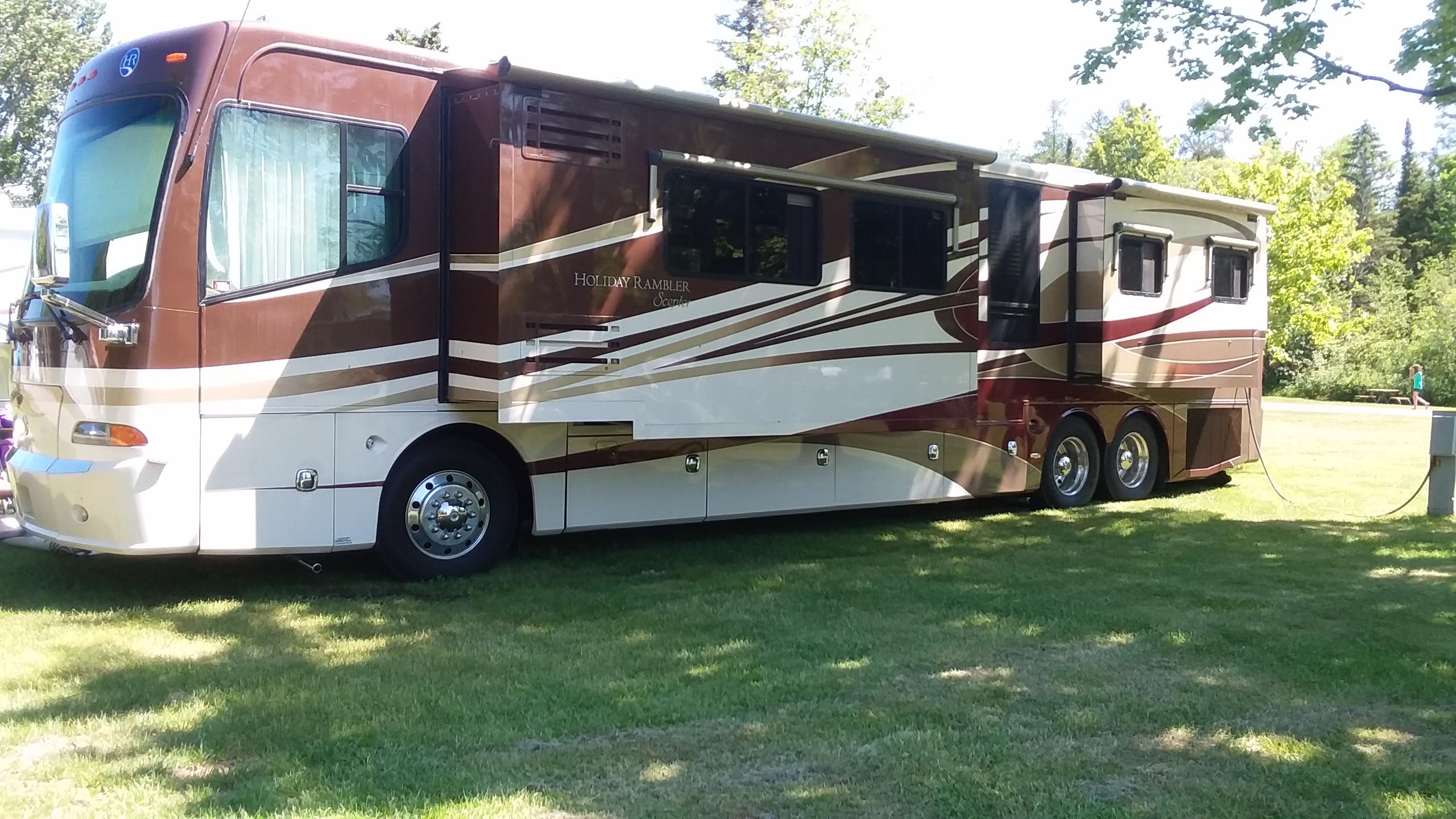 Content Count

77

Joined

Last visited
Profile Information
Gender
Location
Interests

Any fun activity and trying new things, travel.

I travel
I never heard of Toyo tires and they are not listed in the FMCA offerings. I have had at least 3 sets of Goodyear RV tires and have not seen any unusual wear pattern on them.

Thinking about some new tires for my Holiday Rambler. I have 295 80 R22.5 Good Year tires now. Does anyone have any experience with Hankook Tires as they are a lot cheaper than Michelin.

Safeco through FMCA was $2359 for a one year renewal with no claims or accidents. Priced AAA of Michigan and they quoted me $1650 for one year coverage. Canceled Safeco and went with AAA of Michigan.

I have been talking to FMCA RV insurance all morning. The reason I was given is that Michigan's lawmakers has required some additional charges this year and this is what caused my Safeco insurance premium to go up .Another one of them was losses in Michigan, at least that is what I was told. FMCA priced Progressive, Foremost and several other insurance companies, but Safeco remains the least expensive even with the increase.

Herman - that was a typing error on my part, it was $1610 the first year and my RV insurance is through FMCA RV insurance. But, I guarantee I will price others now as this has gotten ridiculous.

Just received my renewal notice from Safeco insurance for our Holiday Rambler and it went up dramatically again. We started at $1610. went to $1910 last year and now the renewal this year is $2359. All of this with no claims and a perfect driving record. Anyone else seeing these kinds of increases?

According to Michigan Law, a motorhome in Michigan is licensed at the original sales price, so if your motorhome is 10 years or older, you get screwed for license plate fees as the fee is based on the original value of the motorhome. Or in other words you are going to get screwed.

Does anyone have any experience with any of the tire pressure systems listed in the October 2019 of Family RVing? Tire Minder seems to have the most variety. A new Tire Minder is due out next month shown as a TireMinder A1A-S.

I have some waterborne ploy and I will try that next. I have sanded the area that turned white already so I cannot take a picture of it. Only have sporadic chances to work on it now as we are attending the FMCA Glamarama event in Allegan, Michigan. But, when I find something that works I will post a picture.

I have a 2009 HR Scepter and have some interior wood that needed touching up. I have the optional cherry wood interior and when I applied some Minwax wiping polyurethane to the wood surface it turned white when dry. Does anyone know what will work. I'm not the original owner so I don't know what the wood is finished with. But it is a gloss finish and I sanded it down some but when dry the wiping poly turned white. Any recommendations.

We found one that look's similar on PDX RV out of Portland, Oregon!

I have an electric shore power line on my Holiday Rambler Scepter, presently located in Destin, FL. Does anyone know of a place that would sell replacement switches for my shore power hose reel?

I have a 2009 Holiday Rambler Scepter, and the Aquahot is a 450D.

REV Service in Decatur, Indiana worked on the Aquahot three times last summer, worked for a day each time and then quit. When it failed the last time I smelled burned wires inside the cabin. It will work on diesel, but do not want to stink up the whole campground. Talked to Aquahot and the closest certified facility is in Alabama around 120 miles north.

We are located in the Camp Gulf campground in Miromar Beach, Florida and we have indicated the continuing issue after REV completed three repair attempts in their repair facility in Decatur, Indiana. Our Aquahot will not work on electric when hooked to shore power, does anyone know of a reputable repair facility around Destin, Florida?