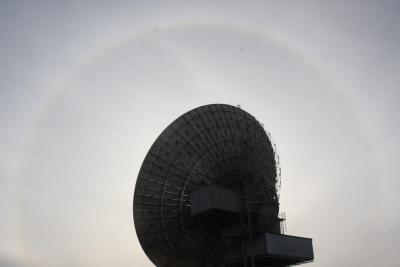 We left Exmouth headed for another sea adventure in Monkey Mia. South of Exmouth we crossed the Tropic of Capricorn. In doing this we left the tropics for the last time in Australia. The distance from Exmouth to the Monkey Mia was too far to cover easily in one day so we decided to make it a two day trip. We needed to stop for groceries and figured that Carnarvon would be a good stop for that and give us an easy 2 day trip to Monkey Mia. As we pulled into Carnarvon, there was a huge dish antenna on the horizon. It turned out to be the 97 foot diameter dish for the Overseas Telecommunications Commission. But, on the same grounds was a much smaller Cassegrain horn antenna which received the signals of the Apollo 11 Moon Landing in July 1969. Carnarvon was the location of the NASA Satellite Tracking Station that served the US Space Program from its inception through Skylab. Along with Madrid, Spain and Goldstone, California, the station at Carnarvon gave the US coverage and communication with spacecraft orbiting Earth for most of their orbits. A small museum today contains some of the memorabilia donated by Australian participants in this effort.
Today the NASA Deep Space Network is located in the Australian Capital Territory near Canberra. Carnarvon is left with a couple of unused antennas and a small museum along with memories of its glory days during the space race of the 1960s. Buzz Aldrin was present for the dedication of the museum. In his 80's at the time, he looked quite different than when he walked on the moon with Neal Armstrong. It is hard to believe that almost 45 years has passed since that event. Sad also to see the US Space Program hiring our competitor for rides into space. We walked around the 97 foot dish, marveling at its size. We weren't able to get to the Cassegrain Horn antenna as it was within a construction area. We could see it from the back side. While taking pictures of the large dish antenna I noticed a ring around the sun and found a place to get both the antenna and the ring around the sun in the picture. You may have to enlarge the photo with this posting to see the ring around the sun.
We also went into Carnarvon to walk the mile long pier which is featured in their publicity. There is a "tea cup" train that makes runs out to the end of the pier but it wasn't running when we arrived late in the afternoon. We enjoyed walking the length of the tour and watching the sunset over the Indian Ocean and full moon rise over Carnarvon. The moon rise was a fitting event considering the location and the events that transpired here.