Pilgrimage to Elkhart, Day 3 and Day 4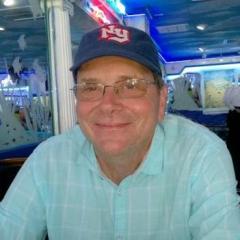 For the last week and a half I have been sick. The first couple of days I was forced to just lay around the house drinking Alka-Seltzer Cold remedy (every four hours) and feeling sorry for myself.
Last Saturday afternoon around 2:30 p.m., I decided that I had had enough of being ill. I drank my last seltzer, put on some shorts and my mowing shoes. I mowed the yard, then trimmed and edged it. I also pulled all the weeds out of the flowerbeds. When I was done, I was tired and sore but I felt much better than before I started. I realize now, that at my age, if I don't have the energy to get something done, if I can't make myself get up and start moving just because I don't feel good, then I am in trouble. I can't work only when I feel like it.
Motor coaching is like that as well.
I might as well leave the coach in the driveway if the only time I am going to take it out is when conditions are perfect. Not every trip can be to Disney World. Sometimes you just have to start it up and go somewhere! You never know what you might find when you get there. That's one of the reasons we took the trip to Indiana. We wanted to go get our coach repaired but we also wanted to go where we would see something new. We wanted to have a bit of an adventure.
Pilgrimage to Elkhart, Day 3 and Day 4: The Reason for Going.
Sunday morning found us all up and about quite early. It was our last leg. We had about a six hour journey to the ESC campground. We planned our exit out of the Clearwater RV camp and back to I-77. Not far to the north we would be leaving the interstate and then heading due west on the Ohio Turnpike.
We made a big loop in the campground headed up to exit, drove the up and down road back to the Interstate. Within minutes we were at a cruising speed of 62 miles per hour.
We didn't stop until we reached the Erie Isle rest stop near the Indiana state line. I found the view out the windshield to be quite nice. It had been a long time since I visited Ohio and the same for Indiana. I had spent quite a bit of time in Cincinnati when I worked for AT&T but I saw very little of the state, from the ground anyway.
Diane and I, back in the seventies, when we were working for PTL, made a long bus trip from Charlotte, through West Virginia to Canton Ohio for a telethon.
Tammy Bakker and some of the PTL wives, including my own, were seated in the back of the bus. They were laughing and chatting quite loudly about something. I took a walk back there and sat down. Tammy had a stack of National Inquirers on the seat next to her and all the girls were looking over the headlines. The paper had typical stuff about three headed babies, UFO sightings, celebrity wives cheating on husbands and vice versa. Tammy laughed and said wouldn't it be a hoot to be on the cover?
I don't know if I said it then, but one should always be careful what one wishes for.
Now, many years later, we were traveling through Ohio in our own bus so to speak. It is a pretty state. Big corn fields, horse farms with rolling hills and white fences. I found it to be a most pleasant drive.
Shortly after passing the Sandusky exit we came to the Eerie Isle rest stop. It was an interesting place with a neat visitor center, a Starbucks, a food court and a good size gift shop with lots of Cleveland Indians merchandise. We spent a bit of time there, and after we let Nickolas stretch his legs we hit the road again.
The tolls on the Ohio Turnpike are a bit steep, twenty five bucks one way. The good thing is you take a ticket when you get on and pay once, when you get off. We paid at the Indiana state line. From the toll we had sixty more miles to our Elkhart exit.
An hour later we were exiting off the Indiana Turnpike, paying another toll, ten bucks this time, and driving the main business route to our final stop. We passed some rv factories along the way, along with some transport holding lots. In other words we saw a lot of towables and quite a few coaches. We also drove by the RV Hall of Fame. We knew we were coming back there in a couple of days.
Soon we pulled into the ESC compound. There were two large buildings with a lot of bays all of them closed on Sunday of course; we drove past them to a gravel campground located behind the second building. Gary and I picked a spot. We both leveled our coaches and then Gary discovered that there was no water or power. Not good. I suspected that the campground was still winterized. We did some walking around and discovered the main power breakers were turned off. We turned them on and we had power but still no water.
We decided that what water we had in our tanks was best reserved for flushing; not washing dishes, so dinner at Cracker Barrel seemed like a good idea. We passed one on the way in, so it was easy to find our way back.
I ordered some kind of Southern Boiled Dinner with shrimp, red skin potatoes, corn on the cob and sausage that was really good. I don't remember what everyone else had. After dinner we browsed the country store for awhile and then headed back.
I think I was in a bit of a daze now that we were finally in Elkhart. What's the big deal about being there? Well, we had tried two times before to make the trip and things just didn't work out. It also didn't work out for us to go to the Monaco Service center at Wildwood Florida either. We were just a few days away from making the trip when Monaco called and cancelled on us. They were just a few days from declaring bankruptcy and laying everyone off. This meant that for two years, Diane and I had been trying, unsuccessfully, to repair our coach problems. The first week we owned it we took it to a dealer where is sat for four weeks and nothing was fixed. I could tell you how bad that experience was but I won't. We also took it numerous times to independent service facilities, where some good techs tired to fix the slide out problems but they, at the most, had some temporary success. I had also tried to fix it myself, but as much as I hate to admit it, I think that only made it worse.
So, I was now going to get factory service. Although, based on telephone support from the techs I had every reason to think that the problems would be resolved I still was anxious. I hoped to not have any unpleasant surprises and/or disappointments.
Gary and I both piddled around our coaches, looking through all the basements, checking the roofs, looking for anything and everything that we wanted the guys to fix, modify or repair. We each made a list and then compared and discussed what on the list we would actually get done and what we guessed it might cost. Our lists had a number of things in common:
We both needed our main slide out cables replaced and adjusted. Gary needed work done on his bedroom slide out as well.
We both needed repair of our fresh water tanks (mine leaked due to the overflow plumbing missing; Gary's sagged due to a support strut missing.)
I wanted my coach roof inspected and resealed where necessary.
Gary needed his shower door to be adjusted so it wouldn't bounce out of its track while traveling down the road.
We both had front door locking arm problems. They locked when we didn't want them to and wouldn't when we needed them to. In other words they were a pain.
I had holes in my bathroom vinyl floor that Diane wanted fixed. I told her I thought only one was all that bad, but more about that later.
I needed some interior work done on the facade covering the main slide out motor and chains. Gary needed the same but he left the facades back home in his garage.
Gary had a rear basement door that was coming loose from the coach.
Gary also had a wiper park failure alarm that remained constantly on his dash instrument panel.
We both wanted our coach chassis lubed and I wanted an oil change as well.
I needed some touch up paint mixed up. A small item but nice to have when you need it.
We both wanted our auto levelers recalibrated. When Gary auto leveled his coach, the front end would end up ten inches off the ground. My coach auto jacks would take the back end off the ground and that rendered the parking brake useless.
While Gary and I were comparing notes and just wondering around our coaches a Forest River Wildcat fifth wheel pulled into the campground. It looked new and it had Quebec plates. A gentleman exited his pickup and started hooking up the fiver. We helped him find a hot pedestal. Not all of them were working. Gary and I could never figure out why that was, but I tried cause I love a good electronic mystery.
I don't remember the gentleman from Canada's name. I am terrible with names. I am fortunate to remember the names of my own kids. But I remember faces and conversations and he had a very friendly face and we had a good conversation with him. He had been traveling with a group, a caravan as it were, to Mexico. He left the group to come back to Elkhart, where he bought the trailer, to have some paperwork cleared up so he could take the fiver across the border back into Canada. That part of his story was interesting if you like hearing about the pains of dealing with government bureaucracies, but the real story was why he purchased this slightly used Wildcat in the first place.
It seems that the original brand new Wildcat that he left Canada with had a couple of unfortunate accidents. One, he blew a tire that ruined a wheel. The replacement wheel was not installed correctly so he lost it and that ruined the wheel well and tore up the side of the trailer at the same time. He had to leave the caravan to Mexico in order to take care of that problem. I think he said he got it fixed in Elkhart and then left for Mexico on his own where he planned to rejoin his group somewhere in Texas.
He made it as far as West Indianapolis where due to a wrong turn and some bad directions, he found himself, at night, going down a very dark road where he passed under a barely viewable old bridge that was about a foot lower than the top of the fifth wheel. Well, I think you get the picture. The bridge grabbed the rubber and peeled it back, along with his fan vents and air conditioners. The roof just rolled itself up like a big "rubber burrito".
After calls to the police to explain why this rv was blocking traffic, and some roadside assistance, he extracted the coach from the bridge's jaws and took it back to Elkhart. There, he discovered, it was a total loss. But there was a happy ending; he was able to purchase a used Wildcat that was an upgrade from his new one and still make it to Mexico where his thirty day temporary tag expired thus causing his Canadian Customs problems with his paperwork.
Like most experienced rvers, our new friend from Canada made this story sound humorous while describing his troubles towing a big rig, he used the phrase, "Things can happen, you know and they are not always good." I have used that phrase myself a time or two, but his accent is much better than mine.
After hearing this adventure, we realized it was starting to get really cold outside so we called it a night. I guess I may have gone inside and read for awhile or watched TV. I don't know. I remember hearing a lot of trailers being towed past us to the transport company holding lot next door. I think that noise went on until about eleven that night.
Day 4
I was up around seven buttoning up the coach. Around seven thirty, I was standing just inside of Gary's door when I saw a person with a clipboard heading our way. I learned that his name was Walt and he was the tech in charge of taking care of Gary's UFO. I left Walt to talk with Gary and as I was heading back to my coach, Roger, the tech in charge of my coach was waiting for me.
Roger, a really nice guy, was wearing a Monaco jacket. I found out that he, like most of the techs at Elkhart Service and Collision, had worked for Monaco/Holiday Rambler before it went under. They were quite familiar with our coaches. They would be taking care of our list while offering any needed assistance to the techs from BAL who would be working on our slide outs. The BAL techs had arrived at the shop at seven that morning very anxious to get started.
That was one of the best things about this whole experience. Working with techs who wanted to work and get things fixed as fast as possible and more importantly get it fixed right. I know that sounds simple, "get it fixed right". I sure knew what it was like to have things fixed wrong.
Just at seven forty five our coaches were parked side by side inside two big service bays. We all watched them pull in and the doors went down. Now we had to figure out how to keep ourselves entertained for the next eight hours.
We decided to visit the local Amish farm market for a big breakfast and then head over to the outlets in Michigan City. This was going to be a shopping day. I was not in a big spending mood but hey you never know what you might find. My mood could change.
It didn't. At eight twenty we were sitting in the farm market parking lot. The place was not open until the weekend so we were trying to decide where to go for breakfast. Before we could make a decision my phone started to ring and I spent the next sixty five minutes trying to solve multiple emergencies back home. It was crazy. I told Diane she would have to drive.
We went to a convenience store for gas. Diane had to pump it herself. She went in for coffee. I walked in and told her I was driving back to the coach to get my cell phone charger. She didn't look too pleased. We informed Gary and Janis where we were going. They said they would wait there until we got back. We drove to the coach and I made a mad dash inside the service center to get my charger. There were techs all over our two coaches, like ants at a picnic. I could see a tech in the overhead of Gary's slide out (or was it mine?) and they were in the bays as well. It was very obvious these people don't mess around.
I had just a second to meet JD the manager and then it was back to my car. As soon as I sat down and plugged in my cell, two calls hit me at the same time.
I hardly noticed the scenery as Diane followed Gary to Michigan City. We finally made it and found a breakfast place that served really good skillets. I ate mine without interruption and we walked over to the outlets. Just as we walked into the first store my second round of calls began. I was on the phone for another two hours and then I had to listen to the low battery beep again until we had enough of shopping and went back to the car.
I wish I could have a real vacation. I have forgotten what one of them is like, one with no business phone calls or other interruptions. I can only hope to have a few of them again one day.
At three thirty we were turning down the road to the shop. As we approached the campground we saw both our coaches parked in their spots, with power hooked up, jacks down and all slides out. That was a sight. I entered the coach and immediately tried the main slide out. It moved in and out like a dream. It was enough to make a grown man cry. No, I didn't really cry, but I sure was happy to see that slide out flush against the living room wall for the first time.
I checked the bathroom floor and I could not tell where the repair was, it looked perfect. Diane took a look and said "What about that tear? I think we should get them to fix that too."
I had told Roger to fix the worst spot in the floor, but now the remaining hole looked really bad so I had no problem with Diane's request.
I hopped out of the coach to see how Gary had made out. He looked pretty pleased, so I suspected his slide outs were working rather well. He told me that the techs had not quite finished yet with the bedroom and he also pointed out that both of us needed new sweeps and gaskets and that had not been done yet either. All that meant was they needed at least another day, and that was quite okay with both of us.
"Let's take a look at your water tank" Gary said. So we did. There was now an overflow tube right were it was supposed to be. No more water flowing into my basement while going down the road. We checked out Gary's tank and could see a new welded stainless steel support where one was missing before. It looked really good.
Gary informed me that his auto levelers now worked like a charm. I informed him that I forget to tell Roger to adjust mine. That would go on tomorrow's list.
Both Gary and I were feeling as much like kids at Christmas that two guys in their fifties can. I hope that most of my coach friends can relate to how two years of coach issues can affect one's relationship with one's coach. If you can relate then you must know how good it felt to see these long going problems resolved. Not just fixed but fixed by people who really know and care about what they are doing. That is so rare these days to have that happen.
Diane called me in for some leftovers that we brought from home. I wasn't all that hungry, but I figured I had to eat something and why not have a Woodchuck cider to celebrate our first day's good results? First though we took the coach to fill up the water tank. It was a pleasure to work the slides again, unplug the coach, get some water and then set back up. It took about thirty minutes to do and while the tank was filling I talked to Walt and Roger and told them what a great job they had done so far.
Then it was quick dinner of something, I can't remember what, oh it was meatloaf and sweet potatoes. We watched the first half of Dances with Wolves and pretty soon it was time to call it a night.
Even with all the phone calls it had been a very good day.