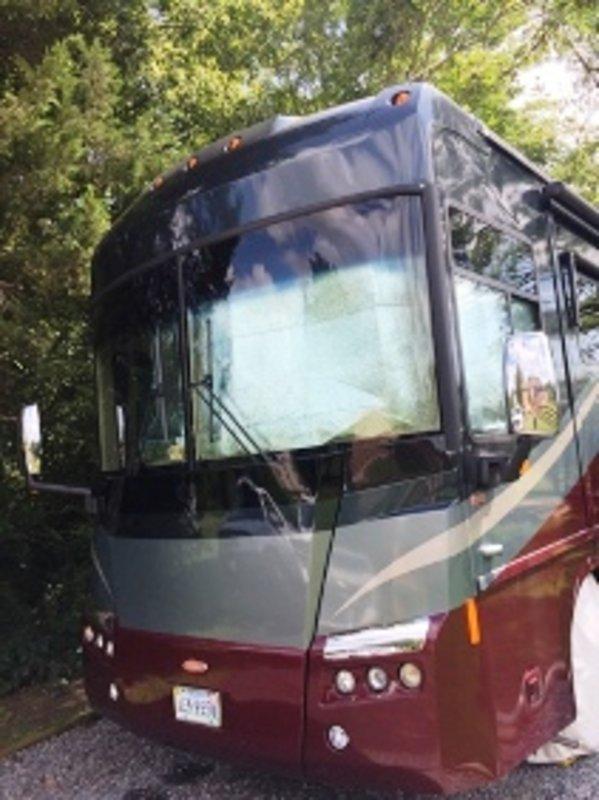 Content Count

74

Joined

Last visited
Good morning all. I plan to move my TV over the dash to a side wall of the slide. There is no coax cable run to that spot. Does anyone know how to convert the coax cable signal to a wireless signal? I have seen coax to HDMI and to VGA adapters. Can I convert it to one of those formats and then push it out via a set top box that transmits wireless signal to a receiver box?

Hi all. We have RV'd with dogs but never with cats. Our young cat is like all in that she loves to scratch. At home we have scratching pads, scratch wraps around chair legs, etc. and she still will scratch the furniture. Any suggestions on how to prevent her from scratching up the RV furniture?

Hello. I have two busted HDMI cables where they connect to the main splitter in my storage bay. I have read some folks switched over to a wireless HDMI transmitter. Can anyone recommend a good 1x4 or 2x4 high def HDMI system? __________________

Thanks. I emailed FMCA and they responded positively also. Guess I'll check them out.

Hello all. I'm looking into getting an extended warranty for my new to us 2015 Entegra. I have quotes from a few of the companies. One of the ones that came up is "www.norepaircost.com". Their website has FMCA, Escapees, and RVDA listed on their website implying they are members. Has anyone used this company before?

Very few finance companies want to finance fill timers. Good Sam's also finances full timers. Another problem with financing for full timers is they sometimes hit us with a higher interest rate. Buyer beware.

My dash AC was just blowing out the defrost vents. I checked all vacuum lines, replaced a couple, and still had the problem. I took it to a repair shop. The repair shop (La Mesa RV Tucson) discovered that the Vacuum motor was bad. They replaced it and now air comes out where it is supposed to based on the control nob position. Now the problem is that I only get ambient air temperature air out the vents regardless of whether I have it on heater or AC. The shop never even checked to see if it would get hot or cold. Does anyone have possible cause?

Howdy. We have been researching floor plans of 42'+ coaches in the 2014 and up range. The Tuscany floor plan 45AT & 45LT are the ones we like. We are a little curious to what the counter top and table material is. Is it Corian or Formica? We have not been able to actually physically look at one yet. We should in the next two weeks. Also Thor coaches have taken a beating on a lot of forums over the last couple of years. We have not heard that much about the Tuscany line though. We met a couple owners of a 2014 and 2015 Tuscany and they said they loved their coaches with only minimal issues. So can you Tuscany owners weigh in? Are the newer ones (2017 & up) worse than the older ones? Are there any common issues you all seem to have? All comments are greatly appreciated.

So I have looked at several properties that can accommodate my coach and other items. I have spoke to several people about the cost of the summer electric bills. If they are on the budget program then they seem to average between $200 nd $300 a month in the summer and $150 to $200 during the winter months. If not on the budget program the between $500 and $600 a month in the summer and maybe around $150 in the winter. Also depends if they have solar or not. Due to the real estate market right now bidding wars are common. Prices are jacked up and getting worse by the day. The wife and I have decided to back off from buying any property anywhere. We could even just move back to our property in VA but really don't like the taxes there. I appreciate the input from everyone.

If I buy a place, I may be there eventually for a summer. I'm there now but in a park that covers the electricity in my monthly fee. No meter at my site. You used to be able top get the info from the electric company but sellers complained and now it's considered private to the current person listed on the bill. So asking the seller very rarely gets a truthful answer. That's why I'm asking for info here.

Howdy All. I have Googled my question about monthly electric bills for a coach in Yuma during the summer. No luck getting a good answer. All I got were discussions on the per kilowatt price being charged. So I'll ask it here. Can anyone tell me what they paid monthly for electricity in a 40' or similar RV in Yuma during the summer months? I'm considering buying an RV lot there and would like to get a full picture of the various costs.

My Oasis Elite door awning was stuck in the closed position. I heard clicking when I tried to open it so I knew it was getting power. I Googled the problem and it let me here "Oasis elite door awning stuck closed"Post #18 was the game changer for me. The poster provided detailed steps and pictures. I could not get behind the top left of the motor rear end cap due to the position of the main awning arm rail open or closed. So I followed the process that the poster did. I disassembled the motor in place following his directions. Once the motor was slightly loose it was able to open with the switch. The only problem I found was tons of rust on the bottom of the rotor shaft. Mine has a small bulb or ball at the end that fits in the hole in the bottom end cap. The cap was full of rust also. I removed the rust. Reassembled the motor and reconnected the wires. Tested it and it works fine now. I even drilled a couple drain holes at the bottom of the plastic cap. Took me about an hour from start to finish. Other more mechanically inclined folks can probably do it in half that time.

Sorry for the generalization. They meet the exact load, speed, and load index ratings as the original Michelins. Speed "L", Load "H", and Load Index "146/143". Here is the tool that I used. https://tiresize.com/calculator/ I attached a screenshot of my comparison.

Howdy all. Does anyone know any RV communities in the Phoenix or Tucson areas where you can actually own the lot. I'm trying find some in those two areas. I would like to find a lot with either a double wide trailer already on it or capable of having one put on it. Want to create a home base here in AZ. I know Yuma has plenty of lots like that but would prefer to be closer to a major airport. I am also considering TX as a possibility but the wife hates tornados.