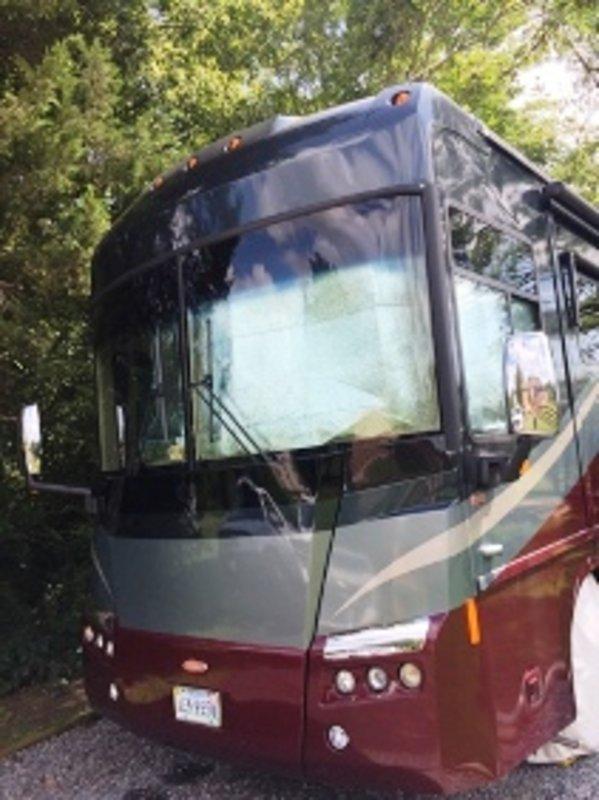 Content Count

66

Joined

Last visited
So I have looked at several properties that can accommodate my coach and other items. I have spoke to several people about the cost of the summer electric bills. If they are on the budget program then they seem to average between $200 nd $300 a month in the summer and $150 to $200 during the winter months. If not on the budget program the between $500 and $600 a month in the summer and maybe around $150 in the winter. Also depends if they have solar or not. Due to the real estate market right now bidding wars are common. Prices are jacked up and getting worse by the day. The wife and I have decided to back off from buying any property anywhere. We could even just move back to our property in VA but really don't like the taxes there. I appreciate the input from everyone.

If I buy a place, I may be there eventually for a summer. I'm there now but in a park that covers the electricity in my monthly fee. No meter at my site. You used to be able top get the info from the electric company but sellers complained and now it's considered private to the current person listed on the bill. So asking the seller very rarely gets a truthful answer. That's why I'm asking for info here.

Howdy All. I have Googled my question about monthly electric bills for a coach in Yuma during the summer. No luck getting a good answer. All I got were discussions on the per kilowatt price being charged. So I'll ask it here. Can anyone tell me what they paid monthly for electricity in a 40' or similar RV in Yuma during the summer months? I'm considering buying an RV lot there and would like to get a full picture of the various costs.

My Oasis Elite door awning was stuck in the closed position. I heard clicking when I tried to open it so I knew it was getting power. I Googled the problem and it let me here "Oasis elite door awning stuck closed"Post #18 was the game changer for me. The poster provided detailed steps and pictures. I could not get behind the top left of the motor rear end cap due to the position of the main awning arm rail open or closed. So I followed the process that the poster did. I disassembled the motor in place following his directions. Once the motor was slightly loose it was able to open with the switch. The only problem I found was tons of rust on the bottom of the rotor shaft. Mine has a small bulb or ball at the end that fits in the hole in the bottom end cap. The cap was full of rust also. I removed the rust. Reassembled the motor and reconnected the wires. Tested it and it works fine now. I even drilled a couple drain holes at the bottom of the plastic cap. Took me about an hour from start to finish. Other more mechanically inclined folks can probably do it in half that time.

Sorry for the generalization. They meet the exact load, speed, and load index ratings as the original Michelins. Speed "L", Load "H", and Load Index "146/143". Here is the tool that I used. https://tiresize.com/calculator/ I attached a screenshot of my comparison.

Howdy all. Does anyone know any RV communities in the Phoenix or Tucson areas where you can actually own the lot. I'm trying find some in those two areas. I would like to find a lot with either a double wide trailer already on it or capable of having one put on it. Want to create a home base here in AZ. I know Yuma has plenty of lots like that but would prefer to be closer to a major airport. I am also considering TX as a possibility but the wife hates tornados.

Howdy all. I just replaced my old Michelins with Sumitomos. My fronts were 2012 year and the rears were 2014 year. My coach has been in storage for a year and that was the final straw for the tires. Side walls were heavily cracked. I was going to get Toyos but they were back ordered several weeks to a few months. Hankook was going to give me their last FMCA pricing since I reached out to them before they stopped participating. But they could not get them to me in the time frame I needed. So after some additional research I went for the Sumitomos ST 788 SE. I had 275 80R 22.5 Michelin XZE2 on the front and XZE on the rear. I checkecked the tire size comparison tool and they were an acceptable substitute. Here is a link to the specs: "http://www.sumitomotrucktires.com/Tires?linename=ST788%20SE&productCode=5533275".

Thanks for the responses. The shop I've been talking to primarily deals in Michelin & Hankook. They don't carry Toyos but they can get them. I sort of figured they were just trying to push me towards what they carry. Have not found very many comments about Hankooks. I do agree with many comments about Michelins being overpriced. I have several maintenance items to do on my coach when I get back stateside. That extra $1200 or so can be used on other items. Thanks again !!!

Howdy all, I have read many threads about many of you changing over to TOYO tires for your RVs. It seems as if most if not all of you who have are pleased with the tires. I am getting ready to swap out all 6 of my Michelins. I mentioned to a RV/Truck tire shop that I wanted to go with TOYOs. They told me they don't like to put them on RVs because they tend to cause the RV to "wander" and strongly recommend Michelins or Hankooks. Have any of you who changed over to TOYOs experienced this "wander" problem?

Seems to be many possible options based on where you are. My question is can the tire weight scale be purchased or are they too costly?

I fell behind on this. So the wife made a decision As they always seem to do. We are retiring part time to the Philippines (6 - 8 months a year) and part time over here on the road. We have a house there now so will be comfortable. It will give us a chance to travel around Asia at our own pace for a couple years. Thanks for all the insight and great recommendation. I personally liked the Corpus and San Antonio ideas. I've been to each city a few times as well as the Killeen area.

I appreciate the detailed response about the weight and tail wagging. Is that because of the weight or the length? Also I guess you don't like tubular frames. Is it the rust issue or something else? The difference is about 200 lbs per 2 ft extra. so total weight of car and a 24' trailer is 8300 lbs, 22' will be 8100 lbs, and a 20' will be 7900 lbs. Those weights are based on a V-nose model with 2" x 6" tubular frame. Not sure if the I-beam is a lighter weight frame or not. Right now i'm leaning toward a 22' for a little extra room for the 2 bikes (pedal kind), and a couple lounge chairs, folding table, etc. I know weight adds up fast but doubt I will go over 600 or 700 extra pounds. But I'm still on the fence and undecided on the two types of frames. I know rust is an issue with a tubular frame if not properly sealed although it is slightly stronger than an I-beam frame. I am hoping more folks with both will weigh in on both options.

The car I'm hauling is a 2007 MB ML350. It weighs in at 4700 lbs and is just short of 16' long. She will fit between the tire wells of an 8.5 wide car hauler. We are still wavering between a 20', 22', and a 24' enclosed car hauler.

Hello All, I have a question about the two main car trailer frames you see on most enclosed car trailers. I have been looking and mostly you see either a 6" I-beam frame or a 2"x6" tube frame. I have read on an engineering site that the tube frame slightly edges the I-beam frame in overall strength. The issues with a tube frame are mainly rusting from inside out if moisture gets into it and if you bolt through it the tube can collapse (also can help moisture get in). The I-beam frame can twist or bend in heavy load if the frame is not braced properly. So my question is have any of you who pull an enclosed car hauler had any issue with either of those two types of frames.