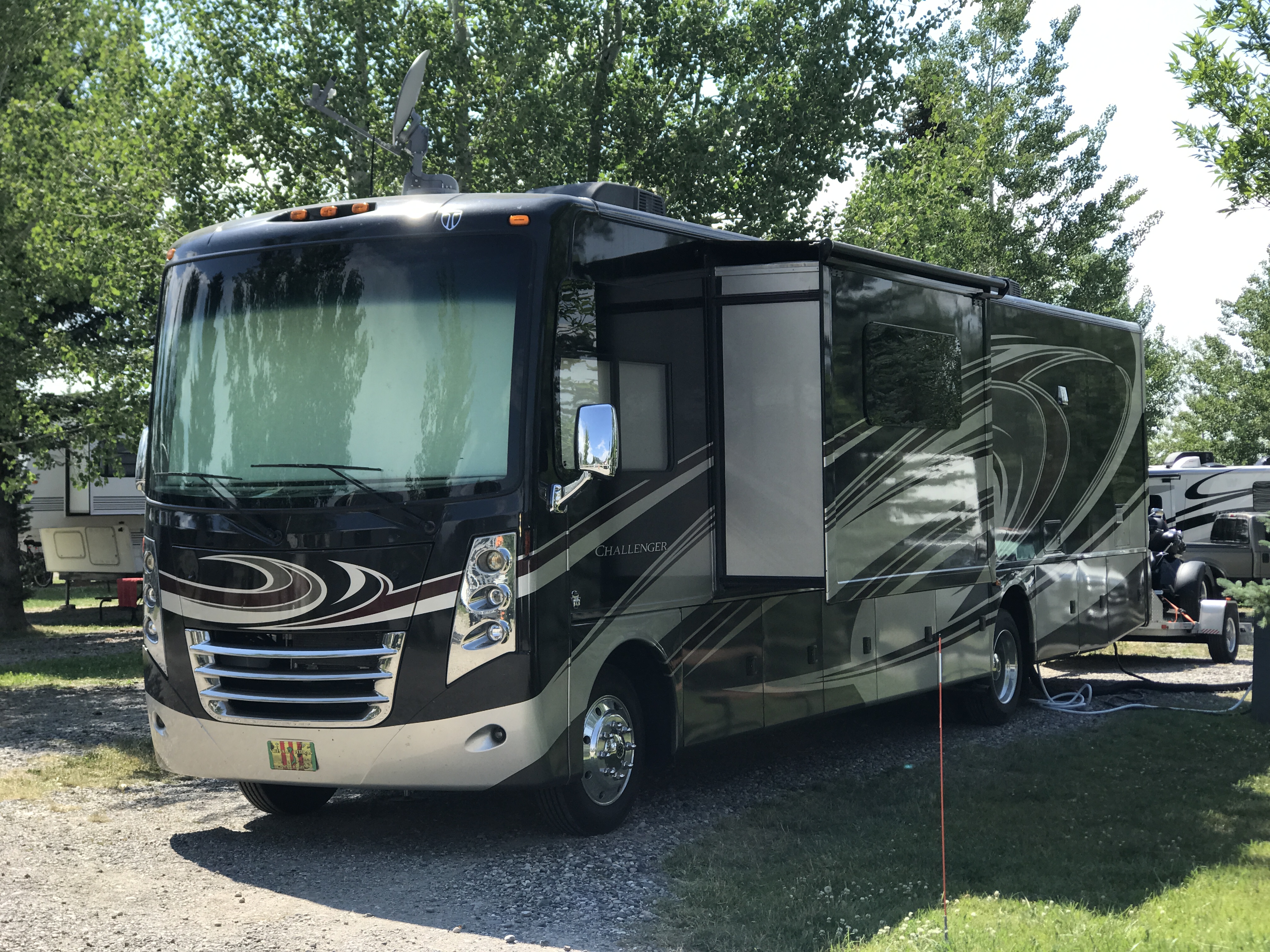 Content count

292

Joined

Last visited
Profile Information
Gender
Location
Interests

Fishing, shooting, and motorcycle riding.

I travel
Good information tireman9. In just less than a year I have went across the scales twice. It is easy, cheap, and painless to do at almost any truck stop where you are getting fuel. I would like a 4 corner weight sometime but wouldn't pay a lot or go out of my way to get one. If I come across a place doing them and it is convenient I'll have it done.

Good looking coach! Sounds like a good trip even though you had to have your gen set repaired. Welcome to the forum.

This always comes up on different RV forums, is it best to just stay close to exits and pay a little more for fuel or search in towns/cities for cheaper prices? With my current set up I can't squeeze into a local Shell station 10 miles off the interstate and pump diesel even if I wanted to save 20 cents a gallon. I like fueling up where the big trucks fuel. It is easy in and out, generally fresh good fuel, and I can always park to take a break or eat lunch afterwards if I want to. We almost always use Pilot or Flying J and have the card. I take a pic of the pump when I'm done plus the receipt shows up on my phone a minute later, so there is no need to go inside, easy-peasy. Someone said they have a 185 fuel tank plus carry another 96 gallon tank in their toad. I really don't need fuel capacity that allows me to drive over 1,500 miles, nor would I want to haul almost 2,000 pounds of fuel up some of the mountains we have experienced. I'll just stick with my little bittie 100 gallon fuel tank and fuel every 400 miles or so.

Appreciate you thoughts on the matter Carl. It was Brett not Herman. We initially joined FMCA because it revolved around motorhomes. 90% of our RV friends are in TT's and fivers but we had made the switch and wanted a resource that was geared totally toward that perspective. I enjoyed my time on the forum initially. Over the last year some of the benefits have started to head south and then a few months ago Brett's overbearing censorship really did it for me. I'm checking in once and awhile. If you or Jim S. were ever in the same CG as me I would certainly like to meet up and swap some stories and have a beer. However, in all likelihood I will let my membership lapse and move on. You have been with FMCA a very long time and I certainly understand why you feel it is like "family". From a new member's perspective I don't get that warm and fuzzy feeling though.

My mistake Carl. Somehow I got the idea he had an RV inspection business or something like that. I'm glad he is your friend. I have never personally met him and probably never will. I did not agree or appreciate the fact that back in May he removed one of my posts and scolded me for it. The post was not in violation of any of the forum rules and was pretty mild compared to many I have read on here. It is my feeling that a moderator must be impartial and fair and not be influenced by friendships.

Thanks Carl, good suggestion. I suppose if the moderator who makes his living off the Rv community would resign I would rethink my future membership. However, that is very unlikely.

We were ready to go with a Mail Box Express in Cape Coral when we went full time last November (sold our home in the Cape). A family friend who lived nearby offered to let us use her address and it has worked really great. I don't know of any way it will effect her taxes or anything else.

In 2011 we purchased a TST brand system with 6 flow thru sensors. Used it on two different fivers and a gas coach. Last November needed to add 6 more sensors due to our current combination. Upgraded to a new TST with 6 regular sensors and still use my original flow thru. They all work great and are easy to change batteries in. For my money TST is the way to go.

I feel your pain jb. I was a new member last year. We had recently made the change from fivers to class A's and I was looking to gain some knowledge on this forum and take advantage of some of the member benefits. Benefits seem to be going away and even the new ones introduced are generic and worthless (Verizon). As far as gaining some knowledge on this forum I enjoyed that benefit until a certain moderator didn't like what I had to say so that was no longer a valued benefit. I may still check this site from time to time but there would have to be some serious changes before I would renew.

Sorry for all your problems. Sounds like you purchased a used coach that had not been service or taken care of very well. Did you consider an extended warranty when you purchased a 6 year old coach? If you had your post probably would have been titled "Have Now Made Over $5,000 On My Extended Warranty". You may be surprised what Newmar would cover after the warranty is expired, however the issues you listed were not built by Newmar. I searched for a used Tiffin or Newmar but couldn't find one that I thought would fit our needs. The one possibility we found was an extremely good price but was a piece of crap and had not been taken care of (43' Tiffin), so we passed on it and ended up purchasing new. Our experience has been Newmar is a great company that stands behind their product and they are certainly treating us well. Good luck on your next non-Newmar coach. There are many out there to pick from.

We started our full time adventure several years ago. After only 2 years we decided to buy a sticknbrick in Florida, mainly due to the housing market at the time. Another 2 years went by and we missed being on the road full time so much the house got sold and here we are again. This time we are staying out as long as our health will allow it. Love this lifestyle. Hope you enjoy the new chapter in your life.

Welcome Mel and Dayna. Sounds like a fun trip. We are originally from central Illinois (Peoria) but have spent time in southern Illinois visiting relatives (Christopher/Benton), and return to those areas each summer to see family. We recently returned to full timing and have talked about putting either a Canadian trip or Alaska trip on our bucket list. Not sure if we would be ready for it in 2019 but I will follow your progress and plans.

Thanks for the link and info! I saved it to my favorites and signed in. Haven't played around with it yet but it certainly looks promising. I am picky about pre-planning my fuel stops mainly due to our size, but I also like to know in advance what the fuel stop has to offer and what the entrance/exit looks like. I check prices but it isn't my number 1 priority in every case. I can see where this app could help save some bucks though.

I have Gas Buddy and Trucker's Path on my phone also. What is nice about this little blue Truck Stop Guide is that it is quick and easy to use when planning the next days route. Instead of going to one of my apps now (Pilot, Trucker's Path, Gas Buddy, Love's) I start with the little guide. Once I pick my fuel stop then I can start looking at prices, mapping for getting in/out, and distances with one or more of my apps. We also find it handy if we are rolling down the road and decide it is time to take a break. It not only lists all fuel stops but also rest stops that big rigs will fit into.

Buddy of mine was navigating his 42' fiver through a CG a few years ago and on a tight corner swung out and clipped a parked truck. Total damage to his fiver and the other guys parked truck totaled around $4,000. He filed a claim and his rates went up for 3 years. They are just coming back down a little now. You are correct, it is a scam.