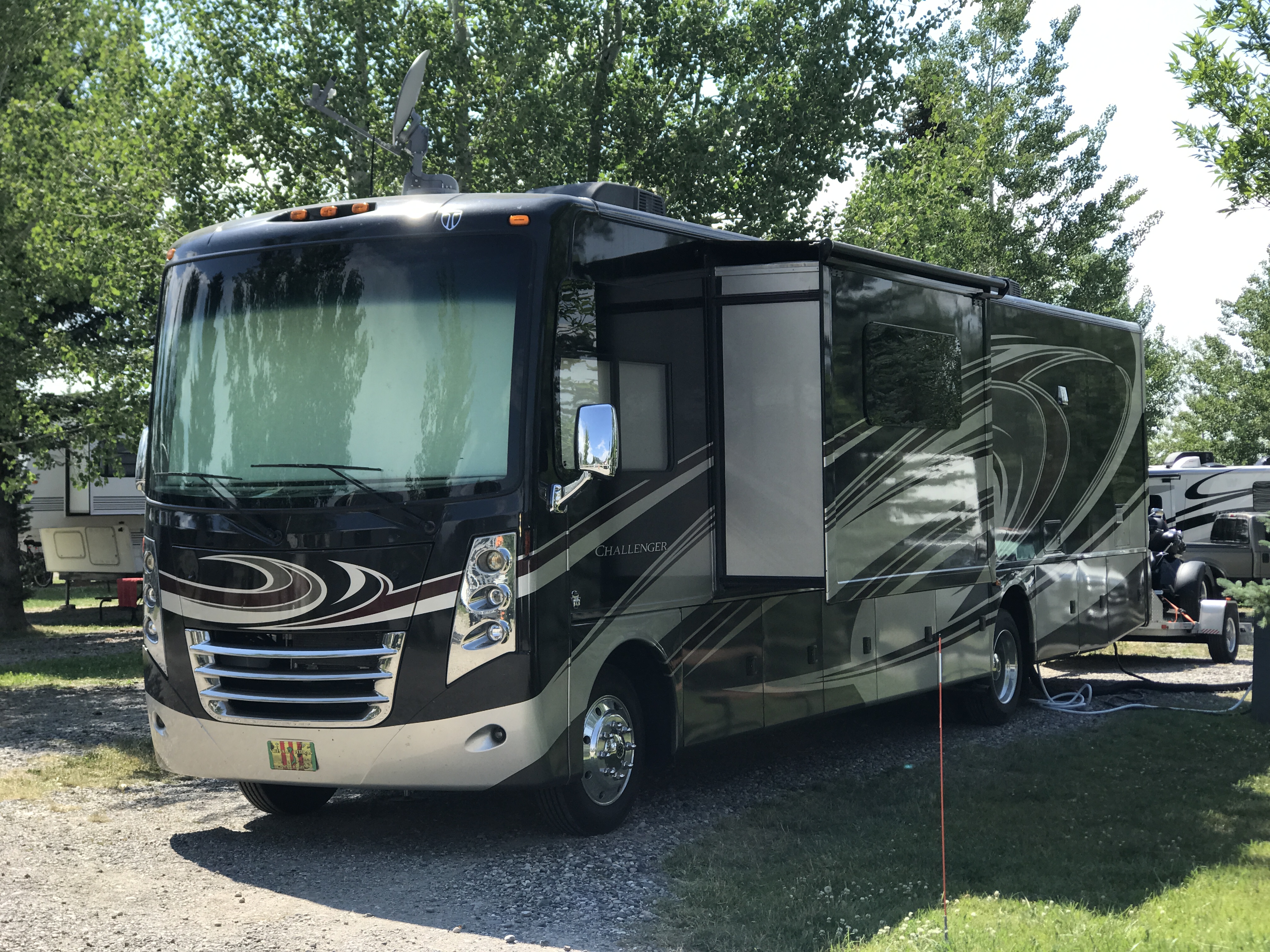 Content Count

376

Joined

Last visited
Profile Information
Gender
Location
Interests

Fishing, shooting, and motorcycle riding.

I travel
I know this was an older post, but last month we stayed at a CG in Anniston AL for 3 nights and picked up ants. It was off I-20 (Good Sams Campground Of Oxford-Talladega). I didn't notice anything when breaking camp. When we arrived in eastern Tennessee at our next stop and I opened the wet bay door there were thousands of ants crawling all over. I had about half of a one gallon jug of insect spray so I removed the top and splashed the whole jug inside the bay. After hooking up we went to the store and purchased 16 ant traps and 2 cans of ant spray. 8 of the traps went inside the coach and 8 was spread out in different basement compartments. I used a whole can of spray inside the coach around the baseboard, behind pantry shelves, under the sink, etc. For the next couple of days I found a few slow moving ants in the storage bays. By the 3rd or 4th day I only found dead ants and we haven't had an issue since. As a preventive measure I have left most of the traps in place plus I added about 20 dryer sheets to the basement storage areas. I know from past experience that dryer sheets are good for keeping mice away but someone told me they help with ants also. Beware of that CG we stayed in off of I-20 though, there were other reviews indicating there has been an ant problem there for awhile.

We use only our phones when backing into a site. The DW will keep hers up to her ear and I will have mine on speaker behind the wheel. Engine noise and the back-up alarm on our coach can be heard through her phone but barely. I never have any problems hearing her directions. She knows to always stay within sight of one of my mirrors or the camera at all times or, I STOP. Another benefit of doing it this way is that no one that approaches her can hear what I am saying to her. For example, when a helpful "expert" fellow camper comes over to assist I sometimes blurt out "tell that idiot to back off until we get parked". He can't hear what I say but only her version "thank you anyway, but we like to do this part ourselves". It makes for a better beginning to our camping experience at that site.

I'm getting the same 38 degree reading......in my frig. I've got to get off the computer and go wash the car before we hit our 80 degrees today.

We did our exploring of California back when we were full timing in a fiver. Coming from Illinois I didn't think I would ever find worse maintained roads but California changed my mind about that. We won't be back.

Our youth…….the good old days for sure. Could take a long drink from the neighbors garden hose and then jump on your bicycle and ride as fast as you could down the road, no helmet, no knee pads! How did we survive? We checked into a park (I won't bad mouth the State) a few years ago and the office must have reminded us 5 times about the bicycle helmet rule while riding in the park.

We use mainly bottled water for consumption and CG water for everything else. Our coach has a whole house filter and the frig has its own filter so the ice maker is helped by those. We do consume the ice from the ice maker. We change our filters probably a little more often than we need to. We also use a little bleach to sanitize our system every few months. We honestly are more cautious with our water than when we were in a sticknbrick. Hope I don't freak anyone out, but yesterday after cleaning all my wheels I took a huge long drink straight from my green garden hose!

Guess I should have checked back on this posting, sorry for the 3 month delay! Little Luke is doing pretty good, thanks for asking. He will explain how his pacemaker works to anyone who asks and always has a smile on his face.

Have you been up on the roof to inspect all the moving parts? There are two coax which could possibly interfere with the movement of a roof mounted dish. A couple months ago we lost signal but I can't recall exactly what the error message said, it may have been the same as what you are seeing. It ended up being the 5' cable that ran from the mount up through the arm to the satellite head. Manufacturer sent a replacement for free. While we were waiting I replaced it with a regular piece of coax to get back up and running. Mine was only 11 months old and certainly did not look damaged or bad but it was.

CURE FOR CABIN FEVER: sell everything. Travel around the country in an RV making sure you stay in warm climates. Repeat annually as needed.

I agree with the 300 miles a day Carl. When we do our normal planning I try to stay between 250 and 350 a day. Early in 2018 we were going from Pigeon Forge to Peoria, a little over 600 miles. Our grandson was having critical open heart surgery in Chicago and we wanted to get closer just in case things didn't go well for our little 3 year old fighter. I decided to do it in one day and we discovered that compared to pulling a fiver, or even trying to do that in our gas coach, this was a breeze. Since then if we have an issue not locating a good place to overnight I will extend my miles out. We have done the 600 plus a couple other times in 2018 and it was fine but I don't make a habit of it. I would be thrilled to even see 7 or 7.5 miles per gallon for 2019. I will end 2019 with only 18,000 or 19,000 miles on so probably won't see that much of an increase.

We were coming up your way, sort of, this fall. We even had made a couple reservations but a certain hurricane changed our east coast plans for 2018. But who knows, I may be reaching out to you in 2019 or 2020 for some on-the-job training! Thanks.

Stop in a local Pilot, Flying J, or Loves and pick up a Trucker's Atlas. While there also find and purchase a small blue book called "Pocket Truck Stop Guide". The Trucker's Atlas it almost like a regular atlas except it shows all designated highways (where the big dogs can go). It will list each and every low clearance in every state. The small truck stop guide is a really good reference for not only places to fuel but where all rest areas are. With these two items and an I-phone you can get by nicely.

Welcome Mark, and thanks for posting your experience on the tire purchase. So, to sum up the FMCA tire program, if you are a "smart" shopper and take your time finding your tires you can actually save more money on your own as compared to using the program. Okay then.

I joined Escapees last year and started checking their forum on a regular basis. I was eager to pick up some fresh ideas from experienced full timing folks over there. To say I was less than impressed would be a huge understatement. We never joined a chapter or attended any type of rally's because we just move around too much. I suspect the actual members in most of the chapters are probably really nice folks. However the forum is basically ran by 3 or 4 regulars, none of which are current full timers. One gentlemen seems to have some good knowledge and is a weekend moderator, but if you don't agree with every statement he makes then get ready for his verbal attack. Problem is he used to full time years and years ago and has a closed mind to any new ideas or changes. Anyway, for just participating in their online forum to gain some knowledge as a full timer, or possibly even help a newbie out once and awhile, it was falling short.