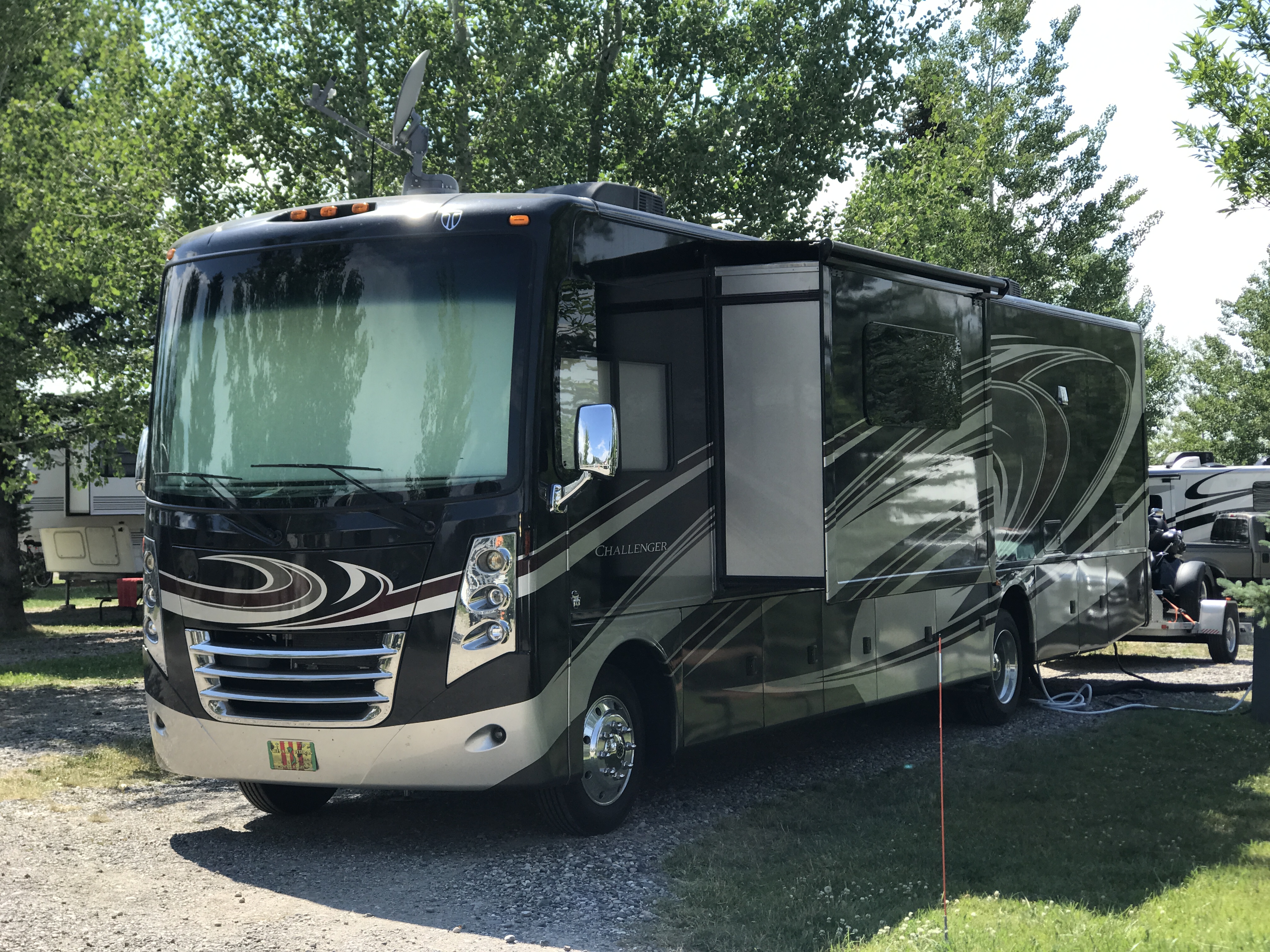 Content count

282

Joined

Last visited
Profile Information
Gender
Location
Interests

Fishing, shooting, and motorcycle riding.

I travel
We started our full time adventure several years ago. After only 2 years we decided to buy a sticknbrick in Florida, mainly due to the housing market at the time. Another 2 years went by and we missed being on the road full time so much the house got sold and here we are again. This time we are staying out as long as our health will allow it. Love this lifestyle. Hope you enjoy the new chapter in your life.

Welcome Mel and Dayna. Sounds like a fun trip. We are originally from central Illinois (Peoria) but have spent time in southern Illinois visiting relatives (Christopher/Benton), and return to those areas each summer to see family. We recently returned to full timing and have talked about putting either a Canadian trip or Alaska trip on our bucket list. Not sure if we would be ready for it in 2019 but I will follow your progress and plans.

Thanks for the link and info! I saved it to my favorites and signed in. Haven't played around with it yet but it certainly looks promising. I am picky about pre-planning my fuel stops mainly due to our size, but I also like to know in advance what the fuel stop has to offer and what the entrance/exit looks like. I check prices but it isn't my number 1 priority in every case. I can see where this app could help save some bucks though.

I have Gas Buddy and Trucker's Path on my phone also. What is nice about this little blue Truck Stop Guide is that it is quick and easy to use when planning the next days route. Instead of going to one of my apps now (Pilot, Trucker's Path, Gas Buddy, Love's) I start with the little guide. Once I pick my fuel stop then I can start looking at prices, mapping for getting in/out, and distances with one or more of my apps. We also find it handy if we are rolling down the road and decide it is time to take a break. It not only lists all fuel stops but also rest stops that big rigs will fit into.

Buddy of mine was navigating his 42' fiver through a CG a few years ago and on a tight corner swung out and clipped a parked truck. Total damage to his fiver and the other guys parked truck totaled around $4,000. He filed a claim and his rates went up for 3 years. They are just coming back down a little now. You are correct, it is a scam.

I believe there are some high end Newmar models, and other brand/models as well that have built in drains. Of course these are just like any RV system they can get blocked. I put the snap on gutter end extensions on my four corner gutter drain points to at least get the water out from the coach a little bit. Even with those it can still run down the side. If I am going to be in one spot for a couple weeks or longer then I will put a plastic clothes pin on the end of the extensions, which guides the water out away from the coach nicely.

He is probably right Ken. When you think about it most truck-tractor-semi-trailer combinations sit about 4 feet off the ground and they are one huge square box. That huge square box is 53' long, compared to a 40' to 45' motorhome that sits much lower. If I am traveling down the highway at 65mph and a 60mph gust hits I would want to be in my MH weighing in at almost 40,000 pounds and sitting low. I certainly would not want to be in a 19,000 pound fiver nor a 53' semi trailer, both of which sit much higher off the ground.

Eric, prior to heading to Key West you may want to check North Trail's site online. Their busy season is just winding down so I am guessing they will be stocked with some pretty nice newer trade-ins. If you don't see anything interesting on their site you may want to still call. Many times they will have one they know is coming in or one that is there but just not on their site yet. They are right on I-75, easy on and off for a big coach. If you do decide to stay over to look around there try Upriver RV Resort for your camping needs. It is one exit away from North Trail and has 110' long paved pull thru sites.

Yep, I agree with that. Last Sunday the warning/watches were out way in advance. Everything was secured plus the slides were in. I stayed on leveling jacks instead of going on suspension, figuring that would make us more stable. This time the actual warning came so quickly without a watch being issued first that there was only time to grab rain gear and head to the shelter. Actually we are re-thinking spending next April in this area. We have really enjoyed exploring around here but they seem to have a lot of strong spring storms. Will probably just stay in Florida through part of April then maybe just come up to Top Sail for the last week or so of the month.

We have been camped outside of Robertsdale Alabama. Last week there was a large storm system coming through with advance tornado watches/warnings going on. We loaded vehicles into the trailer and put all patio stuff away. The CG has a block building about 100 yards from our site that is the meeting room, office, and laundry facility. We had our rain gear handy and ready to go. In other words we had a plan and were prepared. Yesterday it was just raining all day. No warnings and no watches. A little after 3pm our weather radio went off along with our I-phones. Our area had just went under a tornado warning. Rotation indicated around Foley, which is southwest of us. Of course it was heading northeast so we had about 15 minutes to prepare. We just grabbed our jackets and walked up to the CG building and waited. Some other folks came out of their RVs and were looking around but no one joined us in the building. The storm passed with no high winds or damage. On the news we found out that another CG about 20 miles away wasn't so lucky. http://www.wkrg.com/news/baldwin-county/ef0-tornado-leaves-significant-damage-at-foley-rv-park/1134473204 The warning for them may have came too late, I'm not sure. From the news on TV it looked like about 5 or 6 TTs and fivers were knocked over.

It was probably easy for him to play those parts.......it was him! RIP!!!

I think TT would only work for a very small group of full timers. I think on another posting I read someone bought a "used" TT pass that had the free days still on it. But even so they still paid transfer fees, maintenance, and such. Anyway they estimated the breakdown was about $20 a day it cost them to camp there. Based on a TT park we were in recently some of them aren't even worth $20 a day. But, even if they were all really nice parks with good sites, as full timers we are getting by cheaper than $20.00 a day average. When actually traveling cross country we mix in a lot of dry camping. This month is a stationary month in Alabama. Current park is $300 a month plus electric, sites are about 120' pull through. Next month dry camping on Tennessee River but then staying a week at Pigeon Forge (expensive week there). But then in central Illinois park on a river for $330 a month with electric included. We will stay there for 2 months. We will average $12.00 a day CG fees over the next 4 months is my point.

That will probably be what I end up doing every fall also. I have a buddy that is looking at the Tandem tow dollies for hauling his car and trike around behind his MH. We have considered this as a possibility for the future if we end up wanting to shorten our present combination. However, looking inside my enclosed trailer I'm not sure where all my "stuff" would go.

DBenoit, I'm starting to get the impression that you are somewhat of a "city" person and new to this cross country RVing stuff. If you are not comfortable taking the toad then don't. I'm sure you can rent a car at your destination if you end up needing one, and you probably will need one. Maybe this first long adventure will be easier without a toad to worry about. Relax, preplan the route and fuel stops, enjoy the trip. You will be fine.

Just like with the appliances in your sticknbricks, they are not built to last. The days of having the same washer/dryer for 30 years is over, or the same frig for 25 years. That is part of the reason we negotiated an extended coach warranty when we bought this rolling turd. I'm thinking we have about $5,000 to $6,000 worth of appliances not counting 3 air conditioners plus the Oasis to worry about failing in the first five years.