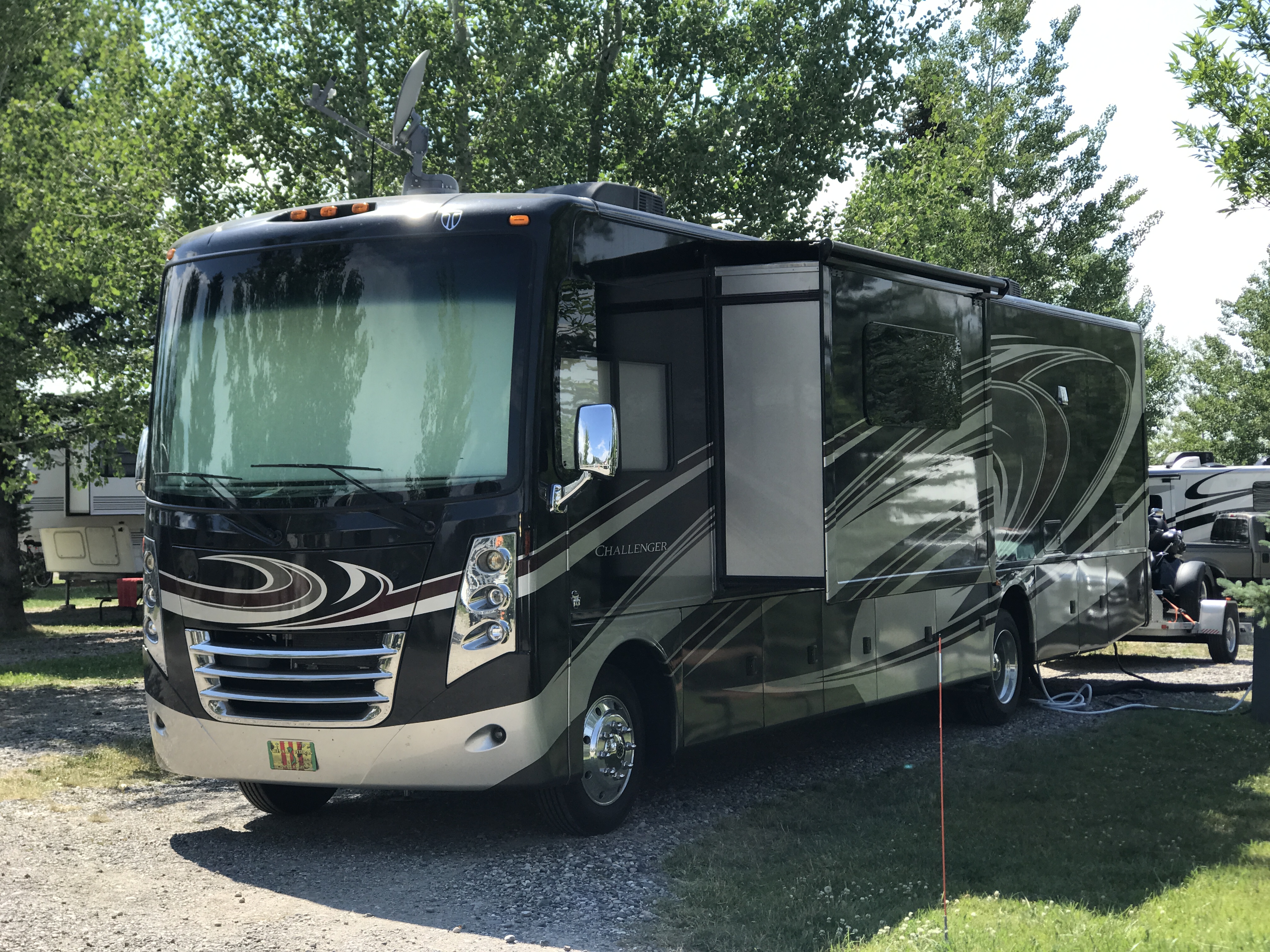 Content Count

408

Joined

Last visited
Profile Information
Gender
Location
Interests

Fishing, shooting, and motorcycle riding.

I travel
We are in a CG currently that is owned/operated by a park district. I swear they would check in an RV that was actually on fire when it arrived and not think anything about it. There are a couple old travel trailers in here now that are pretty rough, one of which has evidence of recent fire damage. They only have one "pet" rule and that is your animal has to be on a leash. It doesn't have to be up to date on shots, you can have 20 dogs, 10 cats, and 10 chickens in your RV as long as when you have them outside they are all tied up. Last year a bunch of local seasonal folks started putting up bird feeders. One site actually thought it would be a good idea to dump bird feed on the ground in addition to having a couple feeders. Needless to say everyone in the area started getting tons of bird crap on everything plus someone saw a couple rats close to the sites where they dumped feed on the ground. Thus the campground initiated another rule, NO MORE BIRD FEEDERS! I promise you that this campground would never consider a 100 year rule on campers, let alone a 10 year rule.

Not sure which ones were listed. I have been using TST brand TPM system for 8 years and they have worked perfectly. I can change my own sensor batteries and my color monitor is a stand alone (used without being plugged in).

I sort of got the idea he had never been across a scale, let alone had a 4-corner weight done. I had made the comment that I always wanted to get the 4-corner weight done but instead had only been going by regular scale axle weights. He jumped on that and began telling my neighbor that you could take it to any truck stop scale and weigh for $2.00. That pretty much told me he had never driven across a scale, or at least not in the past 15 years.

A couple days ago I stopped at my neighbors site while on my walk. He was out chatting with another camper. We all have DP coaches. The conversation came around to tire pressures. The visitor said he took his numbers right off the placard inside the coach and always ran 5psi over. My neighbor, only in his 2nd year of full timing, said he had a 4-corner weight done at Gaffney and after consulting the Michelin chart set his psi accordingly. The visitor told him that "was okay", however he really should just add the 5psi to the listed numbers on the inside of the coach and go by that. He went on to say that he had been RVing for 13 years and had only blown one tire. I made sure I stopped back by my neighbors site later to tell him IMHO he was airing up his tires exactly how he should be. By the way, he and I are both full time travelers and have never had any tire issues (knocking on wood).

Wayne and Jim have convinced me to get the card. Problem is the account I wanted to use just had our debit cards compromised so I had to shut them down. Can't get new ones issued until we get back to Florida this winter. Did a little math and if I could have saved between .30 and .45 a gallon this summer I would have an additional $300 to $350 in my pocket, over what my .9 a gallon Pilot/Flying J discount was.

Okay, thanks. I looked at mine and I "think" they are installed correctly. Still interested in what Newmar has to say.

We ordered from Magna Shades. Took several weeks to get the windshield shade because they were so backed up. Received it about 10 days ago but just put it on a couple days ago. Wanted to wait until the weather was "perfect" for the install. After reading the directions and watching the short video, the install was very quick and painless. Love the product, very high quality.

Interesting find. Since your pics are stacked one on top of the other, which one is the left and which one is the right?

Our home address is south of you (North Ft Myers) and we have been with National General (Good Sams) for several years. Our new premium went down either $3.00 or $13.00 when it renewed this month (boss ain't here to give me exact figure). We had a windshield claim last year which they paid 100% ($3,700). I just got a call from them yesterday telling me a possible hurricane was on the way......duhhhh…., they wanted to make sure I was taking precautions. I let them know we never venture into our home state during hurricane season. I wish there was a discount offered for not being down there during the storm season, my rates would probably go down a lot.

Earlier this month we got on I-40 at Santa Rosa (NM) and came east all the way to Fort Smith (AR) before heading north on I-49. We didn't feel like paying the toll for 5 axles all through Oklahoma on I-44. Even though the pavement wasn't perfect it was pretty good by today's standards. Not much traffic and no really large/busy cities to go through. Actually very little construction for the time we were on it. All of I-70 is horrible. We came out of the Denver area earlier this year across the mountains and I thought the potholes would tear our coach apart. Until that entire stretch of interstate is redone we will never use it again.

Welcome SarahR. You are partially correct, it is happening to "almost" new units of several different brands. Our Newmar has been in service for 23 months. Even though our flaking issue isn't nearly as bad as what the OP posted, you can still see evidence of it starting. Our chairs/furniture is Flexsteel. We contacted Newmar as soon as we noticed this, of course it was several months after our 1 year warranty expired. They requested photos and after receiving them they agreed to replace both front seats at no charge to us. We have the appointment next month at their factory to have it done. I read where Flexsteel, and probably other RV furniture makers, were getting some of their leather and similar products from China between 2015 and 2018. Much of this stock material ended up having the flaking issue, or will have. Not sure how accurate the information was. I am just thrilled that Newmar is not only covering this issue well after my factory warranty expired, but they are actually replacing the chairs instead of just having them recovered. Hoping the new material is better.

just like any depreciating asset, the older it gets the less it is worth. Not sure where you are located but there are only a couple areas in the nation where RV sales will be going up in the winter months, everywhere else they will tank until spring. If you trust the dealer/broker who is trying to sell it then I would price it just above where he thinks it will sell. I haven't heard too many stories where someone held out for more money for a year or two and came out good.

Richard, we are full time travelers and I am considering getting the TSD discount card. I also look ahead for each day's travel and locate two or three possible fuel locations, almost always Pilot or Flying J stations. You explanation and experience so far with the card is helpful. One thing I am not clear on yet, prior to running your card at the diesel pump there will be a posted per gallon price, then when you run your card does that price actually show on the pump when you are pumping? When does the add-on from TSD get figured in, is it on the actual pump price you are seeing/pumping or is it added in later? I guess what I'm getting at is I pull in and the email for that day states the discounted price for the Pilot I'm at is $2.30 per gallon. I pump 100 gallons. Is my account actually charged $230, $235, or what exact amount?

Interesting theory, don't think it would work for me to save any money. Even if I never counted in the expense of the extra tanks and a pump, the cost of treating that much fuel plus adding another 1,500 to 1,800 pounds would kill any savings for me. I tow a 24' enclosed trailer that weighs just over 10,000. Without the trailer I can get between 1 and 1.5 more in mpg. So weight does make a different in my Cummins motor I guess.